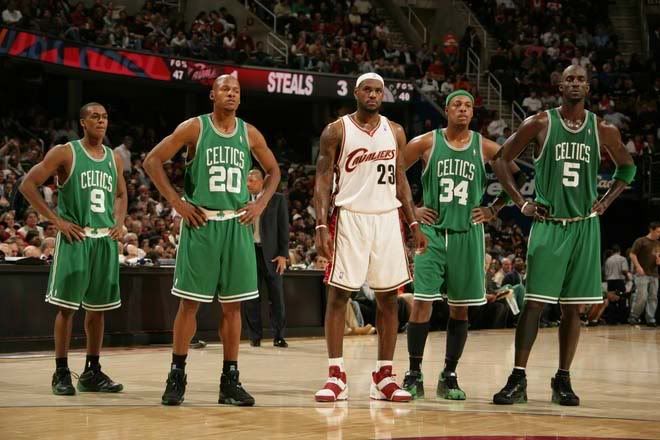 I think that I know you people out there, so it is safe to say that a few of you have probably played the game of spades once or twice in your day. As we near the climax of "The Summer of '10" on July 1st, we're seeing teams pull out all the stops to try to acquire stars like never before. In effect, teams are gutting their entire roster and cap space to try an acquire 2-3 franchise players to amass a super squad in hopes of making a title run.
Its risky, but if you are to succeed then the rewards can be plentiful and bountiful. We've seen this strategy put to work by the Boston Celtics, who mortgaged their long-term future for immediate short-term success by trading away all their young talent (Al Jefferson in particular) to acquire Jesus and the Big Ticket. Result? A 3-year run at a title and 2008 NBA Champs. They ran "A Boston" in spades terminology, went for broke and succeeded. There are 3-4 teams attempting to "Run A Boston" this summer, will it work? Let's break this down a bit.
First, let's break down this "Boston" real quick.
A Boston is a bid to take all 13 tricks and is worth 200 points. The side loses 200 points if they fail to take all the tricks. Some people play that a successful Moon bid automatically wins the game.
So let's relate this to the actual Boston Celtics of the last three years, wouldn't it be the biggest epic fail in NBA history if the convergence of Pierce, Garnett, and Allen didn't result into a championship of any kind at all? I mean, they sent away an all-star forward in Jefferson, numerous draft picks, and screwed their entire salary cap until at least 2012. I'd say so.
However, Boston was successful, and they've laid a blueprint that other teams are going to try and follow this year in free agency. Yes, I'm aware that Boston was able to acquire this team by trade, but the acquisition process isn't as relevant as is the purging of young talent, veterans, and draft picks to become a 2-3 headed monster team. Is this the new trend of NBA teams?
Chicago, Miami, and New York are all on this conquest to land the biggest names in free agency this summer. You know who they are; LeBron, Wade, Bosh, Amare, Joe Jeezy, etc. At the end of the day, we're going to see teams with these 2-3 big name players making tons of money and playing for the immediate future and hope that they can scrounge up some CHEAP young talent and experienced players that are willing to play for the veteran's MINIMUM salary. You notice the keywords in CAPS there right?
Here's the thing...
Where is the beauty in building a team this way? I mean, hasn't it been a beautiful thing to watch the Portland Trail Blazers basically purge themselves of the "Jail Blazers" era and watch Kevin Pritchard rebuild that team from the ground up and remake them into perennial contenders in the loaded Western Conference? What about Oklahoma City, with Sam Presti at the helm has been a genius in leveraging draft picks, utilizing the cap effectively, and signing key free agents to having the Thunder arguably play the champion Lakers as tough as anyone in the West?
Its like Nas said in Ether, "And now I smile like a proud dad, watching his only son that made it." To me, these NBA teams are like folks in a relationship who have a child, then trade their child for an 18-year old with a 4.0 GPA and is accepted to go to Cornell to study to be a brain surgeon, only you know he occasionally smokes weed and like salacious women. More than likely, the kid's gonna make it, but his vices could derail him. If he succeeds great, he's yours and you can claim it and that's cool. However, you didn't really get to develop the kid into who he is, and that's the beautiful thing in building teams for the long haul.
I think we all realize that this isn't going to end well for everyone involved in free agency. What happens if New York doesn't get LeBron and Bosh? They've got to now convince themselves that they can win with Joe Johnson and Carlos Boozer? Yeah okay, that's going to work. What about Miami and Chicago, one of you aren't going to get LeBron or Wade or Bosh, do you have a contingency plan? Truth of the matter is, the Lakers could steal Bosh from all of you. LeBron could get softie on us and stay in Cleveland. Good luck with your plans if that happens.
That's the risk of running a Boston in spades or in basketball, if it works you are genius and you've won the glory you set out from the beginning. If it doesn't, you have no chance in hell of ever recovering.
Its "Them" vs. "Us", and I'd like to think that "Us" are the Portland's and the OKC's, building for the long-haul, I'll take my chances against "Them", the Miami's, Chicago's, and New York's any day, because sometimes running a Boston just ain't meant for everyone.
-Ed.
www.edthesportsfan.com
P.S. As a reminder, checkout the livest sports talk (and hopefully on the radio soon) show around, "The Unsportsmanlike Conduct Show" as we are live Wednesday's at 9pm Eastern at
http://www.blogtalkradio.com/edthesportsfan
! Download our podcasts if you missed the live show as well!