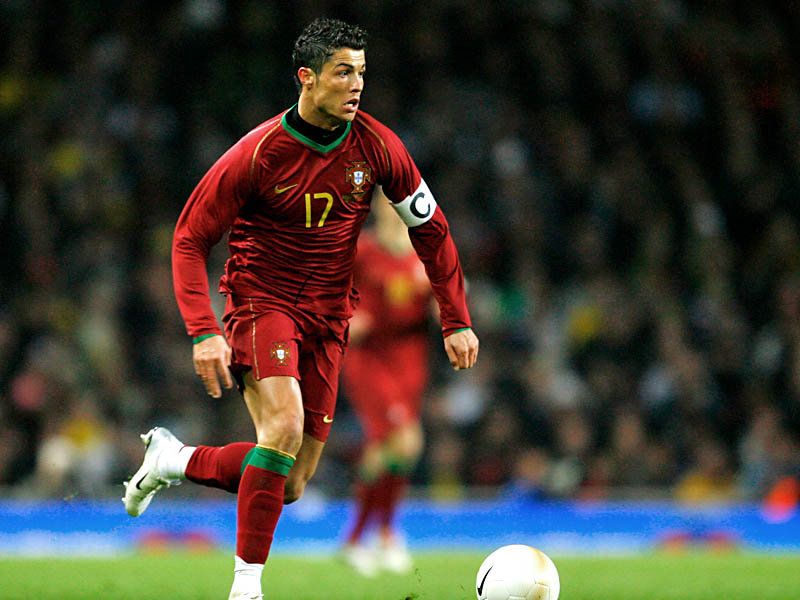 Just understand that what you're going to experience starting on Friday is going to be downright absurd. For the next 3 weeks you're going to receive so much coverage of the 2010 World Cup that if you are not properly prepared you might feel inclined to start drinking heavily. Wait...you already do that? Ah well, then maybe you'll want to listen to the latest Justin Bieber CD on repeat. Yeah, that's definitely more excruciating.
Sometime last year, fellow
blogger
and
friend
Jeremy K. Smith and I collaborated and did a comparison of the NBA's best players to the best rappers of this era. Lets make this thing we call futbol a little more relevant and do a comparison to some of the greats in "the association."
England's Wayne Rooney = Carmelo Anthony
When you watch Wayne Rooney on Saturday afternoon as they play against the USA in their opening game, you will quickly understand why the man is as feared as he is. Being the lead striker for arguably the best club soccer team in the world, (also the team I hate the most, Manchester United) he's ultra-quick, super-smart, and totally fearless. Carmelo plays with a similar spirit, and both have a supreme knack for the dramatic and being a bit bullish in their attack. I fear that Team USA's defense's will wither under the pressure of England's attack, and if they do its most likely coming off the toe of this man. Maybe we can put Carmelo on defense...
Brazil's Kaka = Deron Williams
Simply put, there's probably no better combination of being a floor general and being a scorer than Deron Williams in the NBA. In soccer, there's not a player who's as well equipped to both as good as the great Kaka. The 2006-07 UEFA Champions League
Player of the Year has some of the best balance I think I've seen in a footballer. Kakais being looked upon to deliver a stunning performance in the 2010 World Cup as Brazil is always a favorite, but they've got work to do to get to the final. He could take a page from Deron and almost use himself as a decoy, and get Robinho and company open in space. Put 'em in a body bag Kaka.
Argentina's Lionel Messi = Dwyane Wade
If you didn't know who Leo Messi was and you just saw him walking around on the street, you probably wouldn't think he was one of the most feared strikers in the world. You'd probably think...video game head, skater, or McDonald's worker. I'm just saying. However, I've personally never seen anyone be as efficient and quick with his footwork like Messi. He can score from literally anywhere and penetrates the defense like he's on a mission. Think about how D-Wade slithers and explodes to the basket, or can bomb from long range. That's Messi, and he's a killer. Don't say I didn't warn you.
Spain's Iker Casillas = Marcus Camby
Spain is the favorite for the 2010 World Cup, their team is literally built like a Dream Team. However, for as much love players like Fernando Torres (think Stephen Curry) and David Silva (think Brandon Roy) will get during the tournament, their anchor is Iker Casillas. Voted twice as the best goalkeeper in the world, dude is like Spiderman protecting the "ol' onion bag" (look, i'm just trying to help you with the lingo) like his life was on the line.
Portugal's Cristiano Ronaldo = Kobe Bryant
There's no better pure scorer than Ronaldo (understand that some of you might think back to a different "Ronaldo" that played for Brazil. This is the new Ronaldo from Portugal. The Brazilian version is really fat right now. Like I said, I'm here to educate you) in the game and is recognized as arguably the best player in the world. Some of the things Ronaldo can do seems almost magical. Think about how Kobe can get off absurd shots from almost any angle and then watch Ronaldo play. You'll understand.
France's Thierry Henry = LeBron James
I'm going to be straight up, Henry's old for a footballer (32) and he's definitely in the twilight of his career. Plus, I'm being a bit of a homer because Thierry Henry is the reason I am such a big soccer fan. In Henry's prime, there was no doubt he was the best player of his era. There was nothing he couldn't do, and he played in a LeBron-like fashion. An absolutely powerful and crafty finisher, Henry's drive to get the ball in the net was astounding. Henry helped lead France to win the 1998 World Cup and lost in the final of the 2006 World Cup. Now, he's going into 2010 knowing this is probably his last go, but he's capable of still providing some heroics for France.
Team USA = Oklahoma City Thunder
You've heard the media go on and on and on and on about our boys in blue aka 'The Sons of Sam' and for good reason, this is probably as talented a group of players the US has ever put on the pitch. However, this team is a green as the Celtics' leprechaun. A team loaded with young boys and rising stars, the future is bright for the squad. However, the question everyone really has is...can this team make a legitimate deep run in the tournament?
It all starts with Clint "Deuce" Dempsey, who you've heard
me speak about on ETSF
a couple of times before. It can be said that Clint Dempsey is in the top 50 of the best footballers in the world. That's an astounding feat for a US-born player, and with the emergence of the young man Jozy Altidore, the brick wall Tim Howard, and the mercurial and loquacious Landon Donovan who's now the old man on the squad...they've got a legitimate shot at getting into the deeper rounds. They've got England up Saturday, and its arguably the most important game in our history. Its a measuring stick. If we can push England to the brink and come out with a victory...certification.
With that being said, I'm picking Brazil vs. Italy in the final. Who you got? Are you excited about the World Cup or could personally care less? Let us know your thoughts!!!
-Ed.
http://www.edthesportsfan.com/
P.S. As a reminder, checkout the livest sports talk (and hopefully on the radio soon) show around, "The Unsportsmanlike Conduct Show" as we are live Wednesday's at 9pm Eastern at
http://www.blogtalkradio.com/edthesportsfan
! Download our podcasts if you missed the live show as well!