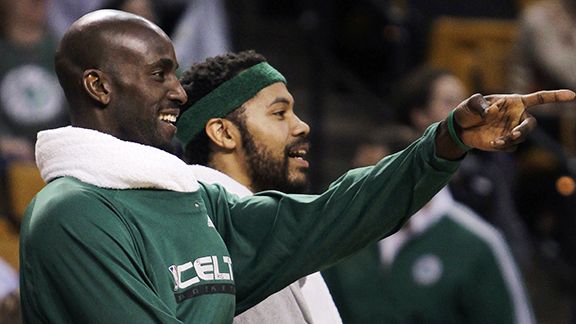 There are plenty of things that can be said about this recent version of the Boston Celtics. They have their young floor general, and, after Game Six, they have a reliable back-up point guard. Of course, they have Paul Pierce, the staple of the Celtics for the past 12 years, and also have the greatest shooter in my lifetime, in Ray Allen. However, there are two players on this team that have been near the top of my favorite players list for the past 15 years. They came in the league together, and with four more wins, will be able to win a championship together. Those two players are none other than Rasheed Wallace and Kevin Garnett.


The 1995 Draft was memorable, just from the fact that four of the first five picks were power forwards. You had Joe Smith at the top, followed by Antonio McDyess at two, Rasheed at four, and KG at number five. Rasheed played at UNC with Jerry Stackhouse, and even at 12 years old, I remember seeing him go nuts, and screaming and yelling after every dunk or oop that he caught from Jeff McInnis. The post-game was phenomenal, and he definitely had the livest demeanor of anyone in college basketball at the time. Basically, he made me like Carolina again, especially after they beat the beloved (in my eyes) Fab Five in the National Championship, a couple of years earlier.

For some people, 'Sheed is the epitome of not using your complete skill-set to their potential. To me, he's one of the best forwards of the past 15 years, a player with an unlimited arsenal of moves in the post, a legitimate three-point threat, and an outstanding low-post defender. Sure, he's a hot-head, but as far as anyone who's a fan of him is concerned, we don't really care, because it's part of what makes 'Sheed exactly who he is. The fact that he's still able to do the same things that he did back in the day is a further testament to how good this man truly is.


As far as KG goes, the admiration and esteem he's held in on this site can be seen here, here, and here. In a sense, KG is a basketball version of what ETSF aspires to be: authentic, raw, loyal to our base, and give our best each and every time. KG was coming straight out of high school, and as soon as I saw him hit the floor, it was obvious he would change the game, which anyone with an objective mindset can certainly co-sign on. Even as he's gotten older, and his game has slowed down, it's no doubt that once he enters the arena, he's still the realest in the room. Boston thrives off of his energy and passion, and if they're gonna get their second ring in three years, it'll be because of what he brings to the court against Gasol, Odom, and whoever else wants some.

That's the biggest story of The Finals for me. People can have the stuff about "the drive for five," repeats, this being the chance for Boston to get their 18th championship, and all that. My perfect scene would be to see two of my favorite players from the seventh grade on the court together, after the Celtics win, and hold that trophy together as NBA champs. With four more victories, they can do just that.

Be easy.
-K. Masenda
www.edthesportsfan.com
P.S. If you missed our live show, you can download our weekly podcast of "Unsportsmanlike Conduct" on the ETSF Radio Network, as we are live Wednesday's at 9pm Eastern at http://www.blogtalkradio.com/edthesportsfan!