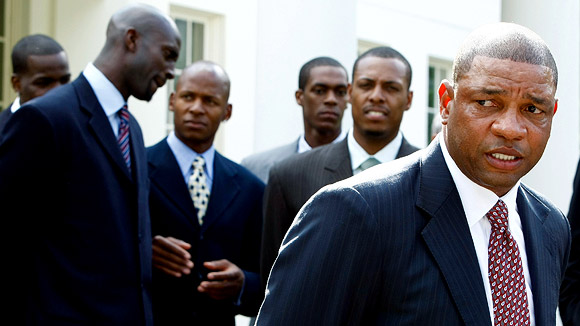 A sickening display has, once again, reared it's head in this year's NBA Finals. It's one that truly isn't surprising, but still isn't right. In the midst of the Celtics being one win away from winning their second NBA title in three years, people would rather talk about the legacy of Kobe Bryant, Phil Jackson, and what's wrong with the Lakers, instead of simply giving Boston their credit. However, that's why ETSF is here. See, we (well, not Ed, but I do) see it as one of our roles to scream at an injustice when we see it, and attempt to correct a wrong. That's what today's post is all about. It's more of a call-to-arms to what's on the line for Boston, outside of that big gold trophy.

If Boston finds a way to win this thing, it will conclude the strangest, ugliest, yet the most beautiful and amazing title run in my lifetime of watching NBA basketball. There honestly hasn't been a time when a team was picked to lose in at least three rounds (and if you look hard enough, some people picked Miami to beat them in the first round), yet Boston found themselves in The Finals, in the most unconventional fashion. Two years ago, after they obliterated LA in Game Six to win the title, Jeff Van Gundy said Boston played with more desperation than any team he'd ever seen. At the time, I agreed with him, until this run began to take shape.


They've literally gone out there and punked teams into submission, and not in the way The Bad Boys of the old days would do it, because that just isn't allowed anymore. What we've seen is their three old men, their two young starters, and a collection of role players re-define the definition of what a team truly is. Hell, if people wanna harp on the potential of a free-agent summit, that's cool, but what the free agents need to do is look at Boston as a blueprint on how to come together, with the sole intention of winning a championship.

You know how people say they don't care how they win, as long as they win? Well, leave it to me to call bullspit on that, because there are more than enough examples to show that's the contrary. However, when you look at Boston, you see that they really do abide by that philosophy. These cats really don't care how they win. One game, it'll be Rondo, with 20,000 fans in The Garden screaming "MVP," when the man's at the line. The next game, it'll be Glen Davis, or Nate Robinson, or 'Sheed. It's not just about The Big Three anymore, and when you ask them, they really don't even care. We know KG doesn't, because he's probably the least selfish superstar in our lifetime. The only one who would care is Frumpy; I mean Paul Pierce, and he doesn't even care about how it looks, because he knows it's all about championships (thanks to Till, DragonflyJonez, and plenty others on Twitter for giving this man one of the most hilarious nicknames in recent memory).




The biggest reason for this mindset is because of the man at the head of the table; the man who ran onto the court at the end of Game Two to call a timeout, before his team got an eight-second violation, like he shot out of a cannon, like Usain out of the blocks, or like a man who jumped in front of a bullet that was intended for one of his homeboys. That man is Doc Rivers. When you see your own coach abandon conventional coaching tactics and do that, it pretty much personifies their entire team. The man looked like he ruptured a lung, tore his Achilles, and had an anxiety attack at the same time, but he's the perfect example of Boston doing whatever it takes to win.

If this thing ends in a Boston victory, we all should stand back and applaud this team. They're a true team in every sense of the word; one who believes that every single player matters, from the star to the last one on the bench. Enjoy it now, because what we're seeing may never happen again.

Be easy.
-K. Masenda
www.edthesportsfan.com
P.S. As a reminder, checkout the livest sports talk (and hopefully on the radio soon) show around, "The Unsportsmanlike Conduct Show" as we are live Wednesday's at 9pm Eastern at http://www.blogtalkradio.com/edthesportsfan! Download our podcasts if you missed the live show as well!