Two months from now, we'll be able to look at a Thursday and know we've got football not only on that day, but also on Friday, Saturday, Sunday, and Monday. It's so close, but still seems so far away, and in the meantime, we got to find a way to make up for that time.

When it comes to making it up, it goes for all fans, or at least the majority of fans I know. Granted, there are some people who can literally watch baseball every day, and while that's cool for them, the majority would rather talk about what's coming up with football instead of a sport that's actually being played right now. Luckily, the beginning of the downtime has brought us some good stories, and this may be one of the years when waiting on football season isn't so dreadful.

1. Wimbledon – to whoever ends up winning Wimbledon this year, you no longer matter anymore. After what occured yesterday, this year's tournament will be remembered more for Mahut/Isner than anyone who wins the title this year. When Syracuse/UConn played in a six-overtime game last year in the Big East Tournament, no one cared that Syracuse lost in the championship game. Hell, Johnny Flynn still won tournament MVP, even though he was on the losing team. That's what history does, and even though Mahut/Isner is only in the first round, this will give fans plenty to do with our downtime.

2. World Cup – the US boys are in the round of 16 now, which basically means anyone who isn't soccer fan (myself included) has become an unofficial one, so we can all enjoy the ride together. Outside of the main players on the national team, I don't know anyone else, nor do I know anything about Ghana's team, their opponent on Saturday. One thing I've learned in my time as a sports fan is, sometimes, it really is a case of "less is more." I can watch the games ignorantly and just cheer for USA, and while folks have become emotionally invested in the outcome of the game, we should be able to keep it in proper perspective.

3. Baseball – the good side about baseball (the selfish fan in me) is that my hometown team, the Rangers, is in first place. Baseball's the one sport where there's a true love-hate relationship. I love going to the games, but I hate that the season is so damn long, and if it wasn't for the Rangers being in first, the odds of me giving a damn would be even less. For other fans of the game, it still may not matter, and they'll just wait until August or September when pennant races heat up, but by then, it'll be time for football again.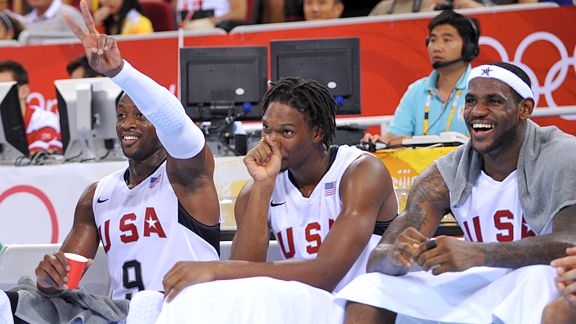 4. Free Agent Summit – starting next Thursday, the NBA will be on an entirely different level with free agents having the chance to get courted by potential new teams. Personally, I don't think too many of them are going anywhere. The only one that's 100% certain to leave is Chris Bosh, but after that, there's no telling. Either way, it should be an exciting time.

Be easy.
-K. Masenda
www.edthesportsfan.com
P.S. As a reminder, checkout the livest sports talk (and hopefully on the radio soon) show around, "The Unsportsmanlike Conduct Show" as we are live Wednesday's at 9pm Eastern at http://www.blogtalkradio.com/edthesportsfan! Download our podcasts if you missed the live show as well!