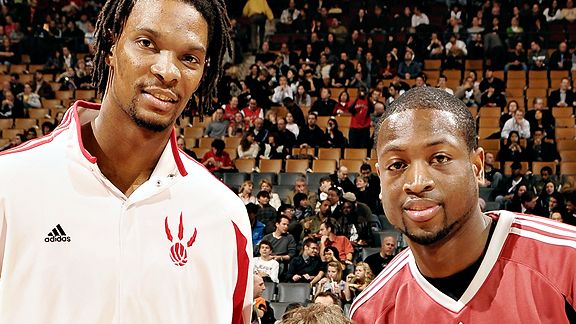 So its come down to this...
Chris Bosh and Dwyane Wade are now joining forces and will try to bring another title to South Beach, let all 37 Miami Heat fans rejoice and sing praise in this momentous occasion in bringing an elite big man to your squad. Chris Bosh turned down $30M from a sign and trade deal opportunity from Toronto to go to Cleveland because well...its Cleveland. Miami now has their next big superstar to play alongside Dwyane Wade. No baby mama drama for him in Chicago, no sir. Staying in
W
Dade County.
Has the power shifted to South Florida? Is Miami the team to beat now? So many questions...I think I've got some answers.
First off let me say this, if Miami doesn't do anything else to their team besides sign rookies, a couple of veteran's exceptions, and some retread players with maybe one season left in the tank, the Miami Heat MUST move Michael Beasley before the season starts. They have literally tried to trade the former #2 pick to everyone for anything from a sign & trade with Chris Bosh to one of those Double Down sandwiches from KFC. No bueno. What's his mindset right now? I could totally see him coming to the locker room in a diaper and boxing gloves talking about, "SOMEONE BRAID MY HAIR OR ELSE!" Oh its just me? Okay.
Second, and I know this is slightly off subject but...am I the only one who has now officially become a salary cap expert? Man, I can tell you about an ETO (Early Termination Option), RFA (Restricted Free Agent), S&T (Sign & Trade), and any other jargon that these general managers, analysts, and other player personnel folks use on the daily. If any of the readers of ETSF were to ever hit the lottery, could you PLEASE make me the general manager of your team? I promise I will not steer you wrong and will only try to sign 4-5 light skinn'd brothers on the team...tops.
Third, you may have heard that LeBron James is making his announcement on where he will be signing tomorrow night at 9pm Eastern on the Worldwide Leader. What's fascinating is now that Bosh has signed in Miami with Dwyane Wade, where is LeBron's final destination? Folks still say that Chicago has the best chance of signing him, and maybe they do, but doesn't this open the door for the Knicks (who by signing Amare early might prove to be the smartest thing they've done in 10 years), Nets and Clippers. Put it this way, Outside of Chicago, LeBron thought that he could find a way to team up with Bosh or Wade on almost any team and they could figure out the rest. Now, those two players are not an option. Amare's sitting in New York ready to go and if I'm Mike D'Antoni...don't you just sell to LeBron that, "You're our point guard" and that makes everything better? LeBron, Chandler, Gallinari, Amare, and random big man X? Hell, throw Eddy Curry down there for laughs. Suddenly, this Knicks thing is looking up.
Same for the Nets & Clippers, who if you throw LeBron on their respective teams you could argue that they have maybe the best starting 5 in the league. Hell, if Blake Griffin comes back to 100%, then you're talking about a James/Griffin/Kaman front line? That's insane! Even James/Favors/Lopez is extremely formidable and scary.
As for Cleveland, I've been getting messages as of this morning that some folks are literally on suicide watch. I don't know how to feel about the city, because its got to say something that a man like Chris Bosh would turn away from $30M AND a chance to play with LeBron because he literally had no desire to live in Cleveland. To LeBron's credit, he tried actively to lure Bosh to Cuyahoga County, but even LeBron's nudging didn't work. I feel bad for y'all, I really do. I'm not sure what else you can do. You can't bring in David Lee, I'd argue that J.J. Hickson might be as good. You can't bring in Carlos Boozer, because he steals from blind men. Amare is in New York, and Chris Bosh refused to sign with you.
So it's going to be an interesting end of the week, like I told you before...no one knows what the hell they're talking about and this LeBron announcement could be epic. Hell, he scheduled a one-hour special on ESPN's primetime to do it. That is arrogant as hell, but I think even LeBron knows how big of an impact this is going to have on the basketball landscape.
For Wade and Bosh, I give them credit, they made their decision and are going to try and make this run. Bosh gets what he wants, to be in a major city like Miami, and Wade still gets to be lead dog on his team. Its going to be a fun 5 years in Miami, let's see if Wade and Co. can get back to the promised land.
-Ed.
www.edthesportsfan.com
P.S. As a reminder, checkout the livest sports talk (and hopefully on the radio soon) show around, "The Unsportsmanlike Conduct Show" as we are live Wednesday's at 9pm Eastern at
http://www.blogtalkradio.com/edthesportsfan
! Download our podcasts if you missed the live show as well!