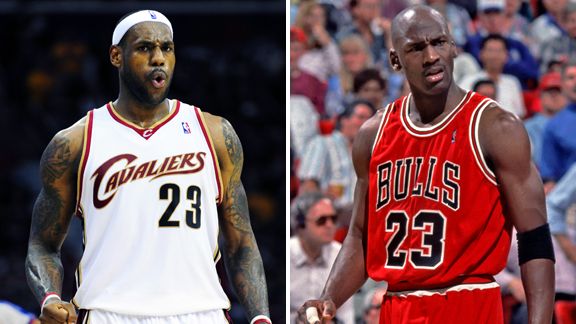 "There's no way, with hindsight, I would've ever called up Larry [Bird], called up Magic [Johnson] and said, 'Hey, look, let's get together and play on one team,' " Jordan said after playing in a celebrity golf tournament in Nevada. "But that's ... things are different. I can't say that's a bad thing. It's an opportunity these kids have t
oday. In all honesty, I was trying to beat those guys."


There are so many flaws in the recent response by Michael Jordan andhis old man friends Charles Barkley and Magic Johnson, that I just can't take any of this seriously. The problem is the majority of folk will hear Jordan's words and affirm them to be literally the spoken word, because if it comes out of MJ's mouth, it's the gold standard.
Well let me be first (and maybe the last, please don't let me be struck by lightning) to tell Mike: shut the hell up.


Reason being? Well, I've also been crucifiedor writing another post speaking
against the legacy of the 90's Bulls
, and the fact that they dodged major bullets when three dynasties (80's Celtics, Lakers, Pistons) fell off the face of the Earth. This isn't hating on Jordan, not at all. However, for a man to say he wouldn't have done what LeBron did in his time is being woefully inconsiderate of a few key things...


1) Magic Johnson and Larry Bird were not his contemporaries, and in no way shape or form would have ever needed Jordan...
Outside of the fact that Magic and Bird were five years his senior in the league, they were also on teams that didn't need Jordan. Why? Because they already were teamed up with three, four...to FIVE hall-of-famers on their own teams! I guess folks just forgot that Michael spoke about Magic and Larry like he was meeting them in the finals, or that Magic and Larry didn't win any championships in their time. Magic Johnson won a championship in his rookie season! Larry Bird won his first title in his second season! Moreover, do we forget the hall-of-famers that Magic and Larry played with? (Magic - Kareem, Worthy, McAdoo; Bird - McHale, Parish, Walton, DJ) Which leads me to my next point...



2) It took the Bulls seven years to build a championship around Jordan, in seven years Cleveland struggled to do the same for LeBron...



Do we forget the things that were said about Mike back when he was playing? "Oh, he's a phenomenal basketball player...but he's selfish and doesn't trust his teammates." Don't you all remember the scrubs Jordan was playing with early in his career? Its amazing to see what he was able to do what he did with those players in the 1980's, but he wasn't ever going to get close to winning a championship with that bunch. Plus, his coaches sucked too (Doug Collins is a fraud and we all know he's a fraud. That's why he's coaching a fraud team in Philadelphia this season. I'm not hating on Philly but...c'mon son)

.

Jerry Krause and the Bulls management were able to put some quality pieces around MJ, a hall-of-famer in Scottie Pippen, and a dog on the glass in HoGrant, plus the Zen-master Phil Jackson came into the fold and installed maybe one of the greatest offensive systems in basketball history in the triangle. Put all of that together, along with the fact made earlier of the decline of the powerhouses, and Jordan was able to see the light. By 1990-91, he'd achieved his goal, to be world champion...but it took seven years! LeBron's Cavaliers were not headed in the same situation, and were at the extreme opposite end of the spectrum in regards to his teammates, coaching situation, and general management. LeBron had no choice but to clear his own path, and truthfully I think there's a bit of envy by some of these old heads because they didn't think of doing it. Which by the way...

3) Charles Barkely, you too can shut the hell up.


A quote from the round mound of rebound...
"Let me just tell you this ... Mike and I are in 100 percent agreement on this. If you're the two-time defending NBA MVP, you don't leave anywhere. They come to you. That's ridiculous."
This is the same man, one of only six regular-season MVPs to not win an NBA championship, that said that during his prime years in the league, it never even crossed his mind that he needed help from other All-Star players to win a title. Barkley's thought process was that he could do it on his own every year because he wanted to be "The Guy."
Now Charles, lets be real for a second. You are the same man who is revered by all as one of the greatest players of all-time, your best friend is Michael Jordan, and you're going to sit there and tell us that you never thought you'd like to have another strong teammate to help you attain victory? Either you love pain and suffering, or you're an idiot. This is also the same Charles Barkley who waited till he was old to go play for Houston with established stars Hakeem Olajuwon and Clyde Drexler/Scottie Pippen and tried to make one of the original "old-man runs" for a championship. If John Stockton doesn't hit that three...


People get this confused, and someone please help explain this to me. If you are an elite player trying to win championships, then its okay for your team to A) Draft great talent and let them mature into being all-stars and help lead the team to victory. B) Acquire via trade said all-stars, hope they mesh, and help lead the team to victory. However, its not okay to C) Come to an accord with two other dynamic players (which let's also be clear that Wade & Bosh aren't Magic and Bird in the slightest! If Mike would've said Charles Barkley (contemporary), and Clyde Drexler (contemporary), then maybe I'd feel differently about this; for players to take this route to come together and build their own dynasty...this is considered not okay?


Chuck just sounds bitter, and I don't blame him. However, how smart is it to sit back and know that your chances to win a title are about as a slim as those cigarettes Virginia smokes? (Lame joke, I know.)


The biggest issue I have with Michael saying what he said is that its going to give a lot of you out there validation on what you think is the truth. If you agree with Michael, then that's fine, but my hope and desire is that you think about what's real and what's not, and don't let one man's words sway you into believing what's really going on around here.


The fact of the matter is this...LeBron had to leave Cleveland. For three reasons:
1) Dan Gilbert. Which I can only summarize how I feel about him by using the thoughts from NBC's Johnette Howard,
"Until James jilted him, the thumbnail on Gilbert went like this: successful business tycoon, committed owner, aggressively worked to keep James with the Cavs and benefited mightily from having James there. But as James free agency approached, Gilbert also pushed out Cavs' general manager Danny Ferry and coach Mike Brown. He admittedly ran big decisions by James for his input, if not always his final approval. So if James developed into a monster, Gilbert has to recognize he deserves at least some of the blame. Jordan loathed Bulls GM Jerry Krause back in the day, too. But Bulls owner Jerry Reinsdorf refused to fire him or give Jordan carte blanche."
Jordan even spoke bad about Jerry Krause at his induction speech into the Hall of Fame, and its weird because my feeling is that LeBron probably would've preferred to have it the other way around.


2) Delonte West. No discussion needed.

3) Lack of a championship foundation. At the end of the day, LeBron was not on the path to being the greatest of all-time. From working with a lackluster organization, to not playing under a great coach, and being paired with quality teammates, LeBron was striking out. It should be noted that what he's achieved should be applauded! A finals appearance, two MVP trophies (why did we say LeBron won those MVPs in the first place? Because that team would be in the LOTTERY without him, that's why!), and putting together seven phenomenal seasons that has him looking like
Magic
on steriods...I'm baffled why we'd even question the man's "decision" to the Nth degree.
So to Michael...Magic...Charles...please be quiet. We respect the old men around here; we were raised that way. However, when you pop off and say thing like this, it's the reason why old men sometimes sound senile. Sometimes when old men sound senile, you still have to listen...out of respect, because you know that usually the old man will spit some wisdom.


This just ain't one of those times.


-Ed.

www.edthesportsfan.com


P.S. As a reminder, checkout the livest sports talk (and hopefully on the radio soon) show around, "The Unsportsmanlike Conduct Show" as we are live Wednesday's at 9pm Eastern at
http://www.blogtalkradio.com/edthesportsfan
! Download our podcasts if you missed the live show as well!