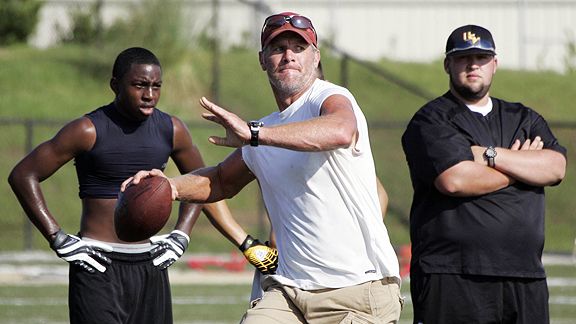 Once again, it's that time of the year where football fans have to be subjected to the "Will he? Won't he" talk that has come to personify Brett Lorenzo Favre. If you're a football fan who is unfamiliar with this lingo, what the talk consists of is every sports outlet participating in Favreapalooza. They all cover Lorenzo, as if their lives depend on it, with the intention of finding out if and when Lorenzo Favre will return to football. It's as if there's a signal that goes off in their collective minds that says "it's that time again," and they all go nuts, and follow this man around like the rock star that he is. Well, speaking as one who is very familiar with this time of the year, allow me to handle this for you, so you will not feel compelled to follow Farveapalooza: Lorenzo will return when he's good and damn ready.

Here's what we all know about Favre: the man has been in the league for 20 years. He knows how to prepare, and at this stage of his career, all he needs to know is the names of his receivers, backs, and his offensive line and he'll get continuity down in literally no time. The man keeps his arm loose by throwing with high school kids, and for as long as he's been doing that, those kids probably aren't trippin' about him coming back or not. See, Lorenzo Favre participates in training camp, but his camp is in Mississippi with 14-17 year-old high school football players. It may seem ridiculous, but this is what the man has done for the past several seasons, and it's worked out just fine.


Let's be honest, people. It doesn't really matter when he shows up. Is Lorenzo not being at training camp the reason why the Vikings lost the NFC Championship last year? Is Lorenzo not being at training camp the reason he had, arguably, the best season of his career? Hell, at this point, I don't even remember Favre as a 25-year-old man anymore, because he's been in the league forever, but it's also because he has played at a high level for so long anyway.

Football fans, trust me when I say this: do not allow yourselves to get worked up, frustrated, or pissed off at Lorenzo Favre. If so, then get mad at the sun for coming up in the morning, for red meaning stop, and for green meaning go. Some things are the way they are, because they're meant to be, and because they're law. Lorenzo Favre getting special treatment is law. The Vikings season will not be decided on whether he gets to training camp at the end, or whether he gets there at all. Let's find other football-related matters to invest our time in; things that actually make a difference for this upcoming season, and let Favre do what he does.

Be easy.
-K. Masenda
www.edthesportsfan.com
P.S. As a reminder, checkout the livest sports talk (and hopefully on the radio soon) show around, "The Unsportsmanlike Conduct Show" as we are live Wednesday's at 9pm Eastern at http://www.blogtalkradio.com/edthesportsfan! Download our podcasts if you missed the live show as well!