Note: I'm kinda passionate about athletes not being fully respected, and as a post was written in a similar vein about Philip Rivers last year, this Respect post is as follows...

Last weekend, something mind-blogging took place. in between people hanging on every word of every analyst about NBA free agency, as well as some fantastic soccer at the World Cup, Serena Williams won yet another Wimbledon championship, by smashing Vera Zvonareva into oblivion in 67 minutes. Let's put it this way: it takes me about 40-50 minutes (on a good day) to get to Rudy's to get some chicken. That's just to get there; I still have to go home. By the time of all of that gets done, Serena was done playing, showered, did her interview, and was off to kick it. It's Serena's 13th Grand Slam, but if you look around enough, you would think it was no big deal. People aren't talking about it nearly as much as they should, which leads me to wonder what the hell else she has to do to get some respect around here.

One thing that should be appreciated about the win is her attitude afterward. She talks about how she wants to win as quick as possible, and that long matches are cool for the fans, but when you're out there playing, you just want to win, and do it immediately. See, for all the folks who went nuts about Nicholas Mahut v. John Isner in the first round, that same Isner lost in the next round, and you'll be hard-pressed to think his previous marathon match didn't have something to do with it. Yet, Serena went out to on the court, destroyed all comers, and her achievement doesn't get the same coverage as everyone else's. Her six matches to win Wimbledon this year lasted a grand total of eight hours and 38 minutes! It would be one thing if other amazing stuff happened over the weekend, but hell; there was nothing but speculation about players in the NBA, and the signings that did happen weren't bigger than her winning Wimbledon. The World Cup has been great, but it's not like it was the Finals. Once again, it just doesn't add up.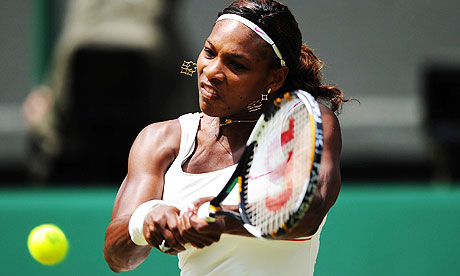 People said they expected her to cruise in the Final, but 67 minutes is 67 minutes, and domination is domination. Folks go dumb over other athletes who dominate when expected all the time, and the same should go for her as well. Is it because she's fine that people don't take her as serious as they should? That logic, as stupid as it is, is expected, because it plagues women in other professions as well. Is it because people don't care about tennis? That would be understandable if it was true, but it isn't, just off the strength of Federer and Nadal when they dominate. It's a well-respected sport, but the best, and probably most consistent player in the past few years, isn't fully respected. It just amazes me that she really has no equal right now, and the only one who can stop her is her.

Venus, as good as she is, can't touch Serena right now, and no other players can either. She's sixth all-time in Grand Slams, and before you know it, she'll be passing even more tennis immortals. Once that happens, what are people gonna say then? Hopefully, she sticks around long enough to keep racking up Grand Slams, and when she's ready to charge it to the game and step away, folks will have no choice to appreciate what she's done.
Be easy.

-K. Masenda
www.edthesportsfan.com
P.S. As a reminder, checkout the livest sports talk (and hopefully on the radio soon) show around, "The Unsportsmanlike Conduct Show" as we are live Wednesday's at 9pm Eastern at http://www.blogtalkradio.com/edthesportsfan! Download our podcasts if you missed the live show as well!