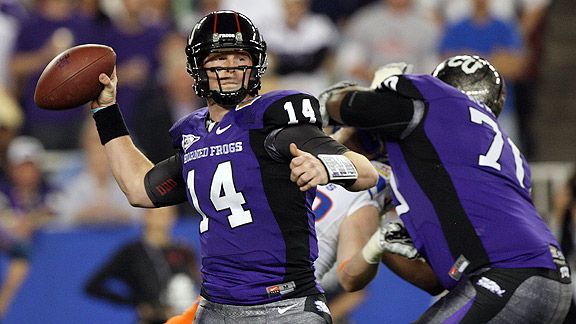 With college football right around the corner, everyone has their consensus picks for the best team and players in the country. The majority of folks have Alabama as the best team. The majority thinks Jake Locker is the best quarterback in the country, Mark Ingram the best back, and Michael Floyd as the best receiver. You can go as far to say that would make those three guys all have the tools to have strong Heisman campaigns, because when you're seen as the best at what you do, "Heisman" is sure to follow.

The point of today's post is to make a case for three players who are, in my opinion, dark horse candidates for the Heisman. Sure, people bring their names up and have them on a list, but it's usually a list that's more as a sign of courtesy than anything. The reason why these three players are my picks is simple: they'll be instrumental in their team's success. One should be able to win the Mountain West again this season, while the other has a realistic shot to return his team to glory. The third put on an unreal performance in the Big East Championship last year against Cincinnati, and injury withstanding, all three guys will do work again, starting in a few weeks.

Andy Dalton – TCU
Some will say he may not even be the best quarterback in the state of Texas (Case Keenum and Jerrod Johnson come to mind), but all Dalton does is win. The man is a two-time bowl game MVP, and got a taste of the big time in the Fiesta Bowl last year. TCU has all the weapons in place for him to do his thing, and with a strong defense, he'll have plenty of opportunities to light up the scoreboard. Dalton is one of those guys that you just have to see play an entire game. His highlights don't do him any justice, but it's no secret that he's one of the best at what he does. If TCU is able to run the table again, look for Dalton to be a big reason why, and hopefully, he'll earn a seat at the Heisman ceremonies as well.


Christian Ponder – Florida State
Some people may look at this pick with apprehension, and maybe there's something to that, but I truly believe the only thing that can stop Ponder from being one of the best quarterbacks in the country is injury. He's got the tools to be successful, and he will also benefit from being able to be a part of a team that can finally focus solely on football. Let's be real here; I love Bobby Bowden as much as anyone and I still feel he should have been able to leave when he felt like it, but the talk about his future took precedence over anything the team was doing. Now that Jimbo Fisher is in place, and Ponder is 100%, look for him to do big things this season. 7-6 won't do it in Tallahassee, and with Ponder's experience at the helm, he'll be looking to add a few more wins to this year's record. If Ponder can lead his team to an early-season victory in Norman, which is not out of the realm of possibility, it'll look very good on his Heisman résumé`. Plus, they have Miami, and if he is able to help the 'Noles get revenge against the 'Canes from last season's early loss, he'll definitely be on the right track.


Dion Lewis – Pittsburgh
In the biggest game of Pittsburgh's season last year, Dion Lewis ran for nearly 200 yards, and the Panthers basically rode the man's back as far as they could in that game. If their defense played half-way good, they would have destroyed Cincinnati, and an even bigger audience would have been able to see Lewis do work in a BCS bowl. Instead, we had to settle for the freaking Meineke Car Care Bowl, but it didn't stop Pitt from finishing strong. The Panthers beat North Carolina in their bowl game, thanks to Lewis' 159 rushing yards. In total, the man rushed for over 1,700 yards and 17 touchdowns as a freshman. They'll lean on him even more, since they're breaking in a new quarterback, in Tino Sunseri. Pitt's gonna need Sunseri to keep opposing defenses honest, so they don't pile up, and tee off on Lewis. If he's able to catch on quick, then the possibility of Lewis running for 2,000 yards becomes very realistic. Statistics-wise, Lewis goes into this season with the strongest case of the three, and given the make-up of the Panthers attack, it'll more than likely stay that way.

Be easy.
-K. Masenda
www.edthesportsfan.com
P.S. As a reminder, checkout the livest sports talk (and hopefully on the radio soon) show around, "The Unsportsmanlike Conduct Show" as we are live Wednesday's at 9pm Eastern at http://www.blogtalkradio.com/edthesportsfan! Download our podcasts if you missed the live show as well!