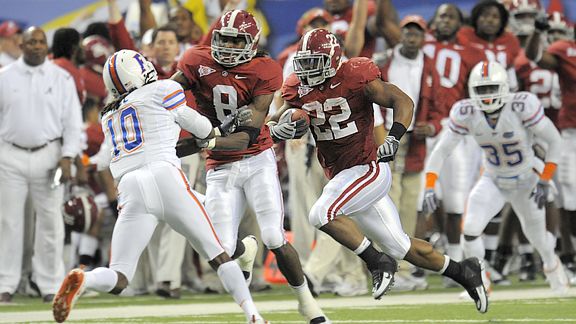 This weekend has the potential to be a memorable one for college football. With that said, let's not get the game twisted, people. The last time we felt like this was only a couple of weeks ago, only to be thoroughly disappointed by a slate of games that had all the makings of classic on them. Yet, once they got going, they were so overmatched, overhyped, and such a waste of time that I could have spent my day shocking the world watching high school football instead. However, one of the ideals at ETSF is to keep it 100 and also remain optimistic, and with that being said, let's take a quick look at some games that have the potential to be pretty damn good.


Texas v. Oklahoma, aka The Red River Shootout
Admittedly, this game lacks the national luster of the past few years, but it's still crazy around here locally, and if you need a small indicator, there's always the animosity that exists around this time between myself and any friends of mine who root for The Burnt Orange. Last night, Ed and I played The OU Fight Song on Unsportsmanlike Conduct Radio twice, much to the chagrin of B-Lew, who had no choice, but to either hang up his phone, or take our taunting like a man.

Like I said, this game lacks its usual hype, but the bragging rights still mean just as much, if not more, than ever. The biggest reason may well be due to the lack of stars on the field. Will Bob Stoops be Big Game Bob this time around? Will Mack Brown continue his recent string of victories against the Sooners? Who's gonna win the chess match between Kevin Wilson and Will Muschamp? What about between Brent Venables and Greg Davis? Notice how I didn't say anything about the players, because even though they're the ones out there playing, the biggest stars in this game are the guys wearing the headsets this time around. Sorry.

Florida v. Alabama
Alabama has a chance to put a strange-hold on this rivalry, if they can knock the Gators off in Tuscaloosa. It's impossible to count out an Urban Meyer-coached team, though. The man still has talent abound all over the field, and there's nothing that shows as evidence that Florida will be scared of Alabama. Then again, they're going against a quarterback who hasn't lost a start since the eighth grade, the most recent Heisman Trophy winner, a ridiculous set of receivers, and a sick front seven. Sure, their secondary isn't worth a damn, but if they get pressure on John Brantley and force the young man into making some bad decisions, it may get ugly out there.


Stanford v. Oregon
This game is more for the Pac-10 heads that frequent the site. The biggest thing I know about Oregon is their mascot has the triceps of Ronnie Coleman, a young Hulk Hogan, and Clubber Lang from Rocky III. Oregon scores nearly 60 points a game, and with every touchdown, the mascot has to do pushups, and even though he's not out there playing, he's probably the best-conditioned athlete on the entire field. Both teams are ranked in the top ten, and it sucks that they're stuck playing on the same weekend as the two previously mentioned games, but this one has the potential to be the best one of all. We get another opportunity to see one of the best quarterbacks in the country in Andrew Luck for Stanford, as well as a crazy, high-octane Oregon offense, led by Texarkana's own LeMichael James. It should be a good one.

WHICH GAME ARE YOU LOOKING FORWARD TO THE MOST? WHAT ABOUT WISCONSIN V. MICHIGAN STATE? THE REV'S NITTANY LIONS V. THE HAWKEYES? LET US KNOW!!!!

Top photo courtesy of Paul Kruse
Be easy.
-K. Masenda
www.edthesportsfan.com
P.S. As a reminder, checkout the livest sports talk (and hopefully on the radio soon) show around, "The Unsportsmanlike Conduct Show" as we are live Wednesday's at 9pm Eastern at http://www.blogtalkradio.com/edthesportsfan! Download our podcasts if you missed the live show as well!