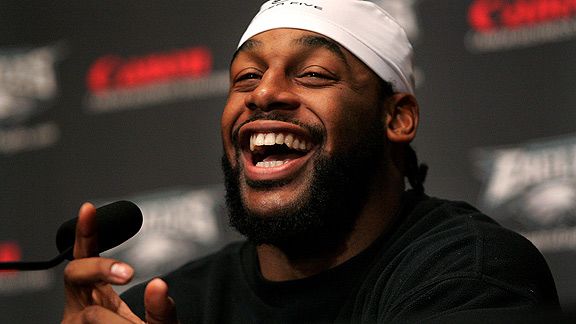 April 5, 2010 began as many days in my life have. There was the usual: turned on the TV, brushed my teeth, washed my face, fixed some breakfast, hit 24 Hour Fitness, the whole nine. There was nothing that suggested anything ominous was on the horizon. If so, I would have dressed for the occasion. However, that soon changed, when the Philadelphia Eagles traded The Great Donovan McNabb to the Washington Redskins.

At the time, utter shock took place over anger; bewilderment replaced the feeling of being utterly furious. Sure, there were whispers about trading him in the past, but it never occured to me they would actually do it, especially coming off of an 11-5 season. Was it realistic that they would trade a man, within the freaking division, who led his team to FIVE conference championships in 11 seasons? That means that in every other season he played, he took his team to the conference championship. Let that marinate, people…

Knowing all of that, I can't say it did. However, they made the move, and when they did, I pronounced that they would suffer from The Ghost of Donovan McNabb's Past. There was no timetable as to when the visible effects would surface for all to see, but there was no doubt the undetectable effects would be there immediately.


After the deal was done, the Eagles were left two quarterbacks at their disposal: Houston Cougars alum, Kevin Kolb, and the most electrifying quarterback that has ever lived and fresh out of Shawshank, Michael Vick.

Admittedly, there wasn't much known about Kolb initially by us over here at ETSF. Sure, the man was Texas Made (Stephenville High School and U of H), but that's really all that was on the record. As for Vick, there was plenty to know about him. When they signed him, I make a proclamation that he would re-revolutionize the quarterback position, which was immediately shot down by a couple of buddies *coughs* (The Rev and Ed). Even with these factors at hand, it wasn't gonna be enough to stop the storm that was sure to come Philly's way for their long-standing mistreatment of Donovan McNabb. The Ghost was still coming; the only question was…when?

Well, it came in the first game of the season. Not only did Kolb get hurt in the first half of the first game of the season, Vick went in and played admirably in defeat. Then he started the following week, due to Kolb's injury, and played well against Detroit, leading them to victory. Even with that, there was still something lurking here; something that was bubbling beneath the surface but slowly coming to life. It's one thing for Kolb to go down, but an event also transpired in his alma mater's recent game against UCLA. Houston's starting quarterback AND their back-up were knocked out of the game, presumably for the remainder of the year. Now, the Ghost of McNabb was not only affecting Philly and Kolb, but it also started affecting people who, indirectly, had nothing to do with him being dealt, but had ties to Philly's heir apparent.

Andy Reid, the same man who I honestly believe did not want to trade Donovan McNabb in the first place, and someone who believed and still believes in the man, saw the writing on the wall, went back on his word, and has now declared Michael Vick the starter. Does he want to do this? That's up for you to decide. The man knows his butt's on the line, too, and by starting Vick, he's looking out for number one, regardless of the grand illusion the Eagles brass (that's right; I think it was their idea to move McNabb all along) sold him and the one he regurgitated on command.


All that's left to be said is...Ed and I told you this would happen a long, long time ago. We said The Ghost of Donovan McNabb's Past would come back on the Eagles in ways that would be unimaginable. Well, it has, and it's certainly that: unimaginable. It sucks for Kolb, because the man deserves to show what the Eagles invested in him was worthwhile, but when people's feet are to the fire, they tend to abandon keeping their word, and opt to cover their behinds instead. I'll go as far to say that Kevin Kolb, if healthy, has to start. This is the only way the Eagles can justify trading Donovan McNabb. The only way this new plan with Vick works is if they win the Super Bowl.

Realize that McNabb vouched for Vick to come there and basically sacrificed his own future, so Vick would be able to sniff the opportunity he's getting right now. Honestly, now that Vick has structure, weapons on offense, a renewed outlook on the game, and a competent system, is it far-fetched to suggest he can lead the Eagles to The Promised Land? Don't even try to tell me the man is old. Sure, he's 30 years old, but he didn't play for two years, and played sparingly for a third last season. Hell, the way he's moving around out there, he may as well be 27 right now. For all those Eagles fans that mistreated McNabb, are you ready to open your arms to Vick; someone who can be McNabb-lite? You know you all aren't exactly keen on making a brother feel welcome…




Will you all get out of your own way, swallow your pride, admit your wrongdoings, and let the man live, and not only live, but root him on to victory? If you are, then this Ghost will be short-lived, but if not, this is only the beginning, believe that.

Be easy.
-K. Masenda
www.edthesportsfan.com
P.S. As a reminder, checkout the livest sports talk (and hopefully on the radio soon) show around, "The Unsportsmanlike Conduct Show" as we are live Wednesday's at 9pm Eastern at http://www.blogtalkradio.com/edthesportsfan! Download our podcasts if you missed the live show as well!