You don't need me to tell you what's about to happen in college football this Saturday.
Chaos.
Teams will immediately lose their chances for the national championship, teams will immediately have their egos put in check, and teams will have to re-evaluate their goals as they circled this game as the one they had to win. This is what a shakedown Saturday is all about in college football. Hopes and dreams will be shattered, and entire fan bases will be crying with tears of happiness or sadness, drowning their sorrows with libation
lewd women
and whining.
Is this not why you are here? Are you not entertained? Of course it is, its why you love college football. Big thanks to
The Rev
and
Joe Simmons
Here are the four big questions that need answers coming into Saturday.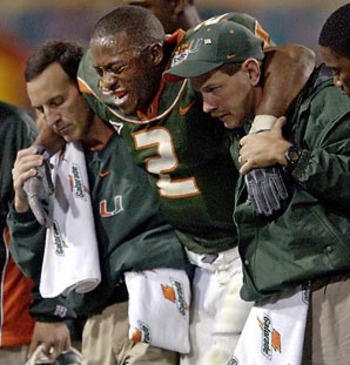 Question #1 (Miami v. Ohio State): Does The U have revenge on their mind this weekend?
There are certain losses that just stick in a team's memory; those games that you knew in your heart that you were the better team, but you still came up short. Oklahoma probably looks at the Boise State Fiesta Bowl this way. USC probably looks at the Texas title game this way. I have a feeling that every person who's ever been associated with Miami feels this very same way about the Fiesta Bowl loss against Ohio State seven years ago. The Miami team seven years ago was dubbed as one of the greatest collections of talent of all-time. Ohio State? Their most well-known player is now a tailback in the UFL.
Miami's out for revenge, but you know something? Ohio State's out for revenge, too. I bet Ohio State folks don't like hearing about "how Miami got shafted" with that questionable pass interference in the end zone, which ultimately led to Ohio State winning it all. Ohio State is loaded across the board. Miami is loaded across the board. This game will come down to better coaching, better effort, and which team can effectively impose their will on the other.
Question #2 (Notre Dame v. Michigan): Does this game have all the ingredients necessary to conclude that two of the most storied college football powerhouses are back?
The Notre Dame versus Michigan rivalry has all but lost the intrigue it has had over the past few years. During the past half decade, the Irish have been mediocre at best. Unfortunately as bad as the Irish have been, the Wolverines have been worse.
Both teams now appear to be on an upward trend. Michigan has revamped its team with talent and the Rich Rodriguez era is finally taking shape. Brian Kelly has inherited a reasonably talented team and incorporated his spread offense that the Irish appeared to have working in the opening game.
This game will be the 38th meeting between the schools. Michigan holds a 21-15-1 series lead, which was extended with a thrilling 38-34 victory last season.
Michigan is feeling good coming off an impressive victory against UConn, and the Irish fought off a well prepared Purdue team that held the Irish to a couple of touchdowns.
So are the powerhouses back? Today, I would say no. The drama will be high, and the crowds will be loud. However, there is nothing that either team has shown that leads me to believe that either team is worthy of any major accolades.
Question #3 (Florida State v. Oklahoma): How will Florida State fare against the Sooners this time around?
This is one of those games I'm not particularly fond of; not because I haven't anything against either of them. It's the exact opposite; it's because I have love for both programs. The last time the Seminoles and the Sooners squared off, Oklahoma completely shut down Florida State's offense, en route to the National Title. Let some people tell it, both offenses will be hard to stop, and it will come down to who is going to play some defense. My mind and heart say Oklahoma will win this game, but it won't shock me one bit to see Christian Ponder make an early case for the Heisman with a strong showing in Norman. The best-case scenario for me, as a fan, is to see Ponder to work, but Oklahoma to still win. That's because it will prove to Ed that Ponder is the real deal, but it will also give Oklahoma a win, and move them to 2-0.
Question #4 (Penn State v. Alabama): Is this a "thanks for coming game," or does Penn State have a legitimate shot to win?
Knowing full well that I am a Penn State graduate, former season ticket holder, and all-around die-hard Nittany Lions fan, Kenny asked me a very simple question about Saturday night's "battle of the blue bloods," as Brent Musberger called it, between my alma mater and the defending National Champs: Is this a "thanks for coming" game, or does Penn State have a legitimate shot to knock off the Crimson Tide?
It's a great question, because since last season, I've been looking at this game and saying that Penn State will lose by 40 points. They lost their starting quarterback, tight end and left tackle on offense. On defense, they lost their best player period in Big Ten Defensive Player of the Year Jared Odrick, not to mention all three starting linebackers (all of whom were drafted) and the talented if underachieving cornerback A.J. Wallace. That's a lot to replace, and a tough task to ask a bunch of green players to head down and face the National Champs on the road in the second game of the year … especially with
a true freshman quarterback
starting just his second game.
Penn State is too proud of a team, too proud of a program to just be happy to be there, and the Crimson Tide have some questions of their own. They return just two defensive starters from last year's team, and one of them, Marcell Dareus, won't be playing due to a suspension. The reigning Heisman Trophy winner, Mark Ingram, is questionable, though there is little if any drop-off in Trent Richardson.
Alabama is favored to win. They should win. And they most likely will win. But Penn State will play tough defense. Alabama won't get anything easy. If Robert Bolden can show the kind poise he did against Youngstown State, most likely with a whole hell of a lot less time to make decisions, then yeah, Joe Paterno's boys will have a legitimate shot to knock off the Crimson Tide. This won't be a "thanks for coming" game. It will be a battle. A battle I fully expect Alabama to win, especially given Penn State's trouble running the ball last week, but it's never wise to count out Joe Paterno, even at 83 years old.
WHO'S GOING TO WIN THIS SATURDAY? DO YOU THINK SOME UPSETS ARE IN THE MAKING? LET US KNOW YOUR THOUGHTS!
-Ed.
www.edthesportsfan.com
P.S. As a reminder, checkout the livest sports talk (and hopefully on the radio soon) show around, "The Unsportsmanlike Conduct Show" as we are live Wednesday's at 9pm Eastern at
http://www.blogtalkradio.com/edthesportsfan
! Download our podcasts if you missed the live show as well!