There has been some serious soul-searching from The Son that Hope and Solomon Conceived lately. Between shocking the world across the country, acting a fool at Twin Peaks during the Cowboys season opener, and the usual shenanigans, a startling revelation came about. It is one that went totally unnoticed, and in the 560 posts that have been written at Ed the Sports Fan, not one has been written about the most influential wide receiver of my generation.

When I use the term "influential," it's more from friends of mine, peers, and how we've used this man's exploits (ex. dude got "Mossed") to describe new ways of being embarrassed on the football field, or sports, period. Sure, when we have top ten WR lists, he is at the top of them, but it's always with other people in mind. Yeah, anytime people talk to me about wide receivers, he is the first, middle, and last name that comes out. In spite of all the homage that's been paid to the man for years, there has never been an exclusive post written about my favorite wide receiver of all-time, The One and Only Randall Gene Moss, and today, that will change.


To understand how an oversight like this is so egregious, so irresponsible, and so deplorable, one only needs to look at how our favorite athletes are covered by Ed and me over the years. The site is filled with posts that pay homage to the exploits of Donovan McNabb, tributes to Allen Iverson, posts about Philip Rivers, diatribes on Kevin Garnett, manifestos to Michael Vick, stories on Shaq, send-offs for Ken Griffey, Jr. , and even more. In a sense, it sums up part of Randy's recent rant about feeling appreciated, after the Patriots smashed the Bengals into oblivion last Sunday afternoon.

What made the rant so amazing was he walked up to the microphone and launched into a barrage of thoughts without being asked a single question. It goes up there with the "straight cash, homie" rant, which also includes "what's ten grand? To me? It aint s**t. Next time, I may shake my d**k." It's reminiscent of his enthusiasm with the "They Can't Jump with Me! Golly!" sideline rant from earlier years as well.

With those quotes in mind, and for anyone who is familiar with his interaction with the media over the years, no one was gonna dare stop the man from saying what he wanted to say, and honestly, when he was done, he didn't say anything that was damaging at all. The man wants to feel appreciated. Sometimes, seeing your name and highlights on TV aren't enough. Sometimes, you just want people to tell you "aye. Good job." At times, that means as much as getting an award, a game ball, a free meal, or damn near anything else.

This is the man who is, by far, the most lethal receiver that has ever played the game. There are some who will make the case that they would take him over Jerry Rice, but that's another story for another day. The man has done things that force you to remember where you were when he did what he did. I remember being at home on Thanksgiving Day 1998, and even at 16, I realized my Dallas Cowboys were in a world of trouble. They passed up on Moss in the draft, and how did the young man (at the time) make them pay? Three catches, three touchdowns, and all of a different variety.


That's juice. It's the kind of Juice Bishop talked about, when he was schooling the crew at Steel's house. That's power. It's the kinda power Kanye's talking about in his new video, when he said "no one man should have all that power." Admittedly, the man has made the amazing look routine for years, and it's to the point where folks, at least I, have been conditioned to see him doing it, that when he doesn't do it, it seems like a crime against humanity. The man catches passes one-handed, two-handed, and no-handed. He balances the sideline with one foot, two feet, and no feet. The bottom line is no one in the league can do what he does; not now, not in the past, and not ever.

The man wants to play in New England forever, and came out and basically said it, and to be honest, the leader of the team, Tom Brady, wants him there as well. Don't get it twisted; they won three rings without him, but that was also five years ago, and Brady has never had anything remotely resembling Moss in his life, so it doesn't come as a shock that Brady is campaigning for the man. Well, campaigning as much as you can without stepping on Emperor Kraft's toes.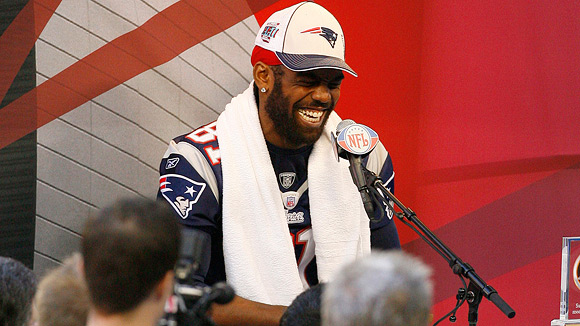 The fan in me wants Moss to stay there for good, because it will give him the best chance to get a ring, which I think will have to happen, so people finally realize what we've been privileged to see for so long. People tend to have selective memory when it comes to players who don't have rings, but all of a sudden remember players who do have one more. Also, if he stays, he'll continue to stay motivated to play at the highest level, and he'll also approach records that were never meant to be sniffed by any wide receiver. If nothing else, there are fans all over who appreciate what Moss means to the game as a player, as a receiver, as a sound bite, as a symbol for a generation, and as a grown man.

Be easy.
-K. Masenda
www.edthesportsfan.com
P.S. As a reminder, checkout the livest sports talk (and hopefully on the radio soon) show around, "The Unsportsmanlike Conduct Show" as we are live Wednesday's at 9pm Eastern at http://www.blogtalkradio.com/edthesportsfan! Download our podcasts if you missed the live show as well!