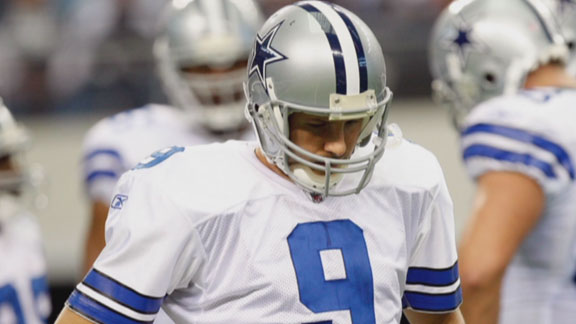 When things don't go according to script, reflection follows not too far behind. Whether the reflection is honest, genuine, or a farce can be questioned, but you're usually inclined to figure out exactly where things went wrong. Thanks to one of my boys, I was introduced to The Five Stages of Grief.

What started out as a joke resulted in taking a look at how the five stages are outlined, the symptoms, ingredients, and everything else that is associated with them. I imagine this was made with individuals in mind, in regards to the daily struggles of life, but don't get it twisted; this can apply to sports as well, and if there's a better illustration of how it applies, we can see how it fits in regards to the 2010 Dallas Cowboys.

Just for clarity sake, here are the five stages of grief:

1. Denial
2. Anger
3. Bargaining
4. Depression
5. Acceptance


The Boys officially have me at the fifth and final stage. After last Sunday, there was no point in being in denial, letting my blood pressure continue to go up, attempting to barter or bargain something for the Cowboys to do better, or being depressed. I was in denial during the preseason, using the logic that it's only preseason and there was no reason to worry about us having trouble in the red zone. I was angry as hell after week one, which showed in my tirade at Twin Peaks, at the end of the Boys-Skins game. Bargains were made after we lost game two, and I was flat-out despondent after we lost to the Titans. Once this last loss came to fruition, there was nothing left in me; no energy left to defend the baloney.

Sure, I still love the Cowboys, but it's within the lens that it makes no sense to be in the previous four stages, if they don't want to help themselves. Yes, the hope is they do well, but beating ourselves (a clear case of denial; we were just beat by more disciplined teams) doesn't garner sympathy from this Cowboys fan anymore; not when stupidity and tomfoolery is the norm this season.

Imagine walking into your house, and you see one of your cousin's who's funky, lazy, trifling, but when you call them out on it, they say "it's not me. Stay cool, I got everything under control." Sure, there's some Dove Men + Care in the bathroom, a job application on the desk, and even an offer to come do some work, but all those ingredients don't mean a damn thing if they're not utilized and put to use. So, no; everything is not under control.

Sure, they have all the potential in the world to be amazing, but it doesn't matter. Denial is all right there, and getting angry at them will do absolutely nothing. Neither will bargaining with them or allowing them to make you depressed. You just come to accept that you've got sorry-ass kinfolk.


Accepting the Cowboys are sorry doesn't make you any less of a fan. What it does is it makes you an honest fan. You can watch the games in a peaceful mind state and watch other teams without thinking "damn, what's stopping my Cowboys from doing that?" Sure, you may have moments like Captain Howard in Bad Boys II, because it's a work in progress, but those days are few and far between. Whatever you decide to do, just accept the fate of the team, and whatever you do, do not listen to Owner Jerry. Contrary to what the man says, the Dallas Cowboys are a 1-4 team in each and every sense there is.

Be easy.
-K. Masenda
www.edthesportsfan.com
P.S. As a reminder, checkout the livest sports talk (and hopefully on the radio soon) show around, "The Unsportsmanlike Conduct Show" as we are live Wednesday's at 9pm Eastern at http://www.blogtalkradio.com/edthesportsfan! Download our podcasts if you missed the live show as well!