For me, the answer to this question is a resounding no. We've seen many a player have Hall of Fame careers and never even reach the big game, let alone win a championship. Winning a ring is something that requires skill, luck, and a host of other things that are out of a player's control. Some teams have the uncanny ability to build, sustain, and re-build teams into champions, dynasties and legends so much that it has to be taken into account. You look at the Yankees, the Lakers, Steelers, and the Patriots in recent years. They've all won multiple titles since 2000. Does it mean that any team or players that stood in their way are losers, or should more credit be given to the teams and players who made them up?

Allen Iverson is my favorite basketball player of all-time, yet the one time he's on a team that makes the Finals, he runs up against one of the most dominant playoff basketball teams in modern history, in the 2000-01 Los Angeles Lakers. If you think this is fiction, then go look at their postseason run. It's one of the most outrageous, scary, and soul-crushing playoff runs I have ever seen.

Despite having one of the best defensive centers in his prime in Mount Mutombo, Shaq mutilated him. Despite having one of the best coaches of all-time in Larry Brown, Phil Jackson out-coached him. Philadelphia had a great season, the Defensive player of the year, the Sixth Man of the Year, the Coach of the Year, and the MVP, and they got killed by the Lakers in five. Even with all of that, I refuse to call Iverson or Mutombo losers; absolutely refuse to do so.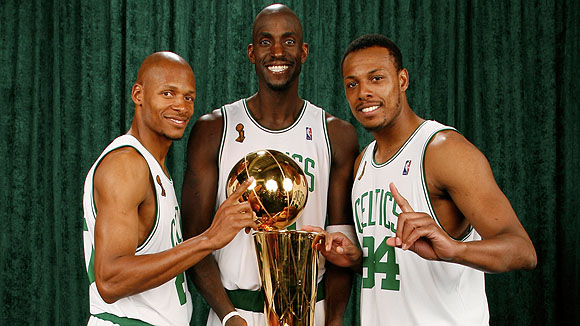 For 12 years, Kevin Garnett came up short in his quest to win a championship. For 11 years, Ray Allen was one of the best at his position, but couldn't get past the Eastern Conference Finals. For nine years, detractors called Paul Pierce a malcontent. All of a sudden, fate, good fortune, and former teammates put them together, and in an organization committed to winning, and they not only win a championship, but their team has been in contention the three years they've been together.

Sure, you will hear screams that there is a conspiracy in the NBA, in terms of teams who win the championship, which is something I continue to believe, but there has to be something said about organizations who benefit from having a structure in place to win. If you don't have that in place, then all that's left is players who have Hall of Fame careers, win numerous awards, garner a long list of accolades, but they lack a championship ring. Even with that, when it's viewed in its entirety, I refuse to call them a loser, just because they don't win a championship.

The laundry list of tremendous players who didn't win a championship, or who are still playing in hopes of winning one, has to be viewed in a complete and total scope. Folks shouldn't just say "well, they didn't win a ring, so they're a loser." Not only is that ridiculous, it doesn't give enough credit to what they did or what they were up against, and it also diminishes the role the winning side had in this taking place.


Is LeBron a loser, because he was swept in the Finals in 2007? Is Dirk a loser, because the Mavs lost a Finals lead to a Miami team that not only possessed a Wade who channeled his inner-MJ, but also an envious and underappreciated collection of veterans, many of whom were chasing their first championship as well? Is Randy Moss a loser, because he hasn't won a Super Bowl, despite the fact that he was on a team that was literally two minutes, a David Tyree helmet catch, an out-of-this-world escape out of the grasp of Adalius Thomas by Eli, and a failed interception by Asante Samuel that he comes down with nine out of ten times from doing so? Is Donovan McNabb a loser, because he lost to a Patriots team that's widely considered a dynasty?

See, this is why I can't just call a ring-less player a loser, because it doesn't factor everything into the equation. Then again, that's part of what makes sports what they are; the stories, the interpretations, and everything else that makes them up. Let's just hope your good sense doesn't lead you astray.

Be easy.
-K. Masenda
www.edthesportsfan.com
P.S. As a reminder, checkout the livest sports talk (and hopefully on the radio soon) show around, "The Unsportsmanlike Conduct Show" as we are live Wednesday's at 9pm Eastern at http://www.blogtalkradio.com/edthesportsfan! Download our podcasts if you missed the live show as well