On February 21, 2008, ETSF was born. At the time, we didn't know what was going to happen. As a matter of fact, it was merely a place for Ed to come through and rant about what was going on in the world of sports, from his point of view. Little did the man from The Great State of Oklahoma know what was in store.

In the early days, Ed did an interview with Urb Events, where he gave his thoughts on many things that contribute to his sports experience. At the time, one of his goals was to have a bi-weekly podcast. Now, we have a podcast every single Wednesday (amazing, aint it?). If you asked him then if ETSF would reach 600 posts, he may have said so. However, it's one thing to say it, and another thing to see it happen, especially with the journey the site has taken.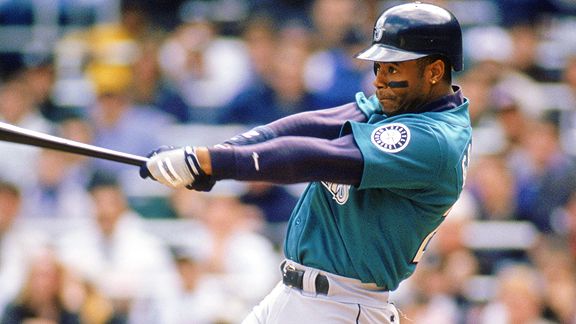 100th post (10/16/08) – Ed kept it pretty simple here, with the Wilt Chamberlain picture after the 100 point game. You can also look at Ken Griffey hitting his 100th home run on 6/15/1993, around the time I was at precocious ten-year-old running the mean streets of Denton, Texas in the summertime, and preparing to wreak havoc as a sixth grader at Newton Rayzor Elementary.

200th post (3/30/09) – This post took place right after OU was eliminated from the tournament by a UNC team that went on to win the whole damn thing. 200 can also signify when A-Rod hit his 200th home run with the Texas Rangers in 2001, as well as 200 signifying the amount of waves that Ed has swirling around his head. It was also between 100 and 200 that we came across two of our brothers-in-blogging, The Reverend Paul Revere, who is one of the most knowledgeable, challenging, and original fans I have ever had the honor of knowing, as well as Phil Barnett, a genius writer, and one of the two Lakers fans (along with E-Mil) that I've never felt like I had to strangle to death.


300th post (8/31/2009) – It may have been around this time when ETSF thought we were onto something special, as this post signaled #300. Ed celebrated the achievement by using a picture of some dude from 300 (a movie I have yet to see), as well as making five bold predictions for the upcoming football season. Of course, he was wrong about all of them, but what else is new, right? Oh well. It was also during this time when we had a week-long open forum about the forgotten college football powerhouses, arguably the most successful stretch of posts in a week we've ever had, and it was all due to the folks who support us. We can also look at 300 as the benchmark of a successful hitter at the plate, which we felt we were on our way to becoming.

400th post (1/29/10) – Number 400 went under-the-radar, which also can be the signal for a player who went under-the-radar for years, and folks finally woke up and smelled the coffee. Of course, that man is Deron Williams, the best point guard in the NBA, and someone who was elected to his first All Star Game. In baseball, even the greatest hitters seek to hit .400, but it's a mark that is rarely touched. Also, in between 300 and 399, the trio of B-Lew, Ed, and myself all met up in Tampa to shock the world at the ACC Championship, which took place during Founder's Day weekend (sorry, bruhs, but we're gonna do the same thing this year, during the same time).

500th post (6/21/10) – When 500 was approaching, there was really no clue how to ring it in. It ended up being a culmination of what's transpired so far; not only with writing, but also with more people bringing more to the table and enhancing this journey that Ed the Sports Fan is on. By this time, we were well-acquainted with NCCU's Finest, Crazy Joe Simmons, as well as other folks we met through Twitter, Facebook, and simply from around the way. Unsportsmanlike Conduct Radio was well on the way, with the support of family, friends, and other well-wishers encouraging us to chase our dreams and continue to improve.


600th post (11/4/10) – With today's post, we are officially at 600. This can be looked at as my Dean's birthday (happy birthday, homie!!!!) as well as another supporter of what we do, Omega Psi Phi's own, The Incomparable Isaac Hayes. In between 500 and 600, we've been able to shock the world multiple times in New York for Nike, as well as meeting even more people to contribute to make ETSF what it is today. Whether it is 6 Magazine's Claude Clayborne, The Smoking Section's own John Gotty, as well as more, this thing we are a part of belongs to all of us. Everyone who has ever left a comment, recommended an article to read, cursed us out, encouraged us, told us we wrote the dumbest articles of all-time, the greatest, the worst, or whatever, the only reason 600 is here is because of y'all.

I hope this doesn't come off as too much of a love-fest here, but if it does, it doesn't even matter. The people are what make ETSF go, and the people are the reason why this site will run for another 600, as well as the reason more will be brought to you. Folks like Dr. Best, The NFL Chick, Pigskinlovinglady (we're gonna get her to shorten her site name one day, I promise), Gem of the Ocean, B-Lew, Till, DragonflyJonez, NichollsAccomp, Richard Boadu, Danielle, Uncle King, JAG, and1grad, Carlos, Jonnita, Shirley Huang, Ricky Manning, C.O., Jarrell, Jovan (intro to the radio show), Kristin White, Stank-0, Celia Kelly, Dawana Marsh, Keith Tolbert, Keith Martin, Brother Burrell Clark, Bill Ross, Charles Davis, Jeremy K. Smith (old man with freckles), Terita, Christopher Johnson, Greg Colbert, Glenn Napier, Garrett Rufus, Michael K. Robinson, Antone (APB for Antone, everybody), Marcia Masenda, Dave Gold, and more are what make this thing go. We're all gonna enjoy this ride as long as we can. There's simply no other way.

Be easy.
-K. Masenda
www.edthesportsfan.com
P.S. As a reminder, checkout the livest sports talk (and hopefully on the radio soon) show around, "The Unsportsmanlike Conduct Show" as we are live Wednesday's at 9pm Eastern at http://www.blogtalkradio.com/edthesportsfan! Download our podcasts if you missed the live show as well!