Imagine yourself on a Friday night in the fall. You've been eagerly anticipating night to arrive, so you can get up with your boys, or maybe take the family, or hell, even just take yourself to a high school stadium, so you can indulge in some high school football. The sights, the sounds, the whole thing is so authentic that you're willing to put up with the kids in the next section of bleachers doing everything but watching the game. You tolerate the mosquitoes and bugs whirling all over the place and it's all because you heard about the teams who were going to take the field. You just had to be there.

You see one in particular. The kid is so young, so full of ability, and has total command of the game at the quarterback position. The opposing defense is terrified of him. His head coach realizes what he has, and knows he can ride his quarterback all the way to the postseason and beyond. Shoot, you as a fan realize it, and begin to make preparations to not only see him again during the season, but you know you'll also follow the team, and others of a similar make-up, through the postseason, because you want to see the best players on the biggest stage.

Fast-forward one year later, and you ask about the quarterback that you saw last year, the year before, and, sometimes, even the year before; a two-to-three-year starter at quarterback, and someone tells you he's playing wide receiver, or defensive back, or safety, or whatever in college…but the one position you don't hear is quarterback.


This is something that blows my mind, and as long as high school football is played, long as you see 7-on-7 and as long as any other format of football on the high school level exists, this will be an issue that continues to arise. For anyone who's been around this site long enough, you've heard of The Shock the World Tour, the concept B-Lew and I came up with over two years ago. It started because both of us love high school football, and we wanted to catch as many games as possible.

In that entire time, one thing I love seeing is the number of Black kids playing quarterback, because, to be totally honest, I rarely saw them when I was in high school, and that was only ten years ago. However, that same love turned into disbelief when I heard how many who played QB for their teams were being recruited and sent to college, and were asked to change positions.

Now, when it's a case where they were recruited as athletes, or utility players, then cool; I understand. However, is this always the case? How is it you can have a kid like the one in the clip below, a three-year starter at quarterback and one of the most successful quarterbacks in the state of Texas, being recruited as an athlete, and not exclusively as a quarterback, when he makes plays like this (pardon the shaky camerawork. I'm a fan, not a cameraguy):





Let's be for real here. In the words of Herman Edwards, you play to win the game. In high school football, one ridiculously talented player can really be the difference between winning and losing. It's really that simple. Yes, it's a team game, and that's totally understood, but there are cases when a player is supremely gifted over everyone else on the field. If that ridiculously talented player happens to play quarterback, and he hasn't received the tools necessary to develop his throwing motion, his ability to read a defense, and all this stupid crap you hear all the time that's the knock against Black QBs, then how come this same athlete, the same one people drool over, isn't getting these traits ingrained in him in high school?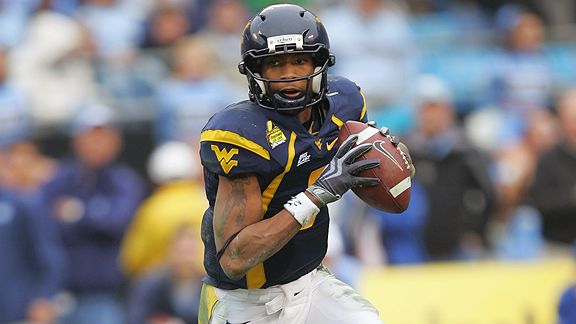 Are schools going to let their point guard run the show if they can't dribble? Do you trust a shooting guard that can't shoot? Are you going to let a pitcher take the mound who can't throw the damn ball over the plate to save their life? Of course not. However, this happens in football, especially in high school, all the time. For people who wonder why there aren't as many Black quarterbacks in the pros, as well as in college (even though there looks to be a lot), just look at high school, because the evidence is simply right there.

Something should be done here to stop the hypocrisy. If a player is good enough to lead your team to victory, to district championships, numerous playoff appearances, and God forbid, a state championship, then he is worthy enough to be fully developed, so he isn't set up for the okie-doke, when they get to college and beyond. If a player is good enough to be undefeated in four bowl appearances (Pat White), break numerous school records and Division I records (Brad Smith), and help earn your coach a new contract, then they deserve a fair shot to do the same thing at the next level.



When you see them as young kids, stop by and tell them you're proud of them. When you get a chance to see them in play quarterback in college, make sure to enjoy them while you can. The bottom line is as many as there are out there on Saturdays, there could and should be more; trust.

Will this ever change? Who knows; things have happened in my lifetime that I never thought would happen, so maybe there truly are better days ahead, and when that time comes, it'll be something long overdue.

Top image courtesy of Temple3.

Be easy.
-K. Masenda
www.edthesportsfan.com
P.S. As a reminder, checkout the livest sports talk (and hopefully on the radio soon) show around, "The Unsportsmanlike Conduct Show" as we are live Wednesday's at 9pm Eastern at http://www.blogtalkradio.com/edthesportsfan! Download our podcasts if you missed the live show as well!