There isn't a more ballyhooed contest in all of college football bigger than the University of Southern California versus the University of Notre Dame. This intersectional game that started back in 1926 has featured more national championship teams, Heisman trophy winners, All-Americans, and future NFL hall-of-famers than any other collegiate match-up. I mean goodness gracious...they play for a
Gaelic War Club
! How many times do you get to compete for a War Club?
My point is this, for a rivalry that has been as evenly matched (Notre Dame is up in the series 42-34), decided so much in the national landscape, and had more players worth a damn than any other rivalry game in history, these two programs are on the brink of disaster. One team is on probation for their Presidential Shenanigans (Reggie Bush), hiring brash young coaches who can't keep a job (Lane Kiffin) and a player who likes to ride in golf carts that are owned by agents (Dillon Baxter). The other team had a kid unnecessarily pass away, had a player allegedly rape a young girl, and oh yeah...they aren't winning football games. (5-5)
Can someone please call Lou Holtz and Pete Carroll, get them on the line ASAP...
Honestly for me, I've never been a fan of Notre Dame. It's the same reason I'm not a fan of the Dallas Cowboys or the Los Angeles Lakers...it seems like every single person I knew when I was growing up loved Notre Dame. Why? What in the hell was so cool about the Irish? Now, I say this as a young child with a rubbery brain and no real understand of what I was immersing myself in back in the late 80's and the early 90's. Then, I was able to witness the five players who would alter my thoughts of what Notre Dame was all about.
Tim Brown. Jerome Bettis. Ricky Watters. Rocket Ismail. Ron Powlus.
Before there was a DeSean Jackson, a Peter Warrick, or a Desmond Howard...there was the legend that is The Tim Brown. A master of all trades, a jack would never suffice. The man was revered by all who saw him play. I can remember my Uncle Bill and my Grandpop sit down and force me to just "keep your two eyes on #81." When it comes to old men, you listen.
(I apologize in advance to any fans of Sparty, I promise I'm not picking on you with this video.)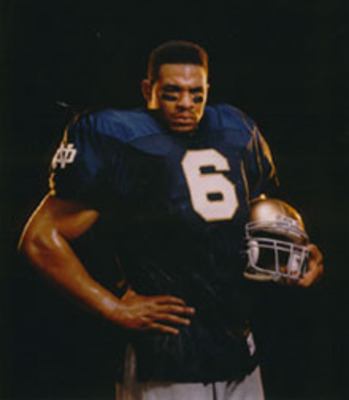 From Brown to Bettis to Watters to Ismail, I remember them dudes being electrifying. Leaving no doubt where they stood on the pantheon of great players in their era. I remember seeing Jerome Bettis and just remembering that big dudes weren't supposed to move like that, (and I remember folks trying to say that Jerome Bettis was my illegitimate daddy due to his physique, his being a card-carrying member of the Light Skinned Coalition All-Stars, and the form in which he wore his goatee...needless to say, in response I'd call you a jerk) I remember Ricky Watters being the prototype tailback at South Bend, and I remember the legend that was "The Rocket" as he was seemingly faster than the speed of light.
Then I remember Ron Pawlus.
I remember my grandpop calling Ron Pawlus the "Great White Hype" of Notre Dame...now at the time I had no idea what it meant, only that he was #3 for Notre Dame. My grandpop couldn't stand him, said he was overrated, and generally would start cussing a lot whenever the announcers would start showering the man with praise. Now that I've had the chance to see Brady Quinn and Jimmy Claussen do whatever it is they did at Notre Dame, i can definitely say that I now understand what my grandpop what talking about. (RIP Lo) These two quarterbacks never won a single game against USC, at least Powlus could say he had that on his record.
However as the star power began to fade with the end of Powlus and Notre Dame in the mid to late 90's, the ascension of USC had just begun. From Palmer, to Leinart,
John David Booty
Mark Sanchez, to the present-day golden boy that is Matt Barkley, USC always has had elite quarterbacks at the reigns.
Then there was Reggie Bush and LenDale White.
Let me tell you something...the stop on a dime move he does on Fresno State never gets old. Plus, I understand if you watch that highlight tape another 245 times.
You could argue that there has never been a more electrifying playmaker in our generation of college football better than Reggie Bush. Every time the dude touched the ball it seemed like he was taking it to the crib. From running plays, to motioning out to receiver, to handling the return game, dude did everything. He was legitimately feared. Of course, then you had (my boy) LenDale White being the bully of the two, but for a big dude (6'1", 235) the man was agile and nimble.
We forget all of the defensive standouts that have come from USC as well, and the wide receivers, and the lineman. What we will always remember was that USC was "that team" for the decade. Give credit where its due to Florida, LSU, Oklahoma, Texas, Miami, etc. but the crown jewel of the decade is USC. Hell, USC hasn't lost to Notre Dame in eight straight years! From the Bush Push, to the 31-point beatdowns, to Sanchez giving them the blues, the games have been out of hand...
...and the programs are getting out of hand.
This rivalry isn't going to be top-billing when it comes on Saturday evening, and I don't know if anyone reading this site can name more than 4 players on either team. Don't worry, I'll wait...
I'm going to watch, because my grandpop would probably make me...but hell, even then the old man would fall asleep. I'll probably end up doing the same.
-Ed.
www.edthesportsfan.com
P.S. As a reminder, checkout the livest sports talk (and hopefully on the radio soon) show around, "The Unsportsmanlike Conduct Show" as we are live Wednesday's at 9pm Eastern at
http://www.blogtalkradio.com/edthesportsfan
! Download our podcasts if you missed the live show as well!