Blasphemy. Nonsense. Hogwash.

For anyone who knows me, there are certain things that have been come to be expected, and hating Duke is one of them. Ever since they got sprayed by UNLV in the National Title Game in 1990 to the time they upset the UNLV Runnin' Rebels in the Final Four the next season, I've had a unwavering, unrivaled, and enthusiastic hatred for the Duke Blue Devils. Honestly, it's really, really bad. Pretty much from 1990 to this year, there wasn't a program I hated more than them, and that goes for college as well as the pros. I've never wanted to see them succeed on the court. Never, ever, ever. However, something happened last March that truly forced me to look in the mirror and wonder if I could hate this team anymore.

Last season, I had the opportunity to shock the world at Reliant Stadium for the Elite Eight, in a matchup of two teams that had Final Four written all over them. The game was between Baylor and Duke. The hatred for Duke fueled me the entire way down 45 from Dallas to Houston. A drive that's usually boring as hell was suddenly filled with life, simply because the day of reckoning was finally here. I couldn't believe the time was coming for me to be able to scream, curse, and exhibit profane and extreme gestures toward Duke, Coach K, their players, and all their fans. Plus, Baylor was really, really good, so this had all the ingredients of a classic and memorable road trip.


Well, not only did Duke win, they played some of the best basketball I've ever seen. After the game was over, and people filed out and were heading for their cars, I just remained in my seat; dumbfounded, bewildered, and flabbergasted. Seriously, I sat there for a good 20 minutes after everyone left, after the trophy presentation, all that. I just...sat there.

They really didn't have a Duke player that just made me hate them last season. Sure, they had Lance Thomas, the biggest waste of skin I've ever seen in a college basketball uniform, but he's not really good enough to warrant me saying I hate them, simply because of his scrub-ass. I didn't hate Kyle Singler, and I was actually a huge fan of Jon Scheyer. Everyone else on the team knew their role, so I didn't hate them either. Plus, seeing Coach K check Ed in NYC really sealed the deal for me. Something had to give.

Coach K is Duke, and it really caused me to re-evaluate how to go about viewing the Blue Devils. Sure, they are always going to have that "Duke player" that I hate; that will never change, but the fact that they pretty much do the same thing every single time on the court is mind-boggling. They defend, rebound, pass, and shoot the ball extremely well. I can see why Coach K will never leave Duke, especially after seeing them with my own eyes, as well as some of the obstacles he dealt with, while attempting to build his program back in the 80's (check out Battle for Tobacco Road, the classic UNC-Duke documentary on HBO). Taking it a step further, it's time to add Cameron Indoor Stadium to the Shock the World Itinerary and catch a Duke game in person. At this point in life, I think I can watch a game up there and not want to kill somebody.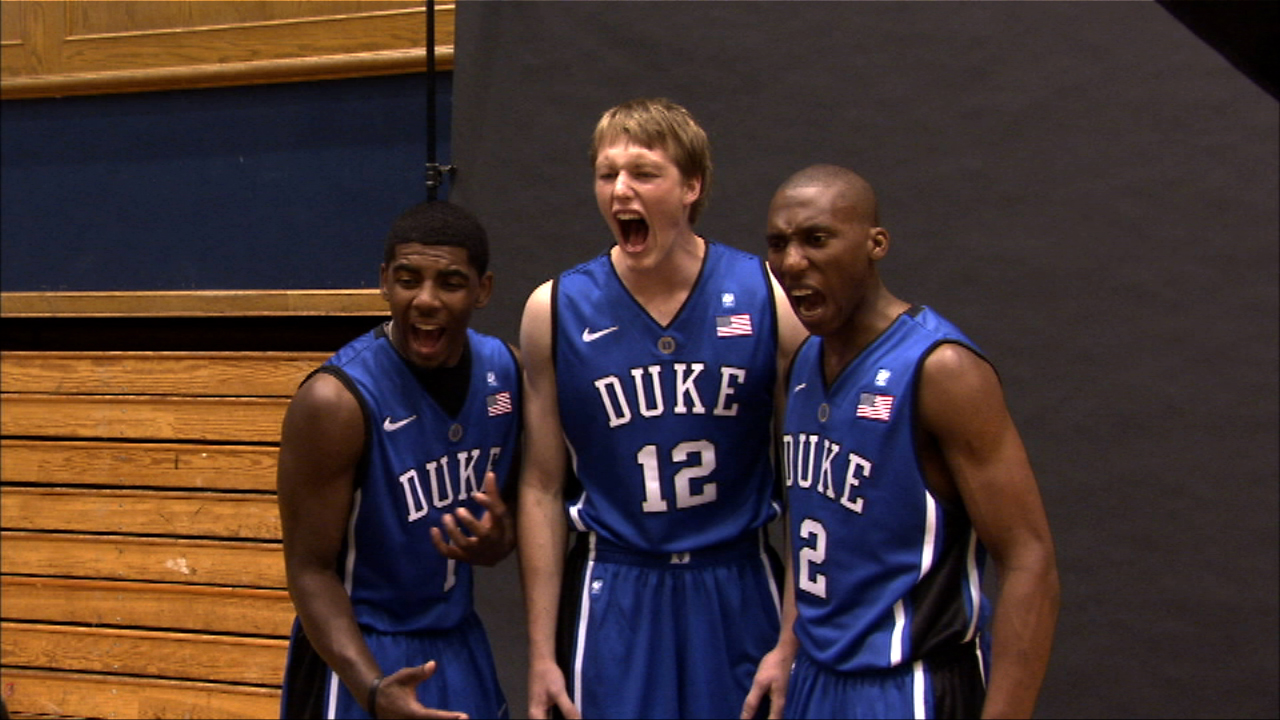 This will be the first college basketball season I go into where my hatred of Duke isn't front and center. There are sure to be times when Kyle Singler will test this theory, or Nolan Smith will make some stupid face that will make me wish someone would punch him in the throat, or there may be a time when Seth Curry does something that will make me forget all about him being The Son of The Dell, which will cause me to hurl obscenities at him, but that simply comes with the territory when a player puts a Duke jersey on. Never in a million years did I think this day would come, but, for the time being, I don't hate the Duke Blue Devils anymore, but who knows; it's been ingrained in me for so long, that by the time I watch them for the first time this year, I may end up hating them again.

Be easy.
-K. Masenda
www.edthesportsfan.com
P.S. As a reminder, checkout the livest sports talk (and hopefully on the radio soon) show around, "The Unsportsmanlike Conduct Show" as we are live Wednesday's at 9pm Eastern at http://www.blogtalkradio.com/edthesportsfan! Download our podcasts if you missed the live show as well!