**Today's post is from a good friend and featured contributor Average Bro. The man is one of the biggest DC-area sports fans I know, and the gospel needed to be spoken. This post was written 24 hours before the Arenas trade to Orlando...spooky. Read up and enjoy.**


I'm a Washington Wizards fan.

No, really, stop laughing. I'm dead serious. We do actually exist. I even own season tickets. Believe me now?

Being a die hard fan of a team that most people outside the DC Urreah don't even know exists, is about as humbling an example of fandom as I can think of. And given the sad state of DC sports, that's quite a declaration. In short, since winning a title in the 70's, this franchise has sucked. Royally. But when Gilbert Arenas arrived in 2003, he was supposed to change things. And for awhile, he did.

Gone were the days that a Bullets/Wizards fan had to be ashamed to say they rooted for the home team. Gone were the days when the franchise marketed opposing players to sell tickets. Gone were the days when you'd go to a Verizon Center and hear 75% of the crowd cheering for the opposing team. For a brief 3-4 year stretch, Gilbert Arenas, along with a cast of talented sidekicks like Larry Hughes, Caron Butler, and Antawn Jamison, made basketball matter in DC. And naturally, as the best player to suit up for the blue, bronze, and black since I've lived in DC (sorry C. Webb and MJ), he became my favorite player of all time.

Of ALL time.

The Wizards gradually got better over time, winning a tough playoff series against the Bulls in thrilling fashion, then playing the role of perennial first-round punching bag to an ascendant Cleveland Cavaliers squad. The playoff losses didn't matter much. For fans who'd barely seen a playoff team in decades (no, seriously), just being there was concession enough. In 2006, for a brief stretch Gilbert Arenas was the best basketball player on the planet. The team's Big Three all made All-Star appearances. The squad sat alone atop the Eastern Conference standings at the All-Star break, even sending coach Eddie Jordan to Vegas. The team's high octane offense made Verizon Center the place to be. Gilbert Arenas had finally delivered on the promises he made when he rode in town as a mostly unknown 3rd year free agent with a massive contract.

And then, it happened.

Nope, I'm not talking about that gun charge. That was merely icing on the cake. This happened first.



Sitting in my usual 400-level cheap seat, little did I know what appeared to be a routine injury in a meaningless late season game against the Bobcats would change the direction of a franchise forever. That's probably why I hate Gerald Wallace with a passion to this day.


I think everyone knows how the story developed from this point. An inexplicable $111M contract extension. Multiple knee surgeries. Multiple comeback attempts. 19-win seasons. Bad draft picks and bad free agent signings. Bad trades. A capped out, aging team. A fired coach. The overblown "guns in the locker room" incident. A roster purge that left the team depleted of talent. Lottery luck that brought the team a "new" savior named John Wall. A bid in a halfway house. Arenas showing up at media day looking like a homeless guy. Arenas faking an injury to avoid getting booed by the team crowd. Arenas, in a strange twist of irony, getting injured (again) when he finally played in front of said home crowd. A banged up team whose "new" savior can't stay healthy either. A clueless, inexperienced roster. A winless road streak. Blowout losses. An immovable contract. Another lost season.

In spite of all this, Gilbert's back, and presumably healthy right now. But it's clear that he's not the same guy. Anyone with even passable basketball knowledge can watch him, and tell he's hardly the same. Not after all the injuries, the losing, the rumors of Shaq and his baby's mother, the jail time. You just watch him play, and it's borderline depressing.

For a player whose whole game was predicated on speed, his inability to beat defenders off the dribble is sad. He no longer can get in the lane and draw contact, so getting to the line his customary 12-13 times a night is a thing of the past. His once impeccable mid-range J is inconsistent. He has no legs under his 3 pointers. Never a great defender, now he's just embarrassingly terrible. While his oft critiqued point guard instincts are there, he's so focused on playing within the team's offense, he actually hurts the flow with his indecisiveness and turnovers. Watching him get destroyed the other night by something called a "Ben Uzoh" in (yet) another road loss to the freakin' New Jersey Nets was rock bottom. With John Wall on the shelf, you'd hope Gilbert would just go into beast mode, but then you realize he's no longer a beast. He's merely an inefficient, vastly overpaid combo guard with two bad knees.

And that sh*t's depressing. Especially when you've committed to 21 games at a (face value) of $75 a pop.

Real depressing.

Despite all I've said, I still am a Gilbert fan, and he's (still) incredibly popular here in DC. People love him. They want him to succeed. We stuck with him through the injuries, the case, the losses.

And now, for the good of all parties involved, it's probably better that he leave.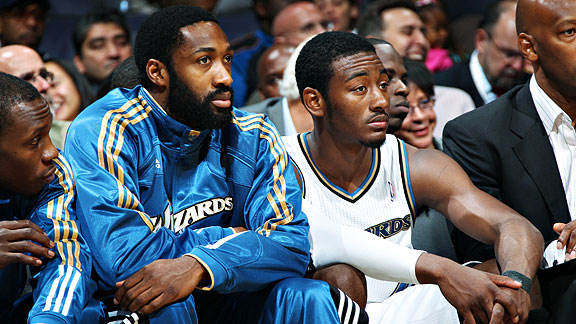 As the 4th option on a good team, Gilbert could still be a Jason Terry-type of player. If someone else is solely responsible for the playmaking, and there's solid big men, and great interior defenders, he could easily revert to being an efficient 17-18ppg scorer by simply being asked to do less. As is, the Wizards simply don't have the talent to allow him to ease into such a role. Right now he's putting up 17 points and 5 ½ dimes. Surely someone could use that sort of production. And before you snicker at the contract, need I remind you, worse deals have been traded for. It can happen.

And when it does (and trust me, it will), I'll hate seeing my favorite player of all time leave DC, and probably go somewhere else, blow up, and win a title (peep the number of ex-Wizards on that Pistons championship squad) because that's just how sh*t happens in DC.

It's been real, Agent Zero.

-Ed.
www.edthesportsfan.com

P.S. As a reminder, checkout the livest sports talk (and hopefully on the radio soon) show around, "The Unsportsmanlike Conduct Show" as we are live Wednesday's at 9pm Eastern at http://www.blogtalkradio.com/edthesportsfan! Download our podcasts if you missed the live show as well!