Anytime you step on the basketball court, you're likely to see some things that a player wears for stability, to ease pain, or just to accessorize. As with anything you do in life, you wanna look good doing it, and that holds for cats when they hoop. Whether it's in the NBA, college, high school, or even playing pick-up ball, there's no distinction when it comes to outer appearance and players. It's just the way it is.

When I played competitively, wearing a sleeveless shirt under your jersey was the thing. Black socks were also becoming pretty big, too, and even though Michigan was the first team I remember doing it, black socks became even more popular when the Bulls brought them out for the playoffs. You couldn't just have black socks, though; you had to get the ones with the NBA logo on them; they had to have the Jerry West silhouette, and if they didn't, then Nike ones were acceptable, but that was it.

You also had wristbands and even armbands on the food chain, albeit a little lower. Headbands also were prominent, but it was 2001 when something came along that truly changed the game, and of course, leave it to the most culturally influential athlete this side of Michael Jordan to bring it to the surface: the arm sleeve, introduced by The Iconic Allen Iverson.

It was the Sixers playoff run of 2001, and one of Iverson's laundry list of injuries included inflammation in his elbow. It was during the Eastern Conference Semifinals against Toronto that Iverson first rocked this long-looking sleeve on his right arm to quell the pain from his elbow.

Now, if there's one thing we all knew about Iverson, it's that his injuries were legit, and if anyone was going to suffer from something like that, it was Allen Iverson. However, something happened along the way that may not have been his intention: people began to dig the sleeve, and when I say dig, I mean DIG. Despite that, Iverson completed the season as the only person to rock a sleeve, but it was safe to say things were about to change.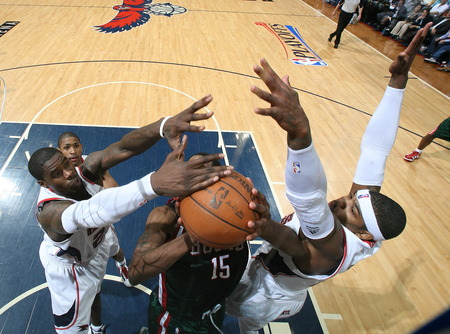 Fast-forward ten years later (can you believe it's been THAT LONG?!?!), and you see sleeves everywhere, and I absolutely hate it. You can look at a game in the NBA and see 4-5 dudes wearing a sleeve that have absolutely no business wearing one, because (a) they don't shoot the ball enough to get inflammation in their elbow, and (b) because they don't play at all.

We see players in the league wear sleeves who don't shoot the ball even 15 feet away on a consistent basis, but they have a sleeve on? It's blasphemy. When cats come to hoop at 24 Hour Fitness, and they have their little sleeve on, they are verbally berated for wearing one, when they know good and damn well they don't have a game that suffices wearing said sleeve. Hell, it even serves as extra motivation to make them a complete non-factor in a game. Granted, I'm the same way about people who hoop in Jordans that can't play, but that's another story for another day.

Maybe it wouldn't be that big a deal if homage was paid to the man who started this trend in the first place. Then again, it wouldn't be that bad if the only people who wore sleeves were players who actually required them. I mean, I don't see people wearing knee braces who don't have knee problems. It just baffles me, and trust; I'm not the only one who hates seeing sleeves on players who don't need them.

If you think this is preposterous, then do yourself a favor and pay close attention the next time you watch an NBA game, a college game, or go to a high school game, or to the gym for an open run, and don't be surprised to see something that disgusts you to the point of no return.

Be easy.
-K. Masenda
www.edthesportsfan.com
P.S. As a reminder, checkout the livest sports talk (and hopefully on the radio soon) show around, "The Unsportsmanlike Conduct Show" as we are live Wednesday's at 9pm Eastern at http://www.blogtalkradio.com/edthesportsfan! Download our podcasts if you missed the live show as well!