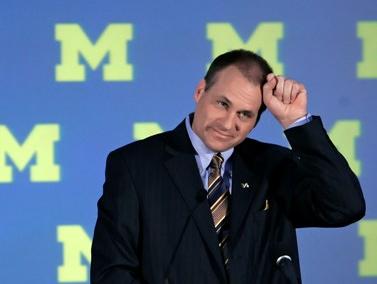 Usually, I don't encourage you to leave the spacious and luxurious ETSF establishment. However, if you go to ESPN.com, just take a look at how many of the top stories are referring to head coaches. Go ahead; look...
(waiting...waiting...waiting...)
Okay, you peeped that? As of 7:22 am on Wednesday, January 5th, five of the top ten stories on the Worldwide Leader were about head coaches. Hiring, firing, or sheer speculation, it doesn't matter. It's up there for the world to see. In the age of influence where fans, boosters, bloggers, and the media will flip-flop on your team as much as John Kerry does on the campaign trail, you must have a leader of men to take these young men to glory, a tactician engineer against a vast arsenal of attacks and defenses versus your regiment, and a man who can be oblivious to the peanut gallery.
So for the University of Michigan, one of the blue-bloods of college football, why are you all acting like an eighth grade bimbo who can't decide who to take to the sweetheart dance?
The shenanigans and tomfoolery that have taken place in Michigan over the last week or so have just been ridiculous. You don't toy with a man's life in such a fashion as the decision-makers in Ann Arbor have with Mr. Rich Rodriguez. RichRod was hired to take over for the classy and underappreciated Lloyd Carr, who like almost all Michigan coaches prior to RichRod, ran a pro-style offense and only had three goals worth following...
1. Beat Ohio State, Michigan State, and Notre Dame.
2. Win Big Ten Titles, contend for national titles.
3. Beat Ohio State.
Here's the problem: Michigan handed over the reigns to RichRod with a five-year deal. No big deal. However, they handed RichRod a collection of talent that was ill-suited to run RichRod's fabled no-huddle, run-oriented version of the spread offense. Did you guys watch the Sugar Bowl last night? Ryan Mallett was the starting QB at Michigan, but he can't run RichRod's offense. The man had a bunch of square pegs to fit into round holes. He almost got Steven Threet killed (who transferred and is now the starting QB at Arizona State), realized that the skill positions at UM were depleted beyond belief, and was basically asked to perform a miracle job.
RichRod has begun transforming this Michigan squad into an organization that looks the way he wants to. It isn't there yet, but there's been improvement. Three wins in '08. Five wins in '09. Seven wins in '10, with a bowl game appearance to boot.
Of course, the Michigan faithful are not happy with the results. When it comes down to it, as fans, we really don't want to be embarrassed in public. What do you mean, Ed? This is what I mean. When you put on that hoodie of yours with your favorite team emblazoned on it, you're repping your squad. When your team is on national television, you watch almost like a proud dad watching his only son who made it (Nas). So when Michigan went and got lambasted on national television against Michigan State, bamboozled on national television versus Ohio State, and got mollywhopped against Mississippi State on New Year's day...you've officially embarrassed the fanbase in public. No one likes to get embarrassed in public.
We all understand that Michigan has failed miserably in their attempts to beat their rivals. 0-6 combined against Michigan State and Ohio State isn't going to get it done, but at the same time who in the hell else are you going to take over this team? Even if you brought Jim Harbaugh, Brady Hoke, Kenny Masenda, B-Lew, or the tag team duo of DNMP and Gem of the Ocean to coach this squad, its going to take time to right this ship. Now you want to overhaul a program who JUST WENT THROUGH an overhaul three years ago. You really want to do that again?
Look, I get it. If I'm Michigan Athletic Director Dave Brandon, this is going to be the signature decision of his tenure as AD, so its important you get it right. Right now, the Wolverine fanbase are taking relentless steel chairs to the face and you've officially been offered an opportunity to play "Let's Make a Deal!"
Behind Door #1 - Keep RichRod, ride this thing out for two more years and hire a defensive coordinator worth a damn and hope for continued success.
Behind Door #2 - You hire a big name coach, pay an exorbitant amount of money and hope for immediate results.
Behind Door #3 - You hire a coach who you will invest in re-building the program that could take years to turn around.
Michigan is an elite program, and as the Athletic Director, you've got to start acting like one. Otherwise, you'll end up like Notre Dame. Make a decision, stick by it, and invest the time, energy, and forethought to being a champion. Even Ohio State fans don't want you to suck. We need Michigan to be good. Make it happen.
-Ed.
www.edthesportsfan.com
P.S. As a reminder, checkout the livest sports talk (and hopefully on the radio soon) show around, "The Unsportsmanlike Conduct Show" as we are live Wednesday's at 9pm Eastern at
http://www.blogtalkradio.com/edthesportsfan
! Download our podcasts if you missed the live show as well!