If Martin Luther King, Jr. were alive today, the man would be 82 years old. 42 years ago the man was taken away from us at a time where he was at the peak of his superpowers, as things are changing in America and a nation listened when the man spoke about equality and unifying people of color.
In sports, we realize that Dr. King's progress definitively had an overlaying impact on the sports landscape. College teams began recruiting more players of color, more players began playing those "smart positions" on the field, and folks were given an opportunity to be leaders of men, be it the front office, coaching, or otherwise.
Its been said that sports has always been ahead of the curve when it comes to racial equality, but you'd be naive to think that things are great, even in 2011. King understood the power of sports, even though he was not an athlete, he realized that things can change with the power an athlete has or the symbolism that's seen by the games we play.
I bet Dr. King would be mortified of social media. In an age of 2011 where anything that's said by an athlete that's deemed inappropriate is immediately blasted on the almighty twitter machine, facebook, text message, and online publications within two minutes. For some athletes, social media has given them the opportunity to become more uninhibited in what they say...leading to varied results. LeBron bringing up karma, Mike Vick asking about the relevance of Myspace, Kevin Durant notifying his followers that he re-signed his deal with OKC, communication in 2011 is garbled and without purpose.
So like the great Michael Wilbon said, "As a result, the conversations have become all too polite if they aren't sidestepped altogether, the athletes all too reluctant or too downright scared to speak out."
We've killed stars of our generation for lacking the desire to stand up for causes and taking a stand on issues. Michael Jordan and Tiger Woods were crucified by black folks all the time for their ability to be non-partial. The idea of taking a stand for something you believe in is now a one-hour special where you make a business "decision" on where you want to play basketball next year, or if you agree/disagree with the merit of "the Rooney Rule", or if you think that the BCS is fraudulent.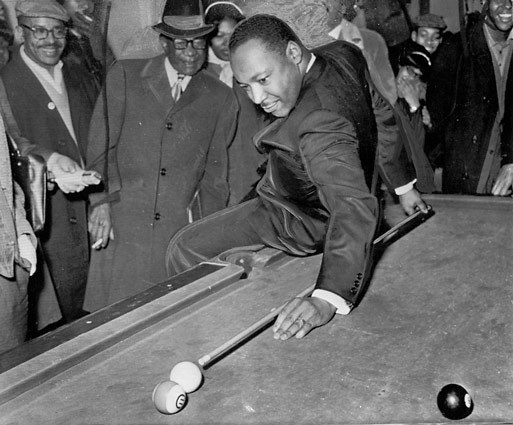 Dr. King always had a focus on the future, and improving the opportunity for equality amongst all people moving forward. As fans, we only care about the right now and equality is only important when it comes to our team winning the damn game. Athletes get to be in the middle, as this is just "their job" and their responsibility is to just go out there and perform.
I wonder if there's an opportunity as fans to encourage more conversation and dialogue from players to be more conscious about current affairs and opportunities for change in our communities. Be it white, black, brown, etc. the question also has to be asked, "Do we really care what athletes have to say?" If you're on twitter and follow athletes on the social media audubon, it is easy to be put off by the simpleness some athletes project on their timelines. It has caused me to "unfollow" their accounts and find someone else more insightful to listen to and engage in discussion with.
At the end of the day, athletes will always be role models for children, but hardly ever will they be the ideal ones. The ideal ones are the ones kids are around the most, their parents, their mentors, their teachers, etc. At the end of the day, a superstar athlete's voice can ring just as loudly as even our dear Brother President's. As fans, do we want the separation from church (sports) and state (real life)? Would Dr. King align himself to the issues of the modern-day athlete? Well, we know that answer...of course he would.
He'd be excited to see two black quarterbacks starting in the BCS National Championship. He'd be excited to see the second-ever hispanic head coach in the NFL history given a shot. He'd be supportive of the Rooney Rule, because it gives coaches of color the opportunity to get into "the network."
He'd be upset with the current state of collegiate athletics, he'd be upset of the treatment of Michael Vick in the press versus other maligned sports stars, and he'd be taken aback by the ridicule that Cam Newton received this year.
We'll never have another Dr. Martin Luther King, Jr. though, no one to rage against the machine and speak up on behalf of others who couldn't risk their situation or couldn't enable themselves to speak up in such an appropriate fashion. Yes we have athletes who do take a stand for something, Dikembe Mutombo and Warrick Dunn come to mind immediately, but will there ever be more than that?
And if so...will we even be open to hearing what they have to say? Enjoy this day of service, happy MLK Day to all of you.
-Ed.
www.edthesportsfan.com
P.S. As a reminder, checkout the livest sports talk (and hopefully on the radio soon) show around, "The Unsportsmanlike Conduct Show" as we are live Wednesday's at 9pm Eastern at
http://www.blogtalkradio.com/edthesportsfan
! Download our podcasts if you missed the live show as well!