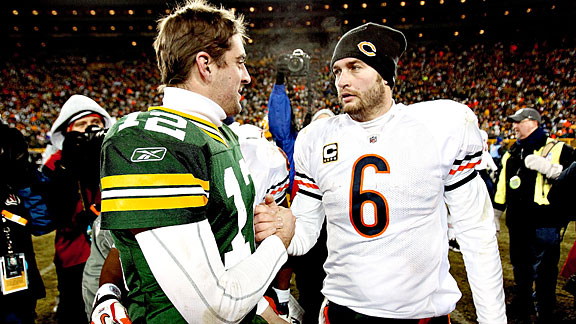 We've done this before, but I am putting it out there again so that it is perfectly clear what we are saying on ETSF. The four best quarterbacks in the NFL, in no particular order, are the following:



1. Tom Brady




2. Drew Brees




3. Peyton Manning




4. Ben Roethlisberger



See, I even did it in alphabetical order so that none of you could try and pull my card and say, "HEY MAN! AIN'T NO WAY IN LIFE BREES IS BETTER THAN PEYTON!" Slow your roll there Tonto, I got this covered. Now what kind of list is a "Top 4" list? Clearly, this needs to be at least five. Who's #5? I personally have no idea, but I know a couple of folks who have their eyes set on it, and with this being "Championship Sunday" that spot on the totem pole is officially up for grabs.


In the 2010 NFL Playoffs, only one QB from our the Fantastic Four is still standing as we speak, Mr. Ben Aura aka Ben R. Kelly aka Mr. Rapelisberger aka Ben Roethlisberger. Say what you want about the man, but he takes the moment and makes it all his own...okay, maybe a poor choice of words. The man is a great QB, period. In these playoffs, we have three QB's who are trying to ascend to being a "Top 5" quarterback, and a win on the biggest stage could get them there.

Let me get this out the way right now, Chad Pendarves is the reason why I'm writing this got damn article. I've never chatted with anyone on Facebook chat as long as I have with Mr. Pendarves. I'm annoyed by it. I could be chatting with my woman, or a long lost friend, or even my mama for goodness sakes...but no, Chad Pendarves had to blow up my Facebook chat spot and type the most incredulous nine words I've ever heard in my life:


"Aaron Rodgers is the 2nd best quarterback in the NFL."


I'm mad I even engaged in a spirited debate with the man about it, it wasn't worth it. There's not one piece of fiber in my body that believes that Aaron Rodgers is the 2nd best quarterback in the NFL, but the scary thing is that there are some of you out there that actually believe this. I think Kenny and I have tried to police ourselves into not being "prisoners of the moment" and not "crowning players too soon", but what made it worse is that this man Chad prefaced the entire argument with...


"I'm not going to be a prisoner of the moment, but...."


As soon as I heard that "but" I knew it was going downhill.

Now here's the real with Rodgers. He's a damned good quarterback. No doubt about it, I'm not going to fight you on that. I'm not going to fight you that in time, he might be the best quarterback in the NFL in the next 3-5 years. I'm perfectly okay with that. However to say that as of right now is purely disrespectful, blasphemous, egregious, and downright reprehensible. Someone should introduce you to "Diabla." At this point, Aaron Rodgers is on par with Philip Rivers...maybe. Philip Rivers has done a ton in the 4 years he's been quarterbacking that Chargers unit. He's proven himself to be durable, proficient, and as J.R. would say...one of the toughest sons of bitches we know. (We all remember the AFC championship with the torn ACL) For me personally, it seems disrespectful to even compare Rivers to Rodgers, but I'm going to let Rodgers make it. He killed last year in the playoffs, but his defense was softer than hot velveeta. He killed again this year, and the defense is much improved. Another win vs. the Bears, and he could definitely take the #5 spot. However...

...what about Jay Cutler?


Look...I've defended Cutler for years, even though he looks like he smokes Pall Mall's and sips random bourbons between halves, I've always had his back.


However, even I didn't expect to see this drastic of a turnaround in year two for him in Chicago this season. The man has not only exceeded expectations, but has found a way to "be a leader" in his own way for the Bears. With his 11-5 finish this season, his career record is now 35-34. Bet you didn't know that. He's also following the path less traveled, in being considered a gunslinger like the great Lorenzo Favre, and at this point no one knows if that's a compliment or a stink grenade being hurled at you.

From a tools perspective (pause), Cutler is definitely a top-5 quarterback. Mentally, well...he's still got a ways to go. However, he looked good against a Seattle team that another top 5 quarterback in Drew Brees could not. A stellar performance against Green Bay is going to lift Cutler into another stratosphere of conversation, and then we're all going to get tired of the "gunslinger" comparisons. Its warranted though, and don't mess around and let Jay win a Super Bowl.

So what about Mark Sanchez?

The Sanchize aka "Nacho" (what up Mama Gem and Miss Gem) is following the direct path of one of the top 4 quarterbacks in football. Mr. Ben Roethlisberger. Well...minus the "non-asking of sexual relations" part. Think about it. Sanchez landed on a golden opportunity with a coach who fundamentally believes in him 100%, who built a running game and offensive line that is top notch in the NFL. Gave him a triumvirate of wide receivers who are as much misfit as magical at times. A tight end who will go all out to make him look good, and that defense...


...who can stop a nosebleed...who CAN'T WAIT till Sunday...who in my opinion, also fundamentally believe in Mark Sanchez. That's something I always wonder about with Ray Lewis and the Ravens. To me, I don't think they ever truly believed in Joe Flacco. They see the man in practice, they know what he's capable of. They'd never come out and say it, but it just doesn't seem there. The Jets on the other hand, well...we saw Hard Knocks, we saw how the defensive players gave the "oooohs" and "aaaahs" during practice, and we saw when Sanchez couldn't hit the broad side of a barn.


We forget that Sanchez is just in his second year. We forget that Sanchez has now won four straight road playoff games, slaying two of the top four quarterbacks on this list in the process this season. The more confidence and the more success Sanchez gets, the more dangerous he's going to be.

At the end of the day, quarterbacks aren't measured by their stats, their measured by the wins and losses they throw up on the board. One quarterback's already proven himself, he's going for the #1 spot. The other three, they want a piece of what he now has two of, that championship feeling...

...Oh, and being considered a top 5 QB in the process would be pretty cool too.


Ed's Championship Prediction

NFC - Bears 30, Packers 20.
AFC - Jets 26, Steelers 21.

-Ed.
www.edthesportsfan.com

P.S. As a reminder, checkout the livest sports talk (and hopefully on the radio soon) show around, "The Unsportsmanlike Conduct Show" as we are live Wednesday's at 9pm Eastern at http://www.blogtalkradio.com/edthesportsfan! Download our podcasts if you missed the live show as well!