The quarterback position is arguably the most scrutinized position in all of sports. They get more attention than an elite point guard in basketball and an ace in baseball. When they are loved, it is one of the greatest sights you will see, and when they are hated, well, just take a look at last week's NFC Championship as proof of how people can turn on one. There really isn't a position that captures the attention, imagination, and scrutiny as an NFL quarterback.

Last year, ETSF reached out to some of our friends in the blogosphere to come up with The Ultimate List of the ten best quarterbacks in football. We all agreed who was the best, but after that, it got pretty interesting. This year, we couldn't even come to a consensus on that, which goes to show how we all viewed this NFL season.

Big thanks go to Ed, The NFL Chick, The Rev, and Joe Simmons for their opinions, thoughts, and insights into making this year's list what it is. We use this season as the barometer, but previous success can be used as well. It's a reason why you will see certain people ranked higher, and why you'll see some lower. All in all, it makes for terrific discussions all over. Let the games begin...

10) Tony Romo, Dallas Cowboys - Despite Romo's season being cut short, three of our contributors have him listed in their top ten, and two of them utterly despise the Dallas Cowboys. That should tell you how valuable Romo is to the success of his team. He's teetered on the lower end of these lists for three years, and while he's done enough to warrant top ten status, even his most ardent supporters know admit there's only so much time left for him to make that move into elite status.


9) Matt Schaub, Houston Texans - Four of the five contributors have Matt Schaub listed in their top ten, and while the Texans haven't been able to put together the kind of season people think they are capable of, it's hard to find any fault in the performance of Schaub. The NFL Chick and The Rev have him the highest of our contributors on their respective lists, as the eighth-best quarterback in football.

8) Matt Ryan, Atlanta Falcons - Matt Ryan makes his first appearance in the ETSF Top Ten QBs, and while some may feel it's overdue, the case can be made as to why it took as long as it did. According to Ed, while it's admirable that Ryan led his team to the best record in the NFC, he has to start winning playoff games before he gets pushed higher on his list. To give you an idea, we all had Ryan on our list, with The NFL Chick having him as high as seven, and The Rev having him at ten.

7) Michael Vick, Philadelphia Eagles - The People's Quarterback comes in at number seven, and while it is his first appearance on this list, the opinions on Michael Vick are everywhere. For our resident Eagles fan, The Rev, he loves the transformation Vick has made from a great athlete who played quarterback to a great athlete who has transformed into a great quarterback. Joe remembers how Vick was seconds away from being on Beyond Scared Straight intimidating little kids, but instead became a player that had to be accounted for on every down, and while some people were truly startled by what they saw from Vick, one of our contributors said this is exactly what he would do all along.

6) Aaron Rodgers, Green Bay Packers - It is safe to say Aaron Rodgers has officially removed himself from the shadows of Lorenzo Favre and has made the strides to become one of the best quarterbacks in the NFL. His first four playoff games are beyond impressive, and with a win this Sunday, one can only wonder how high he will skyrocket on the lists of best QBs in football. Ed and I have been very hesitant when it comes to crowning Rodgers, and while we thought he was good enough to warrant elite status, it's nice to see that he has earned it, as opposed to us just giving it to him. He ranges from third-best to six, with Joe having him as his third-best QB in the game.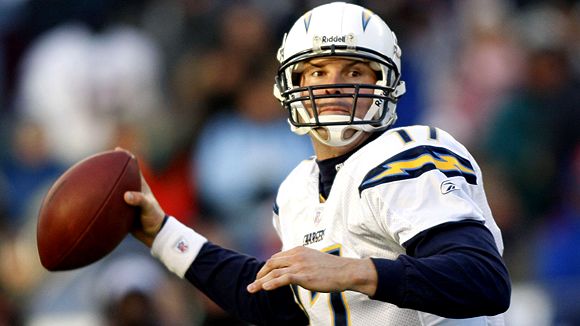 5) Philip Rivers, San Diego Chargers - The case has been made in the past that no quarterback does more with less than Philip Rivers, and while his Chargers bottomed out this season, it certainly wasn't due to the play of Rivers. The man was second in QB rating, fifth in TDs, and first in yards. Eventually, the Chargers are going to have to live up to the expectations that people have placed before them, and even if some people have given up on them, the one person they will continue to believe in is Philip Rivers. He ranges between third-best to sixth, with The NFL Chick having him as high as number three.

4) Ben Roethlisberger, Pittsburgh Steelers - Big Ben is a curious case. For years, we have seen the steady progression of his role for the Steelers. He's gone from a game manager early in his career to being expected to win games for the team. At this point, people's opinions of him are what they are. Each of the contributors on this list believe in his ability to be clutch down the stretch. In my opinion, he is the best quarterback in the NFL, period. The man has more clutch than anyone at his position and doesn't scare at the end of a game. Joe notes his efficiency, while also emphasizing that Ben rarely does anything foolish to cost his team a game.


3) Drew Brees, New Orleans Saints - Drew Brees is a man who has earned the right to have a down year, and even though the wild-card loss to Seattle was absolutely disgusting, Brees is still looked upon with admiration from each contributor to this list. Ed notes his body of work as evidence the man is elite, but he also makes the case that Brees has the unenviable task of needing to win more to ensure his status as a potential Hall of Famer. Joe says you can make the argument that someone else should be in his spot, but says it would be silly to do so, since we all know what Brees is capable of. The Rev says Brees is his favorite QB in football, and that his leadership and the fact that his teammates love playing for him are reason enough for Brees to earn his spot as elite.

2) Peyton Manning, Indianapolis Colts - It would be gridiron blasphemy to speak against Peyton Manning, and some would even consider it to be blasphemy to not have him number one. With that said, no contributor had him number one this year, but two contributors had him as number two and two of us had him number three. Peyton had weapon after weapon go down for him, and it still didn't stop him from putting together a season that about 95% of the quarterbacks in the league would kill for.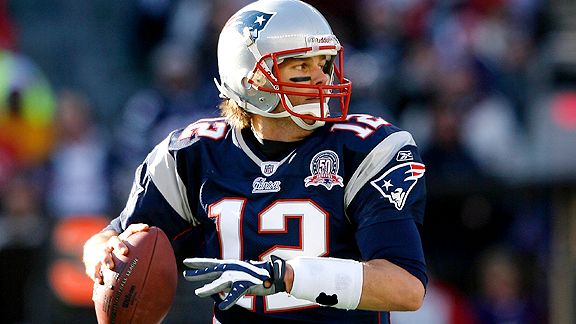 1) Thomas Brady, New England Patriots - Welcome back to The Best Quarterback of the NFL Pantheon, Mr. Brady. He was a near unanimous pick for the number one spot, with four of our contributors having him at number one, while the lone dissenter had him number two. Despite losing Randall Moss, Tom Brady had one of his best seasons this year, throwing for 36 touchdowns and only four interceptions, and while we don't like to harp on stats around here, four picks is four picks; an INCREDIBLY LOW NUMBER for 16 games. That's unreal, considering the people he was throwing the ball to, and while some people feel some of the magic he possessed a few years ago is gone, he's still looked on by us as someone who is among the best in the game.

The Final List



Omissions:

Josh Freeman, Tampa Bay Bucaneers - Freeman is so close to becoming top ten that it's scary. The Rev spoke about how he really wanted to include him on his list and feels it's only a matter of time before he is a mainstay. Joe feels he is on the brink of making the next step, and when you look at the way Tampa Bay's season went, it's easy to see why people are so high on the young man.

Mark Sanchez, New York Jets - Sanchez is another one of the young quarterbacks in the league that is pretty polarizing. To me, he has one of the toughest tasks in football. He plays on a team where everyone from the head coach to linebackers, receivers, and defensive backs talk crazy, and it's really up to him to go out there and perform to the best of his ability. The man showed a lot in the second half of the AFC Championship game, and speaking of that game, it's hard to dispute the man that the man is on his way when you see that he's been at the head of the Jets making consecutive title appearances in his first two seasons.

Be easy.

-K. Masenda
http://www.edthesportsfan.com

P.S. As a reminder, checkout the livest sports talk (and hopefully on the radio soon) show around, "The Unsportsmanlike Conduct Show" as we are live Wednesday's at 9pm Eastern at http://www.blogtalkradio.com/edthesportsfan! Download our podcasts if you missed the live show as well!