First off, I feel obligated to explain the title of today's post (well, the first two words). On Twitter, we use all sorts of terminology to describe things that only folks who are Twitter will understand. Therefore, someone who is on Twitter, and follows the folks that Ed and I follow, will see the title and know exactly what it means, but those who are not on Twitter will not.

Anyway, the expression "f**k school" is our way of saying "forget it, I quit, no mas, throw in the towel." We're not literally saying the words in the sense of school; it's simply our way of saying "this is too much."

With that said, the trade deadline got so out of hand this year that it not only does lends more credence to the idea that was pitched on here last year of the NBA trade deadline needing to be a national holiday, it literally left me scratching my head and searching for clues, when in actuality, I have no idea what the hell is going on anymore.



Jeff Green shipped to Boston; Kendrick Perkins goes to OKC:



Yesterday morning, the missing piece for OKC was simple enough. All the Thunder needed was a big man, and in my opinion, he didn't have to be a great player. He just needed to be big, be a goon, play defense, and rebound.

Well, OKC heard the cries from Ed, Royce at Daily Thunder, Clark Matthews, Jamuel, Mike Stewart, and every other OKC fan I know by trading for Kendrick Perkins. All hail the Thunder, right? Rejoice! Yes, they finally made a move to get a legit big man…


…except they had to give up Jeff Green.

Yeah, buddy. It's all fun and games, until a key piece of your team gets traded, and you realize it isn't solely about basketball anymore, which is exactly what OKC just found out. They had some of the best chemistry I've seen from a basketball team, and now they have to try to keep that intact, which is easier said than done. Simply put, I don't they're better for the move. Sure, they got a big, but they gave up versatility on both ends of the court in Green. I understand that OKC needed size, but one of the reasons they were so dangerous is because they were a matchup nightmare for pretty much everyone in basketball.

Admittedly, Jeff Green is my dude, he's a Hoya, and that may be factoring into my analysis, but I honestly don't think this was the greatest move for the Thunder, in terms of trying to make the most of their season, and yes, I know you can't re-sign him at the end of the year, but why not make a separate trade to get a big and keep Green, and ride it out like that?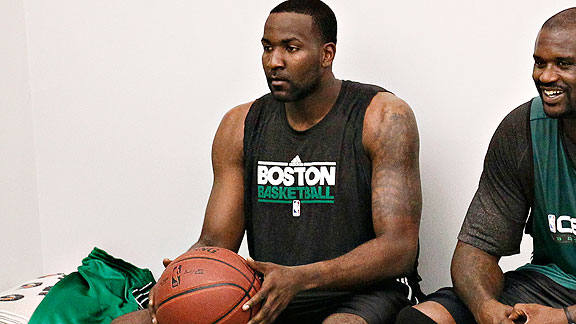 As for Boston, they really confused me with this one. Trading your main goon away? Why? Okay, they won't be able to re-sign him at the end of the season (see the theme here?), but wait until after the season, when they win a ring. Now they have to find a way to integrate Green into what they do, which might work, but it's hard to say. Part of what makes the Celtics so great is their ability to punk the other team and with Perk gone, that lessens significantly, and trust me; intimidation is HUGE in basketball.

At the same time, Ainge has made all the right moves for the past few years, so I'm willing to not jump off the deep end on this one. However, the Celtics officially do not have a starting center, and before you send e-mails, tweets, or put " but they got Shaq" in the comments section, please don't try to sell me on The Big Homie. I love the guy, as does Ed. The man is a legend and he is revered by us at ETSF, but in no way, shape, or form in 2011 do I put my hopes and dreams at the starting center position in the physical well-being of Shaquille Rashaun O'Neal.


Baron Davis gets sent to Shawshank; Month Williams goes to LA:



This trade happened in the middle of the night; well early, early Thursday morning. There I was, watching Batman for the 6,443rd time and minding my own business, when all of a sudden, my homie Kris puts up a link for a Baron Davis tribute. Granted, we all put random links up on Twitter, so I watched it, but didn't think much more.

Then my boy, and1grad, was having a tirade about the Clippers, but I still didn't think much of it, because it's no secret the Clippers are stupid. Well, I finally asked what's going on, and they told me that Baron Davis got shipped to play in the prison basketball league at Shawshank with Andy Dufresne, Red, Haywood, and the little young dude that Andy taught how to read in a trade. Needless to say, I was irate.

The only reason I'm even mentioning Month Williams is because he was involved in the trade. Now, trust me; I know people will say this was a good move for the Clippers, because they shed The Baron's contract, but are you prepared to give the Los Angeles Clippers, the definition of ineptitude, incompetence, idiocy, indecency, and inferiority that much credit? They're arguably the sorriest organization in professional sports, and they show that again by trading Davis at a time when he was playing his best basketball of the season.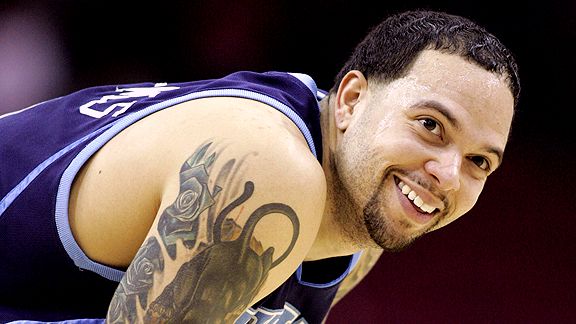 Deron Williams gets shipped to New Jersey:



All I have to say about him getting shipped to New Jersey is this: if y'all think Deron Williams being shipped to Jersey will derail my "Deron Williams is The Best Point Guard in the NBA" campaign on this site, you got another thing coming, and if anything, it may ramp it up even more. It's going to be a rough time for him out there, because the Nets just aren't that good, and when your team isn't that good, you tend to become forgotten.

It's sure to happen with him, especially with the Nets rarely being on national television, and if you don't have League Pass, then you can really forget about watching the Nets. There's also the fact there are plenty of quality point guards on good teams, but I'm putting trust in The Russian Owner, along with the rest of his front office, to do their best to keep him there. If not, maybe the Mavs can get him back down here next season.



The 652 other trades that happened yesterday before the trade deadline:



There are so many other trades that happened that I literally had to pull over, put the car in neutral, and just chill. Honestly, none of these teams that made moves will win the championship, and THAT MIGHT even go for Boston, as much as I hate to admit it. Now, the three teams that stayed put: the Spurs, Lakers, Mavericks…those are the ones to worry about.

It'll be fun to see how it works out, but its more evidence that we need this thing to be a national holiday, so we can all sit back and watch it unfold before our eyes, with nothing distracting us at all.

Be easy.
-K. Masenda
www.edthesportsfan.com
P.S. As a reminder, checkout the livest sports talk (and hopefully on the radio soon) show around, "The Unsportsmanlike Conduct Show" as we are live Wednesday's at 9pm Eastern at http://www.blogtalkradio.com/edthesportsfan! Download our podcasts if you missed the live show as well!