"I don't know the key to success, but the key to failure is trying to please everybody." -
Bill Cosby
Its fitting that we would hit 700 posts on ETSF in the midst of buzzer-beaters and game winners during the greatness that is the NCAA tournament. The first week of the tournament (and I'm not talking about those punk ass games on Tuesday and Wednesday) is arguably the greatest four days in sports. Hell, I along with millions (literally) of people took off work today to bask in the greatness of the tournament. Filling out those brackets feels like filling out that FAFSA in high school, you hate doing it but you HAVE to do it. There's no way around it.
Since the beginning of this site, Kenny's spit the gospel and I've spun it on the one's and two's on all things college basketball. Let's reflect.
The first person I've ever become a Stan of on ETSF, CDR-uh
: Back in 2008, as Rev. Calipari was uplifting the congregation in Memphis I became a big fan of Chris Douglas-Roberts. Yeah I know, everyone was watching greatness ensue by the other great guard on the squad, Mr. Derrick Rose, but CDR-uh was that deal for me. Watching Memphis make that run to the National Championship just seemed right, and he gave us a story to write here on ETSF. Cheers to you, CDR-uh, we appreciate you.
The first person who inspired the first guest post on ETSF, The Juice
: O.J. Mayo in college was the culmination of the high school hype, YouTube clips, and spoken word that we began seeing with LeBron Raymone and Co. When I moved to Cincinnati, folks spoke so highly of Mayo that it didn't seem real, until they spoke about being held back a year on purpose, but that's besides the point. One of our longtime friends and sister's from another mister came to the podium and spoke the word of O.J. and an experience on MySpace...a story that still brings tears to my eyes. *contains laughter*
The first person to allowed me to rep the crib, Blake
: Before he was dunking over cars, palming the
back of big Russian's heads
, and becoming a regular on SportsCenter while playing for the Clippers...the man was an Oklahoma Sooner. When he was at OU, I preached the gospel like only I could because....no one else was gonna rep Oklahoma, so I had to do it. No choice in the matter. Nowadays, I let you all have it, because I've been seeing and hearing about Blake since he was 17. You all can enjoy it.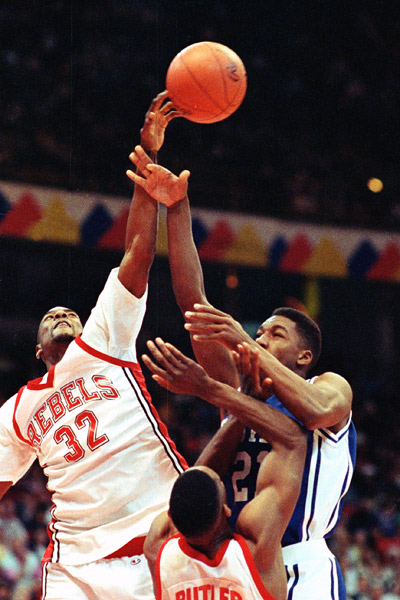 The first team that allowed Ken to reminisce, The Intimidators of UNLV
: Earlier last weekend was saw the documentary of the 1990-91 UNLV Running Rebels, a team that in Ken's words, "It was the first time I watched basketball, saw two teams in warm-ups, and knew a game was over before it even started." The funny thing is Ken and I talked about these old teams back in the day, the '90 Rebels, the '92 Fab Five, and such. We've talked about these teams repeatedly, and I'm glad the national exposure is getting on the teams we've loved growing up...just know we was on it a loooooong time ago.
The first time I thought about 96, yep...I co-signed it
: Yep, 96 teams. At this point, with those wack games on Tuesday and Wednesday, I feel even better that I wrote it last year.
The first time someone made me believe in the impossible...about mid-majors
: From Ken,
"Mid-majors will not sell their souls. They can't afford to, so they're going about things the old-fashioned way, and building programs. George Mason making the Final Four in 2004 was the beginning. It's only a matter of time before they make them by the pound, and when they do, remember that we told you so."
The first time a man's voice gave me goosebumps (NH), Gus
: Because he's the livest commentator in all the land.
The first time I forbid teenagers that can't go to school, Duke that is
: Its kinda crazy that with the Jalen vs. Grant debacle that I wrote this a long time ago. My thought process about Duke wasn't that different than what Jalen spoke about when I was a young boy. To this day, there are
things about Duke that I still don't like
, even though they are a phenomenal team and a part of a tremendous university. Oh well.
There are so many posts we've done on ETSF about college basketball that its unreal, and at 700 posts, its a beautiful thing. Enjoy the day of college basketball, we got 7000000000 more posts coming your way. LETS GOOOOOOOOOOO!
-Ed.
www.edthesportsfan.com
P.S. As a reminder, checkout the livest sports talk show around,
"The Unsportsmanlike Conduct Show"
as we are live Wednesday's at 9pm Eastern or
Download our podcasts if you missed the live show on iTunes
!