The MVP award is one that rarely confuses me. There are always debates as to who should get the MVP every year, but for the most part, I do think the NBA gets it right.

This year, though, will not be normal. There is historical evidence, as well as my own particular beliefs, that make me think this year will be unlike any other.

Derrick Rose is my dude. At one time, I would have gone as far to say I was a Derrick Rose Stan, but after meeting some Bulls fans over the summer, they made the efforts to promote Rose pale in comparison to their allegiance of the man. That's cool, and I'm willing to concede.

He has been the catalyst in resurrecting a once dignified, but in recent years, an insignificant, downtrodden, and below-average Chicago Bulls basketball team. Those may seem like harsh words, but if anything, it just shows the impact that Derrick Rose has had on his hometown since he was drafted by Chicago in the 2008 NBA Draft.

I say all that to say these things about the season that Derrick Rose is having. This will have facts, opinion, and the best part is it will set the table for whoever wants to engage in some debate.

Derrick Rose is a legitimate MVP candidate, and due to factors that will be discussed later in this post, he is at the front of the pack to win this year's award. Saying that, I think there is a bias against young players (specifically, third-year players) winning the MVP. Here are my examples (praise God for Basketball Reference [dot] com):


Chris Paul led the Hornets to 57 wins and a second-place finish in the West in 2007-08. The man was first in steals and assists, and second in double-doubles. Despite all that, he came in second to Kobe Bryant, a man who had never won an MVP before, and if you let some people tell it, there's no way Kobe could lose the MVP to someone who was still wet behind the ears, so to speak. Kobe hadn't had his greatest statistical season, but his team finished with the best record in the West.

LeBron James averaged 31 points, seven boards, and six assists in his third season. He was First Team All-NBA, All-Star Game MVP, second in The League in minutes, and third in scoring. The Cavs had the second-best record in the East. Despite all that, he finished second to Steve Nash in the MVP voting that season.

Tim Duncan put up 23 points, 12 rebounds, three assists and two blocks per contest in his third season. The man was First Team All-NBA and First Team All-Defense. He was arguably the best player at his position, co-MVP of the All-Star Game with The Big Homie, Shaquille O'Neal, and was also coming off of an NBA championship the year before. The Spurs had the second-best record in the West, and despite all that, he was FIFTH in MVP voting that year. The four ahead of him: Karl Malone, Alonzo Mourning, KG, and The Big Homie.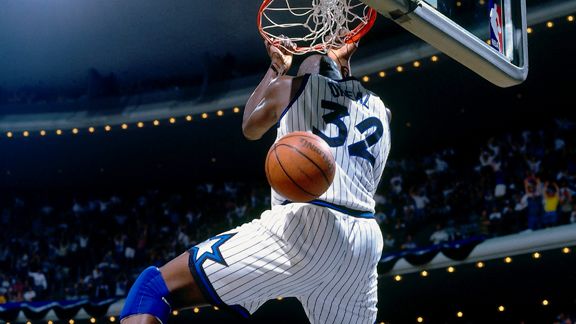 Shaquille O'Neal went for 29 points, 11 rebounds, and two blocks a game in his third season. The Orlando Magic had the best record in the East that year. The Big Homie was first in scoring, second in field goal percentage, and third in rebounds. He finished second in the MVP voting to David Robinson.

In those four scenarios, all of those players lost the award to players who had been in The League longer than them, and with the exception of Nash, they all lost to players who had never won the MVP award before.

Granted, there is some hypocrisy on my part, in regards to using stats, because I do think stats are the devil. However, I will partake in a dance with the devil and pray for forgiveness, so I can make this point: Chris Paul led in steals and assists; Shaq led in scoring, and while LeBron and Duncan didn't lead in any statistical category, LeBron was second in minutes and third in scoring. Duncan was First Team All-Defense and third in rebounding (behind Mutombo and Shaq, who averaged 14 and 13, respectively). Despite all of this evidence, none of them won MVP…

…which leads to this year's case.


Derrick Rose has led the Bulls to the second-best record in the East, and has done so while not having a full lineup for a significant part of the season. The Bulls have been decimated by injury, yet Rose has done work all season long. Credit must be given to that significant factor. However, he doesn't lead the league in any statistical category; hell, he's not even top-five in anything. Not scoring, assists, steals, free throws, minutes, double-doubles, nothing. As a matter of fact, the one category he is top-five in is, ironically, turnovers.

Now, I'm a staunch advocate of The Randy Galloway School of Game-Viewing, which is "just watch the damn game." However, when it comes to something as sacred as the Most Valuable Player in the NBA, a player should have at least one stat they lead in, or be near the top.

Derrick Rose will most likely win the award, for a number of factors: one, he's having a great year. Two, LeBron will not win it three times in a row, despite having a season that not too many people can put together (another example of the absurd expectations heaped on the head of LeBron), and three, there are only two other veterans who are truly making a strong enough case to take it from him.

If the Lakers continue to win games and find a way to take the West, don't be surprised to see Kobe's name back in there, and honestly, them coming back and doing so isn't out of the realm of possibility. The only other veteran is Dwight Howard, and even though he's second in rebounds, second in FG percentage, and second in blocks, I just don't see him getting the MVP. Of course, if the Magic find a way to move ahead of Chicago, that will raise some eyebrows, but only time will tell.


Lastly, there is my strong belief that it is possible to win the MVP and still not be the best player at your position. Dirk won the MVP in 2006-07, but how many people really think he was (at that time) a better power forward than Kevin Garnett or Tim Duncan?

Steve Nash won two MVPs and folks still question those each and every year. Derrick Rose can win the MVP this year, and I still wouldn't take him over Deron Williams or Chris Paul, because I honestly do not think he is a better point guard than either of them. I cited Paul's work earlier, and as for Deron, he's not only had playoff success, but he's also put up nearly 20 and 10 for four consecutive years.

This may seem like I'm piling on Derrick Rose, and maybe it is. More than anything, it is an alternate view of how the NBA MVP can be viewed. Folks are so busy being prisoners of the moment that history tends to be forgotten. Well, that doesn't happen here, and if Derrick Rose does win the NBA MVP, ETSF will be right there to show love. We've shown the man love ever since this site was launched. However, it will be done within reason and with a clear picture.

Be easy.
-K. Masenda
www.edthesportsfan.com
P.S. As a reminder, checkout the livest sports talk show around, "The Unsportsmanlike Conduct Show" as we are live Wednesday's at 9pm Eastern at http://www.blogtalkradio.com/edthesportsfan! Download our podcasts if you missed the live show as well!