Find a way to illustrate and paint a picture of the agony, pain, and anguish you experience when the realization hits that a certain point in your life is over. At that time, you're not thinking about "the next level," or "moving on." You're simply "in the moment," and if you've ever experienced something like that, it can be the, at that time, one of the hardest times in your life, if not the hardest. Nothing else matters.

When folks think of March Madness, the prevailing thoughts are buzzer-beaters, nail-biting finishes, and players becoming legends right before their very eyes. They think about Gus Johnson losing his mind, seeing a player make a play and calling it in a way that only Gus can do to make you feel as if you're right there (well, in fairness, Kevin Harlan is pretty damn good as well). With all these things being true, there is a downside to March Madness and it is that someone has to lose.

To take it a step further, it's not so much about your team losing, as it is about a team you came to identify with and want to see succeed. See, its one thing for my team, the Hoyas, to go home. Hell, Georgetown has had an identity crisis for the last couple of years, and it doesn't shock me one bit that they got sprayed out of the first round of the tournament for the past two years. I saw that coming from a mile away. However, it hurt to see a team like Kansas State go home, in the fashion they did, for a number of reasons.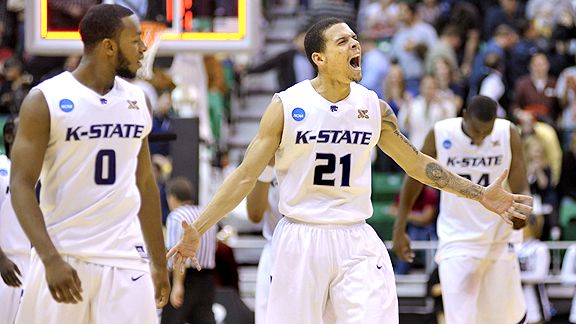 I remember last year when Ed and I were talking about backcourts and Till told the both of us, with conviction, that the best backcourt in college basketball was in Manhattan, Kansas. I knew he was talking about Denis Clemente and Jacob Pullen, but I wasn't checking for them like that. However, I started to pay more attention and not only was Till right, I started to truly cut for the Wildcats, and I wanted to see them succeed.

To this day, I think two things stopped K-State from making the Final Four: fatigue and Butler. They played Xavier in a double-overtime thriller in the Sweet 16 less than 48 hours before, and anyone who watched their following game against Butler knew they had nothing left. It was sad to see Clemente go out like that, but I knew Pullen had another year.

This year, Jacob Pullen picked up right where he left off. He became a leader, broke records, and he gained even more respect and earned legendary lore on ETSF when he made this proclamation after a loss late in the season:




Some people saw that as him being spoiled, but I saw it as someone being a real man. He was putting the onus on himself, his coaches, and his teammates to get their stuff together, so they could be where they belonged: in the NCAA Tournament.

Well, Pullen went out against Wisconsin and lost his damn mind. The man played as inspired, fearless, and authentic a game as I've ever seen from a college player. The man had 16 in the chamber, and when the game was over, the clip was empty, and even though they lost, and the man was in tears, he was still a winner to me. Just as great as it is to see someone win, it was unfortunate not to be able to see the young man continue his collegiate career.


When West Virginia played Duke in last year's Final Four, it didn't bother me that the Blue Devils won. It bothered me that Da'Sean Butler, the heart and soul of their team, tore his knee up in the game. The man was a monster all season long and the way he ended his career, on the ground in agony, was enough to make anyone with a soul feel the man's pain.

The same can be said for Chris Webber when Michigan got blasted in the National Championship during the Fab Five's freshman year. The young man went on a tirade, cursing everyone out who dared to look at him, take his picture, or do anything that could be taken as disrespect after the loss. I wasn't mad at him for his reaction. When you put everything you have into this game, and you don't get the result you desire, you have full reign to show whatever kind of emotion you feel is necessary.


The sentiment is the same for Acie Law and A&M in the 2007 Sweet 16, and to take it a step further, when Duke lost to Indiana in 2002 and Jason Williams broke down after missing free throws to extend the game. If you've been around ETSF long enough, then you know what the sentiment of Duke is around here, but seeing Williams like that was enough to make me feel horrible for the man. Enough folks knew his college career was over, and for someone who was so terrific in college, it was a shame to see it end that way.

It's sure to happen again this weekend; if not for me, then maybe for Ed, or JAG, or anyone else who understands that there has to be a participant in March Madness who doesn't get to the ultimate prize. However, it certainly makes them far from a loser, and even though, in that moment, it seems like the world is going to end, we should be able to pay respect for them putting it all on the line and even more respect for them accepting their fate and reacting how they choose.


K. Masenda
www.edthesportsfan.com
P.S. As a reminder, checkout the livest sports talk show around, "The Unsportsmanlike Conduct Show" as we are live Wednesday's at 9pm Eastern at http://www.blogtalkradio.com/edthesportsfan! Download our podcasts if you missed the live show as well!