On the eve of this thing called March Madness, there's always a need to reflect. We've watched documentaries of the Running Rebels of UNLV and the Fab Five of Michigan over the course of the weekend. We've seen the absurdity of the current 2011 NCAA tournament bracket, and we can remember when the old folks preached the gospel about the legends of yesteryear. So usually when we start reminiscing about the glory of years past, there's only one logical conclusion...
...we've got to do a fantasy draft.
Six guys, one conference call, and an hour and a half of shenanigans later, we came up with this...the first-ever ETSF college basketball fantasy draft.
You might remember we did this back in 2009 for college football, so this is nothing new for us over here. Meet the six GMs and where you can find them:
Philadelphia's own Rev. Paul Revere -
House That Glanville Built
Chi-Town's Bryan Crawford -
SLAM's From the 'Go Blog
Mr. Durham, Joe Simmons -
Bull City State of Mind
The Ohio Player, Sean Walton -
The Fresh Xpress
The Bearded One from Dallas,
Kenny Masenda
- ETSF
Oklahoma's Finest,
Eddie Maisonet
- ETSF
Rules are simple...
1. Players selected must have played no earlier than the 1990-91 season.
2. Teams must have a starting lineup (PG, SG, SF, PF, C) and 5 bench players
3. Snake draft implementation (first to last, last to first)
4. Trash talking is not only encouraged, but mandatory.
You ready? Let's rock. One favor...take notes and keep tabs on what's going on. We might need you to pick a winner.
Round 1
The Rev - Christian Laettner, Duke
Bryan Crawford - Kevin Durant, Texas
Eddie Maisonet - Tim Duncan, Wake Forest
Kenny Masenda - Larry Johnson, UNLV
Joe Simmons - Ed Cota, UNC
Sean Walton - Allen Iverson, Georgetown
Kenny's Pick: Larry Johnson
"On the surface, this pick seemed like it was easy, but it was pretty tough. I had C-Webb, Ed Cota, and Iverson on my board. I could have gone with any of them for a number of reasons, but when it was all said and done, I went with the first grown man I remember seeing in March Madness. Larry Johnson was a man amongst boys, an intimidator, and one of the best teammates you could ever have. It doesn't hurt that he's also Texas Made, and that he was multi-dimensional for the Runnin' Rebels."
Joe's Pick: Ed Cota
Never in my life have I ever seen a man with the ability to lead and still maintain his flash the way "Easy" Ed Cota was able to lead the Tarheels. The man played in three Final Fours in four years. Cota gets overlooked because he made it look too easy. See Ed did have talent around him most years, but his ability to make it work is what separated him from the rest. He possessed an array of behind-the-back passes, no-look passes, and he had the uncanny ability to fit the ball into places that the ball should not fit.
Regardless of the talent around him, Cota had the ability to make players around him look better. One of the things about Cota that real basketball fans could appreciate was the bigger the game, the better he played. Ask Wojo down at Duke about that as he probably still has nightmares about trying to guard Ed Cota for four years.
Round Two
Walton - Shaquille O'Neal, LSU
Simmons - Chris Webber, Michigan
Masenda - Jerry Stackhouse, UNC
Maisonet - Blake Griffin, Oklahoma
Crawford - Chris Jackson, LSU
The Rev - Marcus Camby, UMass
Ed's Observation: The majority of us went with bigs here. Ken and Crawford went with Stackhouse, who was MEAN at UNC, and Chris Jackson was simply a monster in the backcourt.
Round Three
The Rev - Jameer Nelson, St. Joseph's
Crawford - Rasheed Wallace, UNC
Maisonet - Grant Hill, Duke
Masenda - TJ Ford, Texas
Simmons - Stephen Curry, Davidson
Walton - Carmelo Anthony, Syracuse
Bryan's Pick: Rasheed Wallace
When it comes to basketball, Rasheed Wallace has pretty much been cold his whole life. He averaged 16 points, 15 rebounds and seven blocks while playing just 19 minutes a game as a senior in high school, and once he got to North Carolina, it was over. Not only was he the heart and soul of the Tarheels, but he had the grown man game. If you didn't see 'Sheed play in college, just ask around... Roscoe was that dude.
Round Four
Walton - JJ Redick, Duke
Simmons - Jamal Mashburn, Kentucky
Masenda - Antawn Jamison, UNC
Maisonet - Mike Bibby, Arizona
Crawford - Ray Allen, UConn
The Rev - Kenyon Martin, Cincinnati
Ed's Pick: Mike Bibby
While some folks profess their love for the Michigan Fab Five, the UNLV Running Rebels, or the Flintstones from Michigan State, my favorite team growing up will always be the 1996-97 Arizona Wildcats. They had the sharpshooter Michael Dickerson, one of the greatest 6th-men of all time in Jason Terry, and they had a team full of light-skinnededness. From AJ Bramlett, to Bennett Davidson, to the legend that is Miles Simon, the killer on that squad was none other than Mike Bibby. Bibby's handle was serious, his court vision was superb, and his range went from Tucson to Yuma. Team Dime was legit, and I'll never forget what #10 did for Lute Olsen.
Round Five
The Rev - Eddie Jones, Temple
Crawford - Emeka Okafor, UConn
Maisonet - Corliss Williamson, Arkansas
Masenda - Glenn Robinson, Purdue
Simmons - Alonzo Mourning, Georgetown
Walton - Robert "Tractor" Traylor, Michigan
The Rev's pick: Eddie Jones
If you are looking for a complete college basketball guard, you'd be hard-pressed to do better than Temple's Eddie Jones. The man could certainly get buckets, averaging 16 points per game for his college career and 19.2 en route to the 1994 A-10 Player of the Year award. But he was also a defensive star. He was the prototypical John Chaney guard: tall, lanky and defensive minded. Eddie averaged 2.1 steals and 1.2 blocks for his career. He led Temple in rebounding once and blocks twice … as a guard. And he, along with Aaron McKie and Rick Brunson, led John Chaney to his deepest NCAA Tournament run ever, going all the way to the Elite Eight.
Round Six
Walton - Trajan Langdon, Duke
Simmons - Tyler Hansbrough, UNC
Masenda - Jim Jackson, Ohio State
Maisonet - Steve Francis, Maryland
Crawford - Penny Hardaway, Memphis State
The Rev - Jason Kidd, Cal
Bryan's pick: Anfernee "Penny" Hardaway
Anfernee "Penny" Hardaway made being a 6-7 PG popular when he was at Memphis State University. Sure, Jalen Rose brought swagger and attitude to the position while at the University of Michigan, but Hardaway was easily the more complete and polished player of the two. He could shoot it, he could pass and he could flat-out score the basketball. Really, there wasn't a whole lot that he couldn't do out on the floor. Plus, he had a really cool nickname. What's not to like?
Round Seven
Boland - Ed O'Bannon, UCLA
Crawford - Juwan Howard, Michigan
Maisonet - Mateen Cleaves, Michigan State
Masenda - Baron Davis, UCLA
Simmons - Randolph Childress, Wake Forest
Walton - Jason Williams, Duke
Joe's Pick: Randolph Childress
There was no doubt that Randolph Childress was an underdog player during his career at Wake Forest. Randolph carried a team for two years that had nothing to offer. Randolph was a marksman, a sharpshooter who never seemed to shy away from the big shot. In an era of ACC supremacy and legendary players, no small guy has ever stood as tall as Randolph Childress did during his tenure at Wake Forest.
In his junior year everything changed for Randolph. Enter Tim Duncan. A scrawny, average built, big man from Nassau, Bahamas came to the Demon Deacons and changed everything for Randolph Childress as he no longer had to carry the team by himself. His collegiate highlight came in 1995, when he delivered one of the most outstanding ACC Tournament performances of all time. Named tournament MVP, Childress carried the Demon Deacons to the ACC Tournament Title. Childress averaged 35.7 points and seven assists per game. In the finals, against a UNC team featuring Jerry Stackhouse and Rasheed Wallace, Childress scored 37 points with seven assists and hit a game-winning jumper with four seconds left in overtime (not to mention the play that no real basketball fan will ever forget).
Round Eight
Walton - Dikembe Mutombo, Georgetown
Simmons - Joe Smith, Maryland
Masenda - Dwyane Wade, Marquette
Maisonet - Richard Hamilton, UConn
Crawford - Alphonso Ford, Miss. Valley State
The Rev - Kerry Kittles, Villanova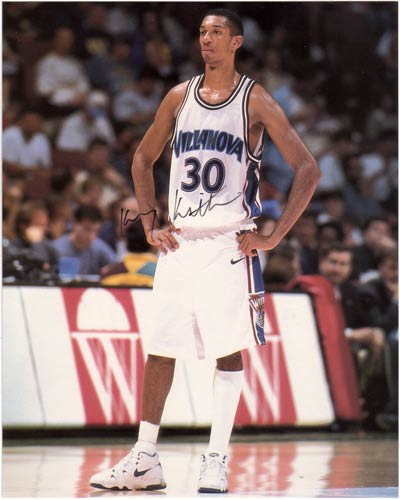 The Rev's Pick: Kerry Kittles
The accolades say it all: two-time All-American (first-team as a senior, second-team as a junior), 1995 Big East Player of the Year, three-time All Big East First Teamer, and the Villanova career leader in points (2,243) and steals (277). He holds the single-season steal record at Nova with 87 in 1994, and he averaged 18.4 points for his college career. Even more importantly, Kerry Kittles and Jason Lawson were the sole reasons that I took any notice to Nova as a Philadelphia youth. Temple was my Philly squad, but Kittles was too incredible to ignore: the high socks, the immense athleticism, the lethal shooting and scoring, and just like Eddie, an elite thief.
Round Nine
The Rev - Michael Beasley, Kansas State
Crawford - Al Horford, Florida
Maisonet - Keith Van Horn, Utah
Masenda - Joakim Noah, Florida
Simmons - Stacey Augmon, UNLV
Walton - Julius Peppers, UNC
Ed's Pick: Keith Van Horn
Look, there's nothing wrong with being the Great White Hype. Usually, if you were considered the GWH, then you were pretty damn good. We saw it when we were little with Christian Laettner and we saw it when we were grown with Adam Morrison and J.J. Redick. However, what Keith Van Horn did at Utah was downright heroic. Known for his game-winning shots, offensive exploits, and that sleepy-eyed face, dude was a killer. Plus, reaching that 1998 National Championship Game didn't hurt his resume, either.
Round Ten
Walton - Wally Szczerbiak, Miami (OH)
Simmons - Kenny Anderson, Georgia Tech
Masenda - John Wallace, Syracuse
Maisonet - Greg Oden, Ohio State
Crawford - Shelden Williams, Duke
The Rev - Calbert Cheaney, Indiana
Ed's Observations: If you're still reading this far down, God bless you.
Coaches
The Rev - John Chaney, Temple
Crawford - Rick Pitino, Kentucky/Louisville
Maisonet - Lute Olsen, Arizona
Masenda - John Thompson, Georgetown
Simmons - Nolan Richardson, Arkansas
Walton - Bob Huggins, Cincinnati/West Virginia
Ed's Observations: Can't go wrong with any of these coaches, no love for Coach K though? Hate hate hate hate hate...
Arena
Boland - The Palestra (Philly Big 5)
Crawford - The Pit (New Mexico)
Maisonet - Pauley Pavillion (UCLA)
Masenda - Phog Allen Fieldhouse (Kansas)
Simmons - Cameron Indoor Stadium (Duke)
Walton - Madison Square Garden (New York, primarily St. John's)
Ed's Observations: Need to get these arenas on my bucket list...immediately.
11th Man (Because who couldn't use one more pick?)
Walton - Nick Van Exel, Cincinnati
Simmons - Kevin Pittsnogle, West Virginia
Masenda - Jalen Rose, Michigan
Maisonet - Ron Artest, St. John's
Crawford - Brandon Roy, Washington
Boland - Lynn Greer, Temple
Ken's Pick: Jalen Rose
Originally, I had Raymond Felton, but after realizing I had no members of the most influential force in my lifetime of watching college basketball, I had to get Jalen Rose. Rose was a key part of those Fab Five teams; he played hard, he played with attitude, and he always let you know he was in the building. The man wasn't afraid of a thing, and he had his moments when he was the best player on the floor for the Fab Five, which is saying a lot, considering the players he played with.
Here is the final breakout of selections...
Now we need your help...who's got the best team?

Personal challenge to the readers...come up with a starting five, not using any of the players listed above. Here's another five I came up with while editing this article...PG: Stephon Marbury, Ga. Tech SG: Shay Seals, Tulsa SF: Caron Butler, UConn PF: David West, Xavier C: Bryant Reeves, Oklahoma State.
-Ed.
www.edthesportsfan.com
P.S. As a reminder, checkout the livest sports talk show around, "The Unsportsmanlike Conduct Show" as we are live Wednesday's at 9pm Eastern at
http://www.blogtalkradio.com/edthesportsfan
! Download our podcasts if you missed the live show as well!