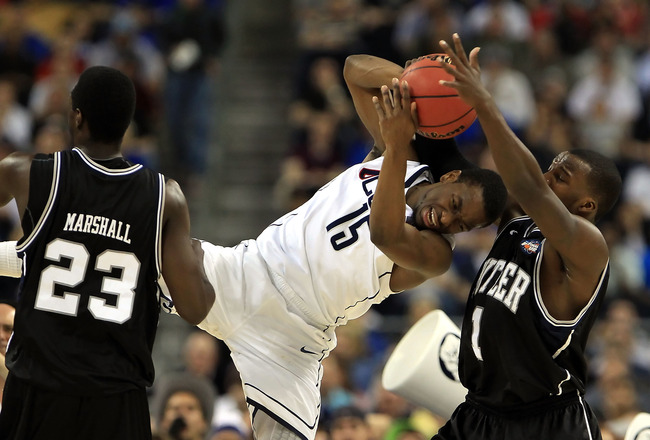 Read the title and allow it to sink in.

Last night was not the worst college title game of all-time; no, that would be too kind. Last night was the worst basketball title game, on any level, that I have ever seen in my life.

EVER.

Before the game, the excitement was in the air. Butler was back to play on the biggest stage in college ball, looking to win their first national championship. UConn was back, after a six-year absence, looking to win their third national title in The Jim Calhoun Era. The storylines were set, the players were known, and the backdrop was complete. The one thing that was needed was for ten players to take the court, five from each side, three refs, and a ball. The rest would take care of itself…

…and take care of itself, it did.

Last night was awful. Throughout the game, the thought was it would get better. Sure, there were missed shots, sloppy passes, and confusion amuck, but that can always be attributed to jitters, but as the first half progressed, you could see how it was going to go.


Neither team could hit the broad side of a barn. They looked flat-out disgraceful. The crowd was quiet, the bricks were loud as hell, and the game lacked anything resembling a pulse. When The Mack hit a three to go into halftime, the feeling over here wasn't that of someone who was thrilled by a shot going in at the buzzer. No, it was more like, "Thank God it's halftime."

By halftime, the thought of the game becoming great evaporated. At that point, the hope was the second half would simply be respectful; something that, if my dad called and asked how the game went, I could tell him something positive.

It only got worse.

Look, I eat, sleep, breathe, and live basketball. Throughout the years, I have seen some ugly ball, regardless of level. High school, AAU, college, NBA, intramurals, 24 Hour Fitness, church league, you name it. Last night took the cake; it was that bad.

Three things:

1) There are some people who will say that the score and field goal percentages are indicative of two teams that pride themselves on defense. They may as well stop wasting their time trying to convince people that the game was a product of that. It was simply a product of two teams both playing some of the worst basketball they've ever played at exactly the same damn time.

2) Do not use this as an example of NBA being greater than college ball. We knew the NBA was better already. Using this is totally inaccurate. Besides, we saw last year in Game Seven of the Finals that the NBA is known to have a dud in a championship game as well.

3) Also, this game shouldn't be used to say mid-majors don't belong in the title game. It's not fair to the work they put in to get there, and as irate as I was at the game last night, there was the realization that sometimes a team just has a bad day at the office, and last night, it just happened to be Butler.


Despite my angst, annoyance, and aggravation from last night, Butler has nothing to be ashamed of. They made the title game two years in a row, and even though it sucks to lose, no one can ever take the fact that they were one of the last two teams standing away from them.

As for UConn, congrats to them, and their leader, The Great Kemba Walker, on not only earning Most Outstanding Player honors, but his college degree in three years as well.

With that said, let's not mistake the fact that last night was an exhibition of outright ugly, shameful, and despicable basketball, and in an attempt to make sure I don't go on another tirade, a la last night on Twitter, this post will end right now.

Be easy.
-K. Masenda
www.edthesportsfan.com
P.S. As a reminder, checkout the livest sports talk show around, "The Unsportsmanlike Conduct Show" as we are live Wednesday's at 9pm Eastern at http://www.blogtalkradio.com/edthesportsfan! Download our podcasts if you missed the live show as well!