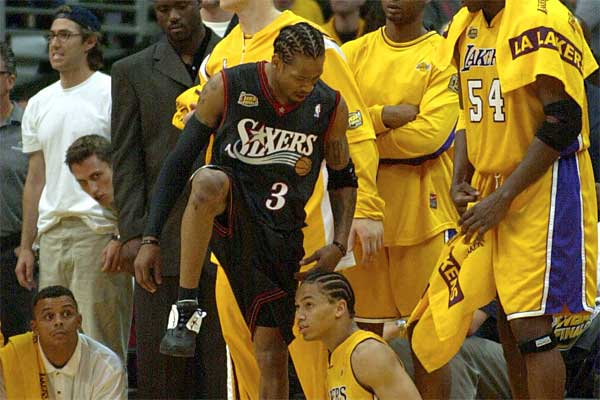 Note: today is a joint post. Seeing as how today is the ten-year anniversary of Game One of the 2001 NBA Finals, it was only appropriate to get insight on the game from two resident Allen Iverson Stanleys: The Rev and myself. The first part is from me, and part two is courtesy of The Rev.





The night that will never be forgotten: by Kenny



Ten years ago today, the Philadelphia 76ers took on the undefeated (in the playoffs) Los Angeles Lakers in Game One of the NBA Finals. The Sixers had gone through hell to get there, beating a team that constantly put them out of the playoffs in the Indiana Pacers, as well as enduring two seven-game battles with the Toronto Raptors and the Milwaukee Bucks.

Despite that road, their final test was against a team that steamrolled everyone they played in the West that postseason: the Los Angeles Lakers. As crazy as it was at the time though, something told me that the Sixers had a puncher's chance. Hell, they had the Coach of the Year, the Defensive Player of the Year, the Sixth Man of the Year, and, of course, the League MVP, The Great Allen Iverson. Besides, I lied to myself plenty of times about basketball, and the scenario played out so well in my mind that I truly believed they could beat LA.


Game One was unreal. For one, I remember just being so hype that Iverson was on the big stage. Of course, it's all about team, but Allen Iverson was the man.

To see him on this stage, with the entire basketball world watching, was more than enough to be excited about. Once he got going, and kept going, anyone with a Hoshitoshi in front of them knew on that night that it was on like Donkey Kong.

The man dropped dimes, made fadeaways, pull-up jumpers, and got a tip-in jam (well, it didn't count, but it was still live.) He got steals, talked crazy, glared at the crowd after a fast break, and pretty much let everyone know his team was there to play, and not only to play, but to win.

The Lakers tried everyone and no one could guard The Answer, so the Lakers, in a last-ditch attempt to make sure a monstrous performance by The Big Homie Shaquille O'Neal wasn't used in vain, decided to make a call to the end of the bench and send in Tyronn Lue to guard Iverson.

At first, I laughed; I won't even lie. Lue on Iverson? This was sure to be comedy. However, that wasn't the case. Lue came in the game and did just about everything imaginable to Iverson to keep him from scoring. He grabbed; he held; he was all in his personal space. It's almost as if Iverson couldn't believe the referees allowed this young man to come in the game and get away with putting his hands on him like that. Iverson was the MVP! An MVP doesn't get treated like this, but oh yes; he was, and when Iverson realized he would just have to play through it, he made an example out of Tyronn Lue, just like he did the other clowns who tried, and failed, to stick him.

Iverson finished with 48 points and the Sixers won in overtime, which set the basketball universe on fire. Iverson went to the podium in an Eagles jersey, shades, and the biggest "Y'all thought were some punks" look I had seen before, or since. We all know what happened the rest of the series, but for one night, the Sixers did work, and on that stage, it served as another example of why Allen Iverson will always be legend.



Absolutely incredible: by The Reverend Paul Revere




Ten years ago today I, like an entire generation of Philadelphia 76ers fans, experienced the pinnacle of basketball enjoyment in my life to date. On this date a decade ago, June 6, 2001, the Philadelphia 76ers went to Los Angeles and defeated the previously undefeated in the playoffs Lakers to win Game One of the NBA Finals in an overtime thriller. And it was the greatest moment of my basketball viewing life.

Back then, I was a baby-faced high school junior, just 17 years old – born more than a half a year after the last time the Sixers made it to the NBA Finals (and won) in 1983. And I remember every last second of that game and that season like it happened yesterday, even 10 years later as a 27-year-old who has a tough time remembering what I ate for lunch.

It's no exaggeration when I say I've watched Game One of the 2001 NBA Finals dozens upon dozens of times. Not only did I watch the game live from home in suburban Philadelphia, but I taped it at the same time. The next day, I asked my Latin teacher – who did not exactly enjoy having me in her class – if I could bring in the tape and watch it, seeing as it was the end of the year and everyone had checked out.

Incredibly, the same teacher who had given me ISS, (in-school suspension for you goody-two-shoes who never got in trouble) and two Saturday morning detentions for dropping a few "F" bombs at a girl for saying something to me she shouldn't have, actually agreed to let me bring in the tape and have the class watch it. You bet your ass I brought it in and the class did just that.

Honestly, I don't think there's another person on the planet who's watched that game more than me. On several occasions over the next year, I popped in the tape when I wasn't doing anything else and watched every last second of it, yelling and screaming at the refs and plays (especially Rick Fox's clear travel in overtime, where he slid across the floor with the ball in his possession) like it was live. I brought that tape to college and popped it in my TV/VCR combo anytime I felt down or needed motivation to do some work or when I was skipping class.



To this day, I still have that tape, worn and beat up, and though I don't watch it much anymore since there's no VCR in my current house, I've been known to sneak it in on occasion when I find a real, live, working VCR. That might sound insane and unhealthy to a lot of people, but not if you're a Sixers fan, and certainly not if you lived through the 2000-01 Sixers season.

No one gave the Sixers a chance. No one. With Shaquille O'Neal, Kobe Bryant and a slew of championship veterans, the Lakers were the unbeatable juggernaut. It really was a David vs. Goliath story, Iverson vs. Shaq and Kobe.

Then the Sixers went out and shocked the world. Raja Bell with the scoop shot. Eric Snow with the face. Iverson's 48 points despite Tyronn Lue "holding me the whole time," as A.I. would say after the game. Dikembe's remarkable one-on-one defense against Shaq. Rick Fox's clear travel that wasn't called in OT, the Lakers storming out in overtime and looking like they buried the Sixers, only to have A.I. go bonkers, cross up Lue, step over him, and give Philadelphia the victory and a 1-0 series lead. The unbeatable were beaten, and I honestly thought that somehow, some way this band of misfits and its star would continue to shock the world.


We all know that's not how it played out. As expected, the Lakers came out and won Game Two. But when the series shifted back to Philadelphia and the Sixers built a big lead, it looked like they weren't going anywhere soon. Shaq fouled out. The home crowd was going nuts. But the Sixers still lost. Right then and there, all hopes were dashed. If they couldn't close out a game with eventual Finals MVP Shaq fouled out, this thing was as good as over.

Robert Horry did his thing, Shaq and Kobe closed out the Sixers, and Kobe became public enemy No. 1 when the series shifted back to Philly by proclaiming he wanted to rip Philadelphia's heart out. The hometown hero turned unappreciative traitor. He could have been diplomatic about it, but he chose to cast his hometown aside completely. Philadelphia hasn't forgiven him since.

And the reason is because this city absolutely loved that team. For one magical regular season, for one incredible playoff run, for one remarkable NBA Finals game, everything was perfect. We had the MVP. We had the Coach of the Year, DOP, Sixth Man. And ten years ago today, they went out and shocked the world, beat the unbeatable Lakers, played the perfect game.

It was a season unlike any other. And although it didn't culminate in a title, it was, simply put, absolutely incredible.

To read the complete story by The Rev, click here.

-K.Masenda
www.edthesportsfan.com
P.S. As a reminder, checkout the livest sports talk show around, "The Unsportsmanlike Conduct Show" as we are live Wednesday's at 9pm Eastern at http://www.blogtalkradio.com/edthesportsfan! Download our podcasts if you missed the live show as well!