Photo courtesy of LSU Sports.



Recent weeks have been filled with events that you expect at this time of year. The Stanley Cup Finals and the NBA Finals have officially come to an end. Rory McIlroly dominated the US Open, while Wimbledon is underway as well.

There's your annual football coverage, except that the coverage is more about what the NFL is not doing, thanks to this lockout. You've got your college football scandals (don't think it hasn't been paid attention to, JAG. It's merely finding the proper words to put your disgrace of a football program in perspective.) However, there is a story that brought a sincere measure of relief, sadness, optimism, and excitement and that story is the retirement of the one and only Shaquille Rashaun O'Neal.

It is impossible to sum up the impact The Big Homie has had on basketball and life in general. In essence, Shaq has earned the right to have as many posts, stories, articles, and remembrances told about him as humanly possible. For someone who is highly regarded at ETSF, it's exactly why there isn't much pressure to make this "The Most Incredible Shaquille O'Neal Post you'll find on the web." Shaq is loved here and, more than likely, you'll see plenty of posts about him on here for years to come, and they're surely to be of the random variety.

With all this said, ETSF reached out to The Rev and to Phil Barnett to get their thoughts on The Big AARP. Ed and I chime in as well, with some of the titles of his chart-topping hits as the intros (regardless of what we say about the music now, some of us were jammin' Shaq Diesel back then; might as well not even bother lying.)

Ladies and gentlemen, here is our tribute to The Big Homie, Shaquille Rashaun O'Neal.


I know I Got Skillz

: by The Rev



"How can a face foul an elbow?" That's what I think of time and time again when I think about the dominance of Shaquille O'Neal. For those of you who are unfamiliar, those are the words of Vlade Divac discussing his battle with Shaquille O'Neal when the Lakers played the Kings in the playoffs. It's also a sign someone held up in Philadelphia during the 2001 NBA Finals, when Dikembe Mutombo played Shaq about as well as anyone ever has one-on-one, yet still got torched.

For all Shaquille O'Neal has done as an entertainer and athlete with cross-over appeal, there are drones of people who forget how incredibly awesome Shaquille O'Neal the basketball player was. There are those who say he didn't reach his full potential, didn't work hard enough to stay in shape, and took regular-season games off. All those people miss the point.

Shaquille was the most dominant big man this game has seen since Wilt Chamberlain. During his early years and prime, he instantly made any team he was on a contender. He reached the NBA Finals with the Magic, Lakers and Heat, winning three rings in Los Angeles and one in Miami. And he could have possibly won even more if Kobe would have just admitted he was second fiddle to Shaq and fed the man the damn ball. The Lakers failed to win a 4th title because Kobe refused to pass to Shaq against the Pistons. That's a fact.

In the postseason, he was the most devastating force I've ever seen. 30-15 was routine for him in prime. And no matter what defenses did, he couldn't be stopped. Not even hack-a-Shaq could prevent him from rings and Finals MVPs.

Shaquille is a lot of things. The NBA is better off for having him. But above all else, Shaq was a great player who always, always played his best in the biggest game. The world may never see another quite like Shaquille O'Neal. But thank goodness this one graced us all with is presence.


You Can't Stop the Reign

: by I'm So Hideous



A lot of people are going to remember Shaq's dominance and attribute it to his physical superiority. He was a large, strong man who bowled over any and everyone who dared step in his way. Earth shattering dunks, confidence deflating blocks and a series of chest bumps that I'm sure caved in plenty of sternum during the course of his career. His size and ability to maintain a small forward-like agility will never be seen again in the NBA, but those aren't the things that will remind me of Shaq when I look back on his career 5-10-15 years from now.

I'll remember the Big Fella for his fundamental superiority. Tim Duncan gets a lot of credit for his fundamental game, yet we tend to look the other way when Shaq did a lot of the same things. I'll remember him for his nasty drop steps, the touch on his jump hooks with both hands, that pretty turn around J off the glass on the left side and is underrated court vision.

It's easy to forget these details about a man, who has shattered glass, brought down backboards, made us laugh, and infuriated us. He won an MVP, multiple Finals and All-Star MVPs, blew the roof off of arenas, created multiple aliases and served enough dunks to suspecting and unsuspecting victims to serve a small African colony. But we mustn't forget. He was every bit as skilled as a center as he was at creating a cultural significant personality -- yet I fear that aspect of his game will be left out of the Shaq narrative. Remember Shaq in a way that resonates personally with you, but don't leave out one of the most important aspects of his greatness.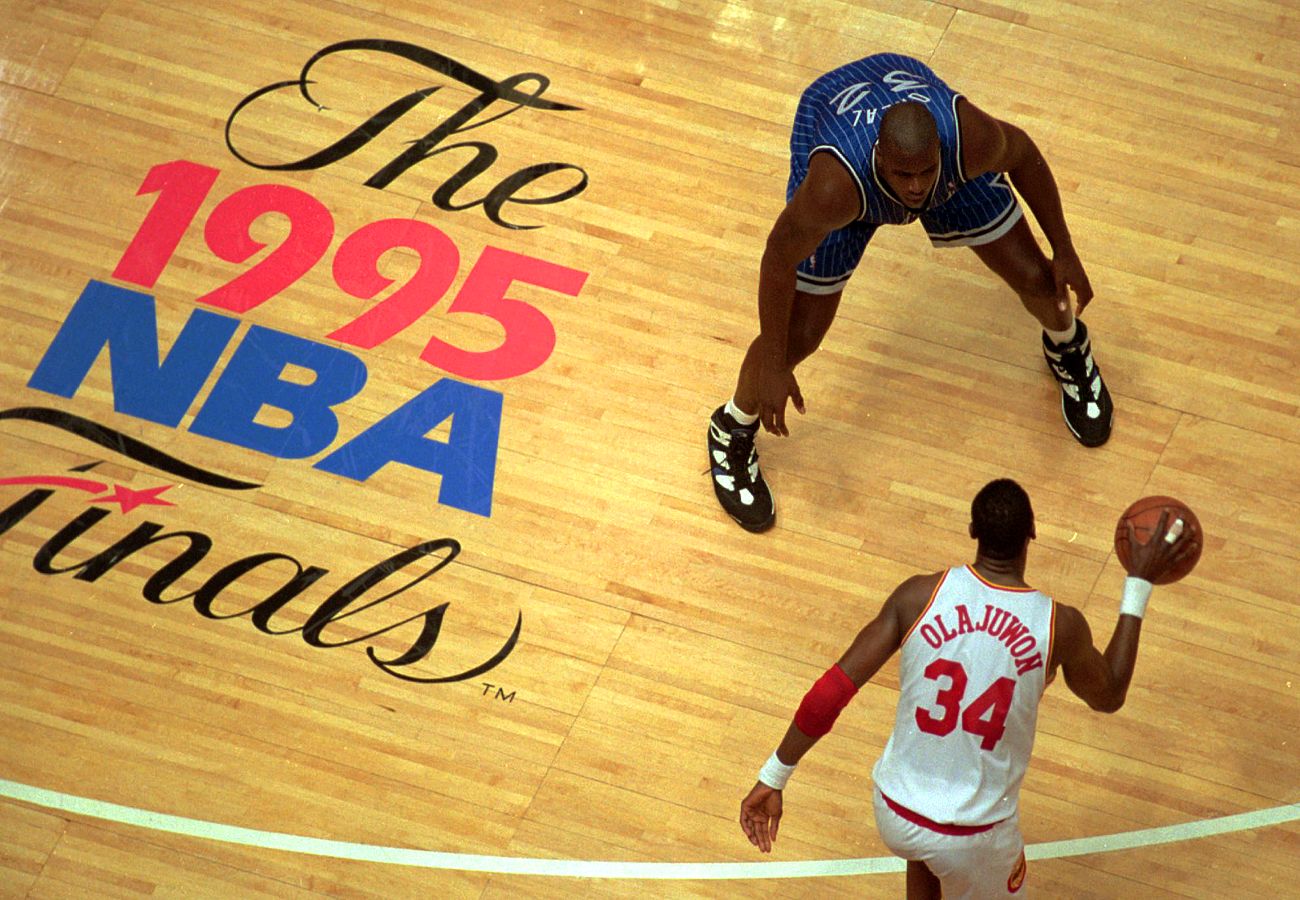 I'm Outstanding

: by ETSF



Shaquille Rashaun O'Neal is the first athlete I can remember watching where I felt like Shaq playing was not fair. He was the create-a-player that kids made where you make the tallest and strongest guy possible, and the only thing he could do was jump high and dunk on people. Shaq is that created player, but better.

He was better because he balled with Chris Jackson and looked up to Stanley Roberts at LSU. He was better because he respected the big man fraternity genuinely and longed to be in it. He was better because his self-made nicknames, impromptu break-dance, and a better-than-you-think rap career which was genuinely who he was. He's better because Shaq is the athlete that even your mama's mama knew about.

However, my truest memories of Shaq are some great and some bad. When Shaq muradalized those backboards in the early 90's made every kid in America love him. When Shaq signed his shoe deal and rocked the Reebok Shaqnosis he debunked the myth that big men can't sell shoes. When Charles Barkley hit Shaq with the basketball after an altercation on the court, I thought Barkley was gonna die. When Shaq compared the three mega-guards he's played with (Penny, Kobe, DWade) to The Godfather's three sons, it seemed like the most brilliant thing I'd ever heard.

My heart hurt when Shaq signed with the Los Angeles Lakers. My heart hurt when Kobe called out Shaq for being overweight and out of shape even though he was right. My heart hurt when Shaq couldn't stop the pick and roll AND HE DIDN'T EVEN TRY anymore. My heart hurt when I heard Shaq was guilty of dirty macking. My heart hurt when that 4'11" trainer's only job on the Boston Celtics was to rub Shaq's hamstring. And my heart hurt when Shaq tweeted that he was retirement. We'll miss you, big homie; you did work.


Neon Bordeaux

: by Soul On Ice



People will remember Shaq for a lot of things, as will I, and one those things will be his riveting portrayal of a country kid with freakish size, ridiculous athleticism, but someone who had a sense of right and wrong. I'll always remember him for Blue Chips and his role as Neon Bordeaux.

See, Shaq was so great that when people ask why the Big Homie is so beloved, the first things that come to mind are those things; as much as I loved Shaq as a player, Shaq as a person is even better. When you watch sports and the players who make up sports for so many years, how many folks can we truly say that about?

The man played hard, played to win, and played to entertain. When you talk to kids about Shaq, kids who sadly will remember The Big Homie from his twilight years, you can tell them all about his years in the 90s through the mid-00, when Shaq was the most unstoppable basketball player in our lifetime.


The man's Finals press conferences were must-see. Sometimes, I wished all the Finals series would go seven games, just so Shaq could have more opportunities to talk crazy on the biggest stage. Seeing him go out with Boston makes some people cringe, but for me, it's the opposite. Seeing him play alongside Kevin Garnett is something I dreamed about for years, and even though they didn't do so until their old years, it was still something I relished being able to see all season long.

As said earlier, one tribute is impossible to sum up the impact of The Big AARP, and rest assured as long as this site, or any extension of it is in existence, proper respect and homage will always be paid for the most dominant player and arguably the most entertaining person who happened to play basketball my lifetime has ever seen. I look forward to seeing him on Inside with EJ, Kenny, Chris, and Charles in the future. As with anything involving Shaq, it'll be must-see.

Be easy.

-K. Masenda
www.edthesportsfan.com