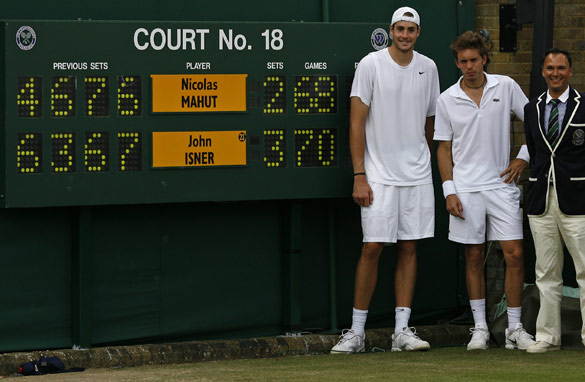 Today is the start of something a little different on ETSF. It wasn't the plan, but hell, there's no desire, whatsoever, to recap the draft last night, or write about any other "current" event that's taking place in the sports world.

This morning, I decided to Google "This day in history," and see what would come up. Plenty of events took place on this day, and just for the hell of it, we'll look back at some of those events and interpret them in our own way.



June 24, 2010 - John Isner v. Nicholas Mahut (Wimbledon)



This matchup was unreal, unforgettable, and made me tired just from watching it. The match began on a Tuesday and was suspended due to darkness. Mahut and Isner continued into the next day, only to be suspended due to darkness again. Finally, they were able to finish the match, with Isner prevailing.

I remember tweeting about this matchup with countless other people over the course of those days, and none of us could believe what we were seeing. Both guys played as hard as they could, and they both looked like they had absolutely nothing left when the match was over. Sure, it was the first round, but it was the match of Wimbledon, and it's truly the only thing I remember about the men's side last year.


June 24, 1998 - Dirk and Nash in a Draft Day Steal



Yes indeed, the Mavericks were making their journey from mediocrity to respectability around this time, and this trade can be looked at as the turning point of it all. I remember being 15 years old and not knowing a damn thing about Dirk. All I knew is they traded the rights to The Tractor for him (RIP) and praying it would be worth it.

There was plenty to know about Steve Nash. The man did work in the West Coast Conference (Santa Clara) and had flashes of good play in the League, but there was a problem: he was behind two ridiculously amazing point guards in Phoenix. Nash, Kevin Johnson and Jason Kidd were all on the same team! Something had to give, and it ended up with being Nash sent to Dallas.

Once he and Dirk got together, along with Michael Finley and other supporting parts, the fun that had been gone since the late-80s returned to Dallas. They shocked the Utah Jazz in the 2001 NBA Playoffs, and from there, expectations began to rise. To put it better, in the words of The Illustrious Willie McCullough, it was on like Donkey Kong.


June 24, 1997 - The Big Unit, 19 Ks, and a Mark McGwire bomb



I looked everywhere for the video of Randy Johnson striking out 19 batters, as well as Mark McGwire going yard, but it was to no avail. A couple of things about this: for starters, how demoralizing must it be to have such a dominating performance on the mound only to still lose the game?

Also, what must it have been like for the fans of the Mariners to sit in the Kingdome and watch McGwire hit a 538-foot bomb off the man who put on such an amazing performance? Earlier this year, Cliff Lee struck out 16 in a Phillies loss, and I remember wondering how exasperated The Rev must have been. Sure enough, the man was so deflated that he didn't even bother going on a public tirade.

This game 14 years ago lives as one of those you never forget, and even if you're a fan of Johnson and the Mariners, it's one of those losses that you're fortunate you were able to see, simply due to the feat of one of the most fearsome home run hitters in baseball history.

Be easy.
-K.Masenda
www.edthesportsfan.com