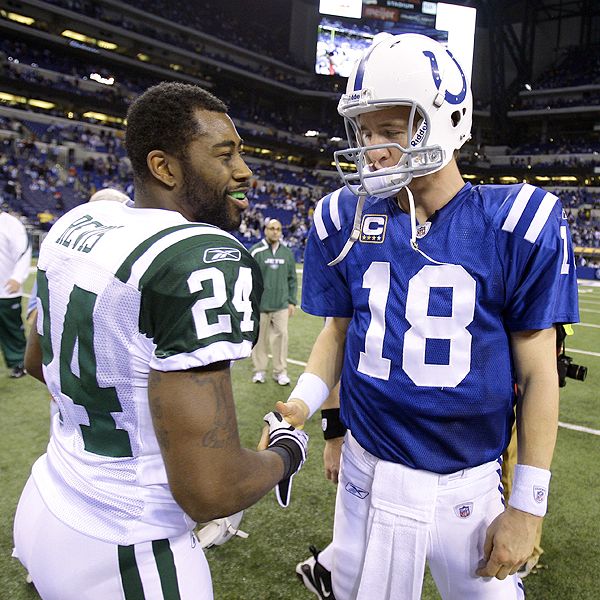 This summer seems like its very different than all the other NFL off-seasons. Its the first-time as a fan that our NFL livelihood as been put at risk and for whatever reason its just been plain weird.

I write this blog because its fun, and I get the chance to interact with folks in real life and online about football who were players, who are writers, or are just fans. The conversations that follow are just plain dope.
When I noticed the NFL started cataloging the 100 best players of all-time, I was captivated. Further, when I noticed that the NFL started surveying their players on who the 100 best players in the NFL currently are, it gave me life. The NFL Network over the last ten weeks have been breaking down the list from 100-11. This past Sunday, they announced the final ten (the list is at the end of this post.) I knew I was going to disagree with it, and I knew I wasn't going to be the only one who felt that way.
So I decided to ask the people to help me with our own list.
Big thanks to all the contributors who helped in making this happen, especially over the course of the 4th of July weekend. Be sure to check them out and give them a follow when you can.
Contributors:
Richard Boadu -
6 Magazine
, blogger
Blythe Brumleve -
Guys Girl
, blogge
Alfie Crow - Big Cat Country, SBNation editor

Mike Felder -
In The Bleachers
, former college football player
Reeta H. -
The NFL Chick
, blogger
James "Trey" McCray -
Real McCoy Sports
, blogger
Roderick Morrow -
The Black Guy Who Tips
, radio host
Anthony Ramsey -
Los That Sports Blog
, blogger
Malik Spann -
Blitz Magazine
, editor
Steve White -
Passing on the Game
, retired NFL pro
Oh, and yours truly...Ed. Here we go with the people's countdown.
#T10. Clay Matthews, Linebacker - Green Bay Packers
#T10. Michael Vick, Quarterback - Philadelphia Eagles
#T10. Drew Brees, Quarterback - New Orleans Saints
Oh what a difference a year makes. For Clay Matthews, what seemed like a flash in the pan rookie season grew into one man leaving his imprint on a Super Bowl champion. For Michael Vick, last year folks were just happy to see him suited up again. After Kevin Kolb
went down with injury and got Wally Pipp'd
, Michael Vick took the tutelage he received from Donovan McNabb and Andy Reid to reset the world on fire. They are the two players who cracked our list who didn't make the players list. I think its safe to say we the people like dynamic players.
As for Mr. Brees...
@
LosThatSportsBlog
- Drew Brees is something like the Steve Nash of the NFL, in the sense that he may have some turnovers (INTs) but the positive plays he makes will outweigh the risky plays. Despite his less than ideal height (which helps the "average Joe" football fan relate to him) he's the most accurate QB in the game, all while staying active in the NO community (just as valuable to a team as his play on the field.) Brees is a team's dream franchise quarterback.
#9. Ray Lewis, Linebacker - Baltimore Ravens
@
BlitzMagPrez
- If offense represents the Autobots and the defense represents Decepticons then with no disrespect to Calvin Johnson the real Megatron of the NFL is Ray Lewis.

Ray inspires defensive players both young and legendary. His manic intensity epitomizes the elegant violence and ferocious beauty that the NFL promotes so frequently. He's a defensive psychic often visualizing plays before they happen. He aligns his teammates in the perfect position to make plays they never thought they could make.

Lewis, a profound leader of men, he makes all of the defensive calls for a Ravens unit that has finished in the top six in points against in the past five years. In 2010, he was the only LB ranked in the top five in tackles who's team ranked in the top five in points against (Baltimore ranked 3rd, 16.9 pts per gm) which proves that he's making plays that count.

The two-time Defensive Player of the Year is a master of intimidation and a man of relentless passion. Crazy Ray's pre-game war dance jolts the entire city of Baltimore. His unbridled energy and controlled rage is core of what makes the Ravens defense one of the most feared in the NFL. Ray Lewis is like that grizzled war general that's old enough to tell you stories to last a lifetime but still young enough to kick your ass.
#8. Andre Johnson, Wide Receiver - Houston Texans
@
Me
- The day Andre Johnson certified himself on this list was when he decided to mollywhop Cortland Finnegan in the mouth. You see, its one thing to be a physical specimen out wide, to be able to run the entire route tree, and to be one with your quarterback. It's another thing to wake up in the morning and realize that you ain't gonna take no mess. Andre Johnson isn't scared of anyone and plays with no fear, and there isn't anything he can't do on the field. That's how you make this top ten list. All hail Andre.

@AlfieBCC - While I didn't have Andre Johnson making my Top 10 list, I could easily see him being swapped out with Calvin Johnson. Covering the Jaguars, I unfortunately get to see Andre Johnson twice a year and I can't remember the last time he didn't put up a bill on the Jaguars. He's got the perfect blend of size, speed, power, and hands that you look for in an NFL wide receiver. He's been ultra-productive no matter who's under center, and has shown no signs of slowing down. Plus, he kicked Cortland Finnegan's ass, so that's +10 cool points in my book.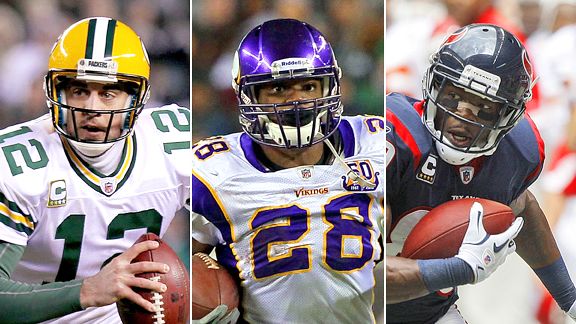 #7. Aaron Rodgers, Quarterback - Green Bay Packers
A few words from
Ed
taken from the post
"The ghosts of Paxton Bradshaw and Lorenzo Favre."
"Simply put, Aaron Rodgers story is the real. The man was looked over by almost the entire NFL (including the San Francisco 49ers who drafted Alex Smith #1....fail) in the draft, the man was the understudy to Lorenzo for three seasons, and yet the man has emerged as a top flight NFL quarterback."
#6. Ed Reed, Safety - Baltimore Ravens
@
TheNFLChick
- As a Ravens fan, I'm sure I'll get the "biased" tag, but there's NOTHING biased about Reed being in the top ten. He missed five games last season with a hip injury and still found a way to lead the league in INTs. Without Reed, the Ravens defense go from one of the best, to just...okay. Reed says he'll possibly stop playing football when he turns 35. That's two years from now, which gives him plenty of time make a real attempt on breaking a few all-time defensive records. If I start my All-Pro defense, the first guy I choose is Reed, and it's without question.
#5. Adrian Peterson, Runningback - Minnesota Vikings
@
6magazine
- If Adrian Peterson didn't fumble so much, he'd be the best RB in the League. In 2010, Mr. All Day carried the ball 283 times and only fumbled once. Fumblitis fixed. Look at the numbers: 283 carries, 1298 yards, 4.6 yards per carry and 12 tds vs. Chris Johnson's 316 carries, 1364 yards, 4.3 yards per carry and 11 tds. Don't let CJ2K's highlights hoodwink and bamboozle you. Perception isn't always reality. Face the facts, All Day's back!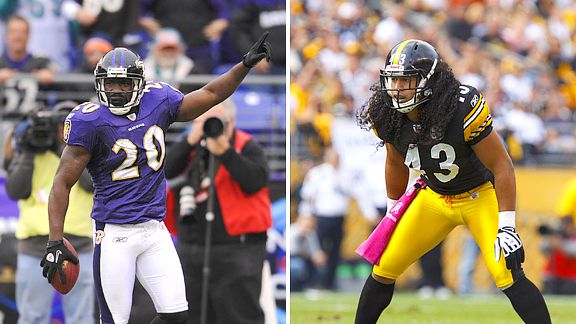 #4. Troy Polamalu, Safety - Pittsburgh Steelers
@
tr3yball
- Before and after every Pittsburgh Steelers defensive play, Steelers safety Troy Polamalu performs the sign of the cross. After every opposing wide receiver and quarterback successfully completes an offensive play in which Polamalu is not involved, they should perform the sign of the cross as to give thanks.

Polamalu is arguably the most feared safety in the NFL, and when healthy, can control the game ten yards past the line of scrimmage while in the Steelers secondary. Him winning the 2010 Associated Press defensive player of the year award can strengthen that case. Number 43 is the player to find when going against the "Steel Curtain" and it's been that way since 2003.
#3. Darrelle Revis, Cornerback - New York Jets
@
InTheBleachers
- Revis is a hell of a ball player. He has an uncanny ability to see his man and the ball at the same time, and a lot of that is less about him looking through his man to the QB and more about contact. Watching him play, you'll notice he's great with his hands, and by being in constant contact with the receiver, he can feel their presence while tracking the ball with his eyes.

Darrelle Revis is great with body positioning, using the trail technique to cut off the "back shoulder" throws and still has the acceleration to make plays on balls thrown deeper to his man. Another tremendous quality Revis possesses, like most great interception artists such as Ed Reed or Deion Sanders, is the ability to turn defense into offense (chalk it up to his time returning punts at Pitt if you like.) Either way, Revis is able to turn an interception into six points or great field position like few others can in the game.
#2. Peyton Manning, Quarterback - Indianapolis Colts
@
RodimusPrime
- Peyton Manning is as close as I've ever seen to genius on a football field. The stats speak for themselves, so I won't go into them but feel free to look it up. Peyton is so good that the biggest knock on him is why doesn't he win a Super Bowl every season.

In a sport as unpredictable as NFL football, it's quite a feat to be as competitive a Manning and the Colts are every season. They are like clockwork and
just like a clock, the only way to stop him is to throw off the timing of the entire offense. If you don't, that's your ass. He's that good.
#1. Tom Brady, Quarterback - New England Patriots
@
GuysGirl
- Quick: name two offensive Patriots players not named Tom Brady....I'll wait...
If it took you longer than five seconds to think of it, the reigning League MVP is doing his job. In 2010, the three-time Super Bowl winner led the league with 36 Touchdowns and only four INTs while throwing for just under 4,000 yards. Nothing new can be said about the reigning MVP that you haven't heard already, but the most important thing Brady does is make every single person on the field an offensive liability to any defensive coordinator. Before the 2010 season, a guy like Danny Woodhead was just another numbered jersey that instantly becomes a force to be reckoned with, simply because of who was throwing him the ball. Real Talk: if you were to create a football team from scratch, Brady is hands down the QB you build your team around.
Here is the final voting results from our esteemed panel...
1. Tom Brady 83
2. Peyton Manning 73
3. Darrelle Revis 41
4. Troy Polamalu 40
5. Adrian Pederson 37
6. Ed Reed 37
7. Aaron Rodgers 34
8. Andre Johnson 34
9. Ray Lewis 27
T10. Clay Matthews 17
T10. Drew Brees 17
T10. Michael Vick 17
For comparison's take, here is the top 10 list by the NFL players that was announced on Sunday night...
1. Tom Brady
2. Peyton Manning
3. Adrian Peterson
4. Ray Lewis
5. Ed Reed
6. Troy Polamalu
7. Andre Johnson
8. Darrelle Revis
9. Drew Brees
10. Julius Peppers



Related:

Individual ballots for the people's choice for the Top 10 NFL Players in 2011 (ETSF Tumblr)
The people have sided with the likes of Aaron Rodgers, Michael Vick and Clay Matthews. The people are bigger lovers of Darrelle Revis and Troy Polamalu. The players respect the old guard, hoisting up the old man that is Ray Lewis and the yeoman's work that Adrian Peterson puts in on a consistent basis. At the end of the day a list is a list, they're unique because no one can tell you what's the best in your own eyes.
Who's in your top ten? Any omissions? Let us know your thoughts!
-Ed.
www.edthesportsfan.com