I intended on writing about the 1971 MLB All-Star game for today's post, but when I sat down to jot some thoughts down, the only thing I had burning in the back of my mind was Yao Ming's retirement. For many, the news was old just as it was new, and they moved on with their lives and didn't think twice about it. For others, it forced them to sit back and reminisce about a career that was and what it should have been.

I belong to the latter group, because I always appreciated the big man. While some of us took his retirement as a platform to discuss his hall of fame worthiness, I just want to take some time out of my life to sit back and appreciate him for who he was and who he would have definitely been had injuries not cut his career way too short.

We can't talk about Yao without talking about his physical attributes. He was a 7'6" man with a chiseled jaw, pale flaxen skin, jet-black hair with a stare that would put the fear of god in any man and a smile that would light up the biggest of arenas.

He hovered over everyone while wearing those red Rockets jerseys as proudly as he wore his China National Team jersey. To say he had a one-of-a-kind physique is akin to saying fire is hot or Iverson was cool.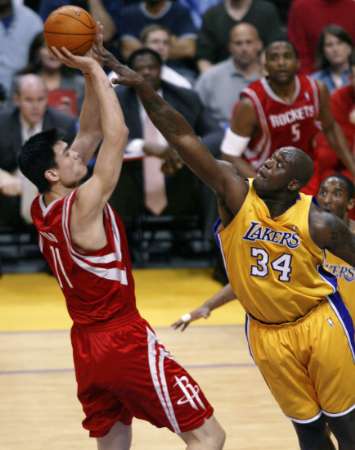 Not only was he unique physically, but his game wasn't like many other centers. In the Shaq Appreciation post, I mentioned that I'll remember Shaq for his oft looked over fundamental prowess. Yao will be remembered under a similar light. He didn't exactly have the footwork that Shaq had, but what he lacked in footwork he made up with touch.

Yao had the ability to finish well around the rim with both hands, had a nice turn around jumper over both shoulders and was able to extend the defense in ways Shaq simply couldn't. Yao knocked down 15-20 foot jumpers with regularity when he wasn't banging in the paint. He wasn't the physical monster Shaq was, but he wasn't a push over either. His offensive game was about as complete as you could ask for a guy who hovered over the biggest of big men.

Sadly, Yao's potential was never realized, due to no fault of his own. Blame genetics and gravity for his foot problems. No one ever asks to grow 7'6" nor does anyone ask to have the weight of a 7'6" man be forced upon two feet during grueling basketball games.

Yao will probably never be considered great, and I don't think this bothers me. But I'm slightly bothered by those who cannot recognize that he didn't squander potential as much as his own feet wouldn't allow his greatness to exist within the confines of the "great" defined by American hoop fans. This isn't a guy who showed flashes of brilliance and was eventually crushed by the pressure of expectations.

No, much like the rest of his body, his heart was too big for that. His feet were literally crushed by the weight of his own body for years and he was forced to call it quits. Forum Blue and Gold's Darius recounted watching Yao drag "his leg up and down the floor in the 2009 playoffs against the Lakers.

Not wanting to exit a game that meant so much to him and his mates, he persevered through what turned out to be a broken foot, trying to will and skill his team to a needed win." Those are the stories that tell the kind of heart and the kind of man Yao was when he was on the hardwood -- and there are countless stories about him being an even better man off of the court.


Yao wasn't just a basketball player in the NBA who was talented and tall as hell, but he was an ambassador for the game and truly one of the most unforgettable hoopers of my lifetime. Yao may not ever make it into the hall of fame, but the memory of the Big Chinese Man will live on forever regardless if he ever makes it on a ballot.

I can truly say that it was an honor watching a healthy Yao play. I've always had love for the center position, and Yao was one of the more skilled guys to ever play in the five spot. It's sad to see his career end after only eight years, but I'm happy to see that he'll be able to go on with his life. Here's to a career worth remembering. I'll miss you, Yao.




-P. Barnett
www.edthesportsfan.com