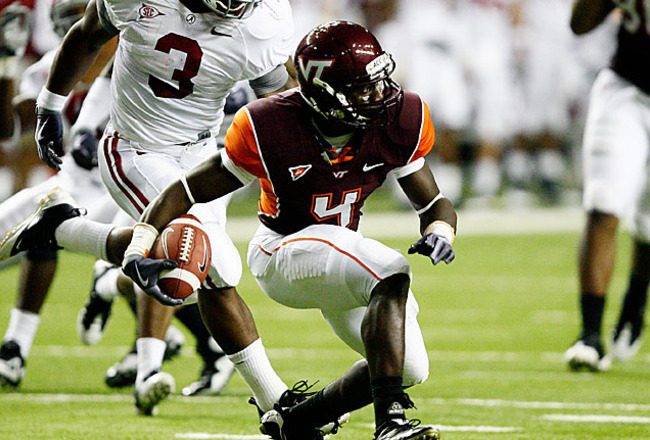 **Today's "Show and Prove" post is provided by none other than Mark Trible, head Flyers writer and content manager of the Checking Line. Mark is a Hokie at heart, and there's no one that Ed and I can think of to keep it 100 about the Virginia Tech Hokies football team. -Kenny**
I remember when getting in the 'also receiving votes' portion of any one of the polls was a big deal for the Virginia Tech Hokies. I remember Jim Druckenmiller's rocket for an arm and attending Michael Vick's first collegiate start. I remember standing in the rain and watching Matt Ryan tear my heart out in the waning moments of regulation (thanks for recovering that onside kick, Josh Morgan.)
For the first fall of my lifetime, I won't be heading back to school, and I'm okay with that. The school where I walked across the podium and grabbed my diploma was none other than Virginia Polytechnic Institute and State University. As football season rolls around, I anxiously await the first time when 'Enter Sandman' is played in Lane Stadium and the sun shines down on the fans in orange and maroon. When Kenny and Ed approached me about writing a little something something on the Hokies in their 'show and prove' feature, it was a no-brainer. It's time for Tech to show me that they can stay in the national conversation all year long.
It's time for that to happen not because the 13th ranked Hokies are any better than they were last year. In my estimation, they're worse. No Tyrod Taylor, no Darren Evans, no Ryan Williams. However, they've given themselves a cushion this season in breaking in their new quarterback, 6'6 254-pound Logan Thomas. Their cushion consists of a non-conference schedule that rivals that of my high school football team: Appalachian State, East Carolina, Arkansas State and Marshall. Eat your heart out.
It would be easy to be frustrated with Tech's out-of-conference slate, but in actuality, I'm pleased. I have grown tired of losing hope in a national championship just weeks into the season. One year, it's LSU; another year, it's Alabama, then Boise State, and the list goes on. Tech has scheduled big games early in recent seasons, and they've promptly lost them. This year, their buffet is much more generous than before. Even in the ACC (a conference they've dominated since entering, not that it's very impressive), they play their toughest games against Clemson, North Carolina, and whatever's left of Miami at home. Their lone game worth highlighting on the road is Georgia Tech on a Thursday night. I'll get to them in a bit.
How can Tech show me they have what it takes to stay in the national conversation all year? By proving a few things along the way.
First, the team has to prove they can win games that they're supposed to win. We all know about James Madison last year, but what about North Carolina two years ago? The ACC isn't anything to write home about. Heck, it's not anything to write to the corner of the block about, yet teams will jump up and steal games if you're not wary. The Hokies will most likely be favored in each game they play, and they need to prove that they're up to the task, week in and week out.
I want Logan Thomas to prove to me that he's worth all the hype I've heard out of Blacksburg this offseason. He's built in the mold of Cam Newton physically, and he had the luxury of learning from Taylor the last two years. If the team's going to win all those games that they're supposed to win, he's going to have to prove some of that hype is warranted.
His counterpart in the backfield needs to prove some things as well. Running back David Wilson was blessed with a ton of speed and acceleration that would make a race car blush, but he's also displayed that as a small portion of an offensive attack that relied on Evans and Williams' tough carries. In his two years at Tech, Wilson has averaged 9.3 yards per touch which makes it pretty clear how dynamic he can be. However, can he stay healthy for an entire season with the run-first offense that the Hokies employ? Prove it to me.
It's not just the offensive side of the ball that needs to do some proving. Last year, Bud Foster's defense struggled mightily at times on their way to one of the poorer national rankings of recent years. The unit was young, and with youth brings experience at the kickoff of the next season. The youth excuse has now been dismissed and it's time to prove that the team can get back to the tough-as-nails defense that is usually the Hokies calling card.
If Tech proves to me they can run through their schedule like they should, they'll need to prove their defensive maturity in a big way when Atlanta comes calling. Since Paul Johnson brought the triple option to the Yellow Jackets three years ago, the Hokies have given up 331 rushing yards per meeting. At some point, Foster's defense needs to be able stop the same play that's been run for an entire game, for three consecutive seasons. If this year is the year when that's proven, it could mean that the Hokies find themselves undefeated and in the national conversation by the time the ACC Championship game rolls around.
Really, that's all I want them to show me. Of course every college football fan dreams of the day when their school lifts the crystal football, but I'm not really counting on that for Tech. I just want to stay relevant down the stretch with the nation watching. It's been easy enough for the team to beat up on the ACC, it's time they put themselves on a grander stage. 'Also receiving votes' just isn't good enough anymore, and it never will be again.
-M. Trible
www.edthesportsfan.com