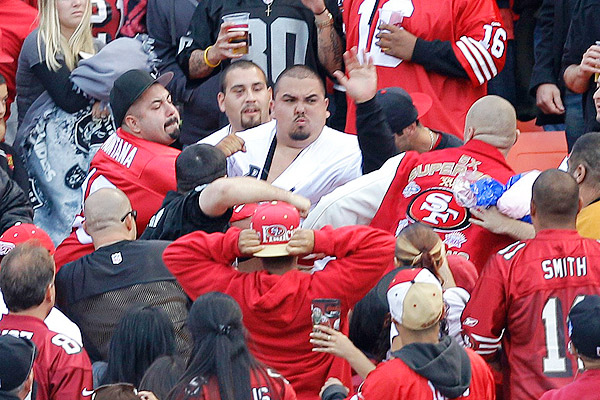 Yesterday started off as any other usually does. The first channel the Hoshitoshi is on is none other than ESPN. On Sportscenter, one of the stories was about some fans fighting at the Raiders-Niners game a few nights ago.

What else is new, right? Fans get into at games all the time, and just because someone uses the word "fight," it doesn't mean people were actually fighting.

However, that certainly wasn't the case on Saturday night and, to be totally honest, it was one of the sorriest scenes I've ever seen in my life.

For all the talk we have on here about how fans are misunderstood, there are some who are just dumb as a can of starch. There are some who take it to another level, even worse than what happened after Game Seven of the Stanley Cup a couple of months ago. At least with that, there was some humor in the chaos. I mean, when you hear one of the fans screaming "THANK YOU, BASED GOD!!!!" or when you see a dude and a lady sprawled out in the middle of what resembles a warzone slobbing each other down, you can find the humor and, dare say, the beauty in such a scene.

The thing is neither of those things took place at Candlestick Park the other night. I'm already not crazy about watching people fight as it is, and there's always been something about fans fighting that just doesn't completely register in my brain. As crazy as we all can get about our teams, I don't know one person who will actually throw hands just out of team loyalty, someone else wearing another team's colors, or anything resembling the sort. On top of that, we're damn sure not about to shoot somebody over it.

Hell, I'm a Cowboys fan, have plenty of homeboys and homegirls who are Cowboys fans, and none of us are about to fight just because someone in a Giants, Skins, or Eagles shirt talks wild to us. If one of my friends was willing to fight over something that stupid, I would never go anywhere in public with them to watch a game again. Some things just can't happen.


For the fans of the Raiders and the Niners, there is talk that their annual preseason game will be canceled due to the foolishness of a select group of folks who just had to take it there. Sure, we can say "It's just preseason," but the fact that there's even talk of this happening should let us as fans know that sometimes, we just have to chill.

Players talk crazy to each other during the week, during the games, but guess what they do after each and every game? They shake hands, give each other credit on a hard-fought battle, and wish each other luck. More often than not, this is the scene, and in rare cases, they even ask for an autograph (sorry, I should be able to let this go by now.)

The bottom line is fans are a very important part of the game, but we should never think we're bigger than the game, and we should never take ourselves seriously to the point where we're acting anywhere near as wild as what happened in the Bay over the weekend. This is especially true in the game of football, where there is more than enough evidence to show that no player is bigger than the game. By the same token, neither are the fans.

Be easy.
-K. Masenda
www.edthesportsfan.com