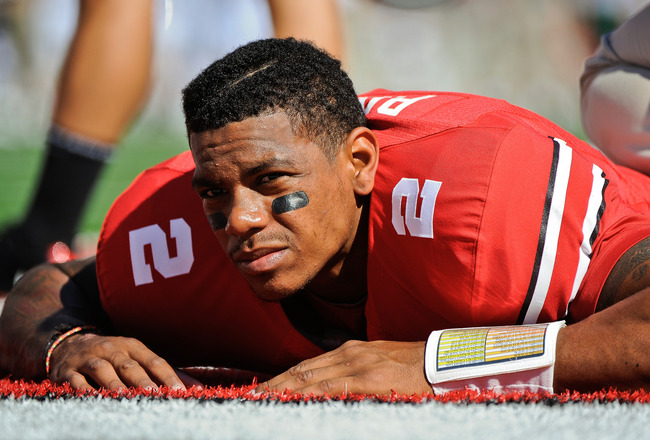 Terrelle Pryor will finally find out his future home by the end of the night.
For a man that when he delayed, pondered, and finally came to decide where he would go to college, Sports Illustrated called his announcement "the most anticipated in history" now he has been relegated to the supplemental draft. With the draconian suspension that has been hammered down by King Koopa Roger Goddell, the fact that he had to tattle-tell on himself to become eligible for the League, and the insistence by some pundits in the media that Pryor should consider playing a position other than quarterback...I have a feeling that Terrelle Pryor is ready to just move on with this thing called life.
Life for another maligned but celebrated collegiate quarterback has been tenuous and rocky to say the least. Tim Tebow's journey to join the prestigious quarterback fraternity has been brought in with air traffic controllers (1st-round pick by Broncos GM Brian Xanders), ushers (Kyle Orton and Brady Quinn), and a GPS (Josh McDaniels). For Tebow, the opportunity to play quarterback is there. For Pryor, that opportunity might only come by hell or high water.
I'm not going to go back and discuss all of the chicanerous tomfoolery that has gone on over the last twelve months at THE Ohio State University in regards to their football team. Who would've thunk it that free tattoos, chicken, and salacious women could bring down a national powerhouse like the one in Columbus. Regardless, the singular point I'll always reflect upon about with Terrelle Pryor's career is that Pryor should've never signed with Ohio State in the first place.
Not that Ohio State shouldn't have signed him, they absolutely should've. Terrelle Pryor should've signed somewhere else, so he could actually develop more as a quarterback. Or at the very least, build his profile to the masses that he can thoroughly play the position. He originally considered Oregon, Michigan, Pitt and Penn State..and I can't help to think that one or two of those other schools could've been a better fit. Of course, I don't know why one would think that playing at Florida would make that perception change.
Quick...name a QB who's actually been worth a damn from the University of Florida?
If you said Rex Grossman...........right.
Okay fine, maybe Tim Tebow truly is God's second favorite quarterback. (Behind Kurt Warner, because Jesus would never condone doing the Gator chomp to taunt players in such a fashion) Maybe there are certain intangibles that overstate Tebow's true value of him as a quarterback. Maybe Terrelle Pryor should've never wore that Bishop from Juice haircut (top of the page) in the first place. Yet, I'm hard pressed to sit here and tell you one thing that Tebow is better at than Pryor.
- Both are phenomenal athletes. To which Pryor is superior. Dude is 6'6" and 235 pounds and he just ran a 4.41 40-time. Running that 40 could be the gift and the curse for Pryor as a quarterback, he should at least get the opportunity.
- Both have hitches in their throwing motion. To which, again, I'd say Pryor's is less flawed. Tebow's release is slower, and neither one is as accurate. Where Tebow becomes a fullback trying to escape the pocket, Pryor turns into a long-striding galloper a la Vince Young. Accuracy can only come once you trust the system and ultimately become comfortable.
- Both are winners. Tebow trumps Pryor because he got that national title in 2008, but Pryor's successes in big games is just as noteworthy. A Rose Bowl MVP versus Oregon (266 passing with 2 TDs, 70 rushing) and a Sugar Bowl MVP (that allegedly never happened) versus Arkansas (221 passing with 2 TDs, 115 rushing) are big-time successes, and I'd argue that the Buckeyes failures to win a national title should be directed more towards Mr. Sweater Vest and that vaunted defense.
There were fourteen teams who sent representatives to Pryor's pro day this weekend, and its clear that Pryor will find a happy hour here soon. It'll be interesting to see who will be Terrelle Pryor's version of Josh McDaniels. McDaniels staked his future and intellect on the fact that he knew he could win with Tebow. That ultimately got him demoted to offensive coordinator in St. Louis.
Miami, Tampa Bay, Oakland, Cincinnati and Cleveland have all feigned interest. Plus, Indianapolis has also stated interest. Look, Peyton Manning can't play forever, and that neck doesn't sound like its getting any better, either. Jon Gruden's praises also should give Pryor some hope. Folks have lost their jobs over Tebow, for Terrelle Pryor...the only thing you'd probably lose is a 6th-round pick in the supplemental draft.


UPDATE:
Terrell Pryor early this afternoon was picked in the 3rd-round by the Oakland Raiders. Lets hope that the previous #2's stench doesn't rub off on the newly minted #2 in the Bay Area.
-Ed.
www.edthesportsfan.com