There are few things more intense than watching a duel between two elite pitchers in the MLB playoffs. Every pitch matters, the tension is heavy, and you wait with baited breath to see what will happen next. Since I've been a little boy watching baseball on my grandfather's knee, I've know that great pitching can overcome great hitting. From those pitchers that are great, there are an elite few that you knew when they stepped on the mound that the game was already over.

Today I've brought in three of the homies from the bullpen to answer a simple question...if you had to pick one pitcher to win a game with your life on the line, who would you choose?

The only criteria for selection was that you must've seen the player pitch with your own eyes. (Otherwise someone like Kenny would've chosen Satchel Paige or Vida Blue)

The Closers
Rev. Paul Revere - @revpaulrevere
Larry Luk - @wearetheprocess
Kenny Masenda - @soulonice6
Eddie Maisonet - @edthesportsfan


Rev. Paul Revere: Pedro Martinez, Boston Red Sox


If I had to pick one pitcher I got to witness for one game to save my life, I want the guy who had the best stuff at his pinnacle out of any pitcher I've ever seen. To me, the choice was easy -- Pedro Martinez. Other men came to mind -- Randy Johnson for his utter dominance, John Smoltz, Curt Schilling and Cliff Lee for their playoff resumes, and Roy Halladay because he's Roy Halladay -- but I could not get Pedro out of my mind.



At the height of his power, he had 94-97 mph heat, an unfair circle changeup, a devastating curveball, a splitter and a slider. The man had it all. He could pitch to contact or strike you out whenever he felt like. And you know he wouldn't back down from anyone, ever. The dude would drill the Bambino in the ass if you resurrected him. That's the guy I want to have my back.


Larry Luk: Justin Verlander, Detroit Tigers


My initial reaction to being asked to select a pitcher to win a game for my life was to go the homer route and choose my hero, Nolan Ryan. As we all know, The Express has an untouchable record of 5,714 career strikeouts. While that's amazing and all, he also holds the record for walks. Despite being my absolute favorite pitcher of all time, I can't select him to win a game for my life.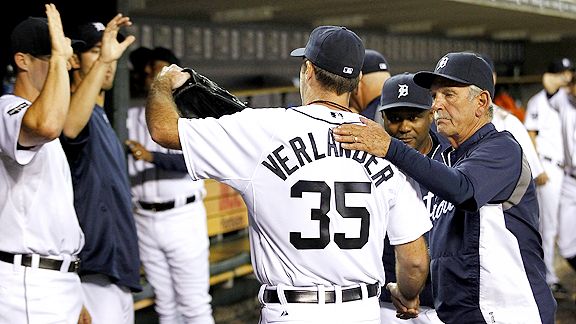 My selection is Justin Verlander. At 24-5 on the season, if he doesn't win the AL Cy Young award this year, I'm gonna have to kick a Yankee's ass. We can get into hype that surrounds big money teams and how I can't stand seeing players getting overlooked because they aren't on the Yankees. Perhaps that's more of an NBA conversation, but that's an argument for another day.

Back to the matter at hand: When Verlander is on the mound, you've got a chance to witness a complete game shutout, no-hitter, or even the possibility of a perfect game. If it weren't for Verlander, the Tigers would be a .500 team. Instead, the Tigers have already clinched a playoff birth. The only other team to have guaranteed themselves a trip to the postseason so early is the Philadelphia Phillies, and we already know what time it is with the Phils. This is a ridiculous notion considering a pitcher only starts 1 out of every 4 or so days. This season, I couldn't possibly choose anyone more clutch than Justin Verlander.


Kenny Masenda: Cliff Lee, Philadelphia Phillies


Cliff Lee can baby-sit by nephew.

Some people may see the opening sentence and cringe. "Come on, Kenny. What responsible man says another grown man can watch his toddler nephew?" Well, I'll tell you what man does.

A man that watched a particular pitcher come to his favorite team and infuse them with a confidence the franchise never had. Cliff Lee helped the Rangers not only win the division, not only the ALDS, but also helped the Rangers reach the World Series by defeating the New York Yankees. I watched Cliff Lee do these very things for my team, a team that has needed pitching in the worst way forever.



Despite the fact that the Rangers came up short on the biggest stage, there's no way in hell we get there without him on the mound. If you ask enough Rangers fans, they will tell you the exact same thing. It's exactly why, next to Bill Russell, Oscar Robertson, John Thompson, and Dirk Nowitzki, Cliff Lee just might be the greatest man alive.


Eddie Maisonet: Randy Johnson, Seattle Mariners
The man was 6 feet 10 inches tall, with a permanent scowl on his face, and a mullet that would make fans in a Jeff Foxworthy comedy show proud. It was never out of the question that Randall David Johnson could strike out 20 on a given night, spit remnants of Skoal in your general direction, literally kill a bird who got in his way going to the plate and buzz a rising 100-mph fastball across your mustache and make you reconsider what you are doing with your life.

Whenever you compete, the ability to be nice and show respect to the other person flies right out the window. The Big Unit was always known to be nasty, rude, and ready for the scrap, and if my life is on the line that's who I want slanging the pill. Pitching is just as much about the psychological battle between the pitcher and the hitter, and hardly any hitter in baseball really wanted it with Randy. One of the best fastball pitchers of all-time, one of the best slider pitchers of all-time, and later in his career the man figured out how to throw a change-up. That's called cheating my friends, and I like folks who cheat when it comes to my life on the line. Its called evening the odds in my favor.


Those are our picks, who would you take that we didn't? Clemens? Maddux? Halladay? Let us know who you'd take and why!


-Ed.
www.edthesportsfan.com