I guess it just comes with the territory.
As the football gods have blessed us with football consuming our weekends again, we all became witnesses to two football games that made us put our hands on our faces in a way that would make Macaulay Culkin proud. On Saturday, Notre Dame went into battle against Michigan in the first game under the lights at the Big House and proceeded to squander a 17-point lead in the fourth quarter, get the lead back, and give up the ghost again to Shoelace and Michigan 35-31. Similarly on Sunday, the Dallas Cowboys touched down in the Big Apple to face the New York Jets. As the pageantry and flashing lights set the atmosphere for a city remembering its past from a decade prior, the Cowboys remembered how to crumble under the pressure and melt down. A 14-point lead in the fourth quarter dissipated before our very eyes and the Jets went home with a 27-24 victory.
Two teams who represent the elite in their respective arenas have continually put football fans in a position of discontent. They don't win. They don't uphold the standards that they have set upon themselves. No one can take them seriously. Is this fair and justified? Of course it is, it's their own fault and they wouldn't have it any other way.
You know where a Notre Dame fan or a Dallas Cowboys fan never has to go watch a football game at? Buffalo Wild Wings. Hooters. Your favorite local sports bar. Did you know that until a 2006 game at Air Force (from the Mountain West conference), Notre Dame had a record 169 consecutive games broadcast nationally on either NBC, ABC, ESPN, or CBS? You know what Notre Dame did after that Air Force game? They vowed never to play a road game versus a Mountain West conference team. Same goes for "America's Team" the Dallas Cowboys. They're always on television. Guaranteed for 1-2 Monday Night games, 1-2 Sunday Night games, and nationally will almost always be assured of "Primetime" status. Their status on our television sets is well deserved. They bring the most money and tradition to the table, and that provides influence onto our televisions.
That money and influence gets you the best. From $1.3 billion stadiums, to wearing helmets with real gold on them, opulence and decadence is fond of Notre Dame and Dallas. It has an influence on players as well. Notre Dame recruits on a national level, and they still have sway with parents. Parents see Notre Dame as an institution, a place where they can see their kid becoming a man and learning life lessons. You know, they've been brainwashed by the movie Rudy. Notre Dame somehow always ends up with a top 5 recruiting class, then Notre Dame summarily drops a deuce on their season and makes us question what the hell is Rivals, Scout, and ESPN Rise looking at. Dallas is seen as an ultimate player's destination. Free agents flock to Dallas to frolic in the lavish and luxurious stadium only known as "Jerrah's World", plus there's no individual income tax and a hot bed of good looking women? The talent is never dry in D-Town.
For all of their past success, Notre Dame's won 11 national titles and Dallas has 5 Super Bowl championships, both teams began to decline in 1996. Lou Holtz descended from the old ball coach position at Notre Dame after amassing a record of 100-30-2 in eleven seasons, and the Dallas Cowboys won their last Super Bowl in a 27-17 defeat of the Pittsburgh Steelers. What is there really to say about the two teams now? Notre Dame's only been to two BCS bowl games and got shellacked in both, and Dallas has only won one playoff game since their Super Bowl win in '96.
So what is it? Why do we continually buy into the hype and hysteria of the Fighting Irish? Why are our eyes fixated on the Hoshitoshi whenever the Cowboys are on?
Because they're the most relevant. Whether we like it or not.
You can't quantify the energy that is watching Notre Dame as they try to overcome their self-induced hype machine and do battle against a team like Michigan on Saturday. They always bring the drama. You can't quantify the energy that is watching the Dallas Cowboys try and live up to the expectations of Jerry Jones and Cowboy Stanleys alike as they flourished and floundered like they did against the Jets last night. They always bring the drama. At this point, its almost like they're cursed. Like someone went in and buried Jimmy Hoffa in Notre Dame stadium, or maybe Jerry Jones made a deal with the devil to get Jerrah's world built in such a fashion.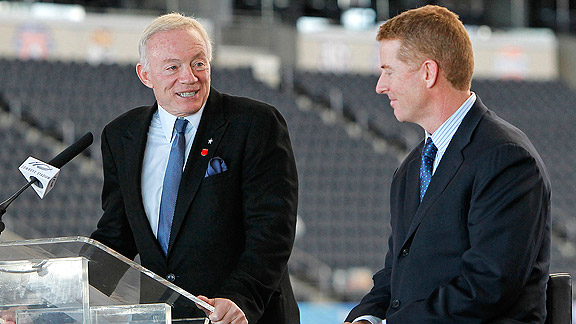 It's the unenviable position that comes from being THAT team. Being "God's favorite team" or "America's Team", because when you're on top there might not be anything better in the world and when you're not on top then it just seems like the world is coming to an end.
I guess it just comes with the territory.
-Ed.
www.edthesportsfan.com