"You gave him an opportunity of showing greatness of character and he did not seize it. He will never forgive you for that."
– Friedrich Nietzsche
There comes a time in a person's life where you've got to stand up and perform or sit down and let someone else do it. Either you are about that life or you aren't. For some, it can be a tragic set of circumstances for someone who has built their entire livelihood to thrive in a particular moment, only not to really be built for the job at hand. For others, the opportunity to overcome that type of adversity can be huge, and be the turning point in a storied career. I'm talking to you Peyton Manning.
Can you teach seizing the moment? Or is it something that's God given?
Let me go on record to say that this quarterback is one I'd love to have on my team. He has everything I want in a field general; strong arm, accurate, can scramble, is a leader of men, and most importantly is a playmaker. Yet in the curious case of Tony Romo, the same man who idolized the great Lorenzo Favre, #9 has had this tendency to come up short with the game on the line. It drives Cowboys fans nuts, it gives more ammo for Cowboys haters, and it gives the media material to speak on for days on end.
To quote the bearded man Masenda, sometimes you've just got to get out of your own way. We see Romo's shortcomings in pressure situations rise from having a mental breakdown, to bad coaching philosophies, and sometimes just bad luck.




Its all a management process, and it starts from the top with Jerrah (who in my opinion did the right thing and praised the man for his efforts, although by saying it was "one of the best performances of all-time" was egregious) to Red Jesus (Jason Garrett) to Romo and the players themselves. The players will always know the truth, and one thing I've always noticed is that the players stand behind Romo. They believe in him, point blank period.
Tony Romo will be fine.
***
Ever since the Oklahoma Sooners invited the good people from Tallahassee and the Florida State Seminoles to join them in a cordial game of football last year, which resulted into a 47-17 teaching session victory for OU, there has been noting but vitriolic hate and venom spewed in the Sooners fans direction.
"Just wait for 2011 in Doak Walker, things will be different."
-- Random fan, but lets just imagine that
Keith Tolbert
said it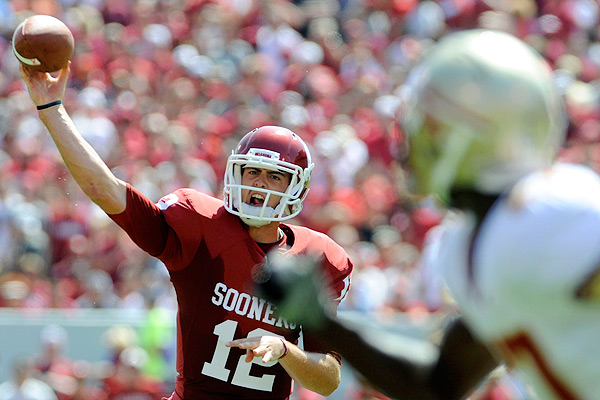 Its something that I could never really come out and say, and even know I'm using this as a therapeutic moment. Its something that I've only been able to share with the bearded man Masenda via telephone, because even though he doesn't always agree he can understand where I'm coming from with this.
I'm terrified of tomorrow night's game between Oklahoma at Florida State at 8pm Eastern on prime time television.
You'd think I'm nuts. I mean, Oklahoma is the #1 team in the nation (which I think is completely insane) and is returning one of America's most prolific offenses. Landry Jones is a Heisman candidate, Ryan Broyles is a Biletnikoff candidate, the defense returns a strong core of talent, and Bob Stoops is one of the elite coaches in all of college football. Plus, Oklahoma shellacked FSU last year, right? They're breaking in a new quarterback, their defense is still figuring things out, and we don't have any idea if Jimbo Fisher is a great head coach or not. What are you tripping about Ed?
Why am I tripping? Because Oklahoma's leaders have yet to prove to me they can win a big game. That's why.
Here's a fact. "Big Game" Bob Stoops has never beat a ranked non-conference opponent outside of Memorial Stadium in Norman, Oklahoma. Its never happened. Trust me, I've watched them all. This is all removed from the BCS Bowl Game blunders that have occurred since USC took us behind the woodshed in the 2004 Rose Bowl until present day. Here's another fact. "The 'Stache" Landry Jones is only 4-5 in road games in his career. Landry Jones has also never won a road game against a ranked opponent.
It was refreshing to hear Stoops proclaim that "its time for us to claim being #1 from the beginning and win OU another national championship." I haven't heard the man speak that confidently in about 8 or 9 years. It's been refreshing to hear how players speak so highly of Landry Jones as a leader on that team. The formula for ultimate success is there in Norman, yet the challenge that lays before them tomorrow night is as big as any either Stoops or Jones has experienced maybe ever. They've got to overcome their demons, the things that keep them up late at night, the things that keep them from their ultimate glory.
Its a scary thought, and if they can't overcome...they'll never forgive themselves.
-Ed.
www.edthesportsfan.com